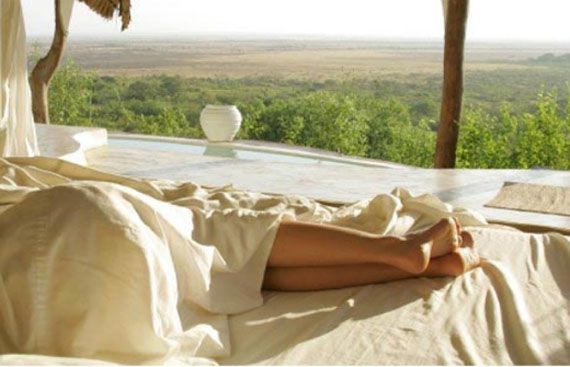 Luxury Vacations: When you imagine an international luxury vacation, Paris, New Zealand, or Tokyo might come to mind. If you're a traveler that likes to think outside the box you could just find yourself landing in stunning Africa. Luxury and adventure make the perfect pair on this exclusive Kenyan getaway. This trip will not only leave you feeling completely refreshed and pampered, but allows you to make one-of-a-kind connections with nature that you won't soon forget.


Warning: You might want to mentally prepare yourself to experience non-stop scenic beauty from the time you land in Nairobi. Once your eyes are ready for all the phenomenal sights to come, it's just a hop, skip, and a jump to the resort. You can catch a 30-minute private charter to the Shompole retreat or a relaxing scenic drive through the Great Rift Valley. Though it's a tough choice between seeing Kenya's breathtaking landscapes by air or land, you can't go wrong either way. Once on the 35,000 acre Conservancy, your elegant living quarters awaits. Each tented lodge is complete with a large king-size bed, cozy sitting area, and a tranquil cool-pool nestled below a high canopied roof. Roughing it never looked so good with the room's clean white walls, natural wood accents, and white quartz stone floors. The décor maintains an upscale contemporary elegance, while still incorporating traditional Kenyan accents. The room even opens up to reveal amazing views of the virtually endless African desert. Seem like it's all just a mirage? Make it a reality and book your customized African vacation just the way you've pictured it in your dreams.



There's never a dull moment when you have countless activities to keep you constantly busy and exhilarated. Keep it low key and just relax at the lodge, drift around the clear blue pool, or receive a soothing massage. Later on, take a stroll to a Shompole village and immerse yourself in the rich culture and tradition. On market day the Maasai women will be expertly weaving fabric and beads into impressive garments for sale. You don't need your compass, a native host will be happy to guide you and make sure you don't miss a thing. For some exercise and excitement, there are morning and evening walks along the bush, biking around the rocky terrain of Mount Shompole, and canoe rides that send you floating peacefully down the Ewaso Nyiro River.


One of the walks takes guests to nearby Lake of Fire, where you'll feel like you just stepped into a scene from a magical movie. Home to one of the only flamingo breeding grounds in Africa, the perfectly pink feathered birds stand gracefully alongside the water. You'll recognize the reasoning behind the lake's name as it shines an extraordinary deep red hue you probably didn't know existed in nature. Scanning the surrounding area you'll be overwhelmed by unparalleled views of the flowing golden desert sand.

Make sure to leave room in that jam-packed itinerary to eat. Each meal on the Shompole retreat is thoughtfully prepared with only the freshest ingredients. You won't feel bad opting for room service as you enjoy your private feast poolside by the glimmering water. Or head outdoors and experience each savory bite while watching the colors of the gorgeous African sunset change from yellow, to orange, to red. For a little romance, arrange a dinner under the brightly lit stars. Surround yourself with the sounds of the Kenyan night while being completely catered to by the experienced staff.


Don't forget you're in Africa so seeing some of the land's exotic creatures is just another day in the life. Safari vehicles are always ready to take guests on game-viewing excursions to see some of the world's most extraordinary and rare wildlife. It's a once in a lifetime opportunity to get up close and personal with leopards, lions, elephants, and zebras (oh, my!) all in their natural habitats. Be able to brag to your friends back home that you saw an aardwolf, bat-eared fox, and genet; animals they, and you, have probably never even heard of!

With all that Africa has to offer, your vacation shouldn't have to end at Shompole. Accommodations can easily be made for a private charter, boat, car, or helicopter to whisk you away to another one of Kenya's luxurious destinations. Richard's Private Camp, Lemarti's Camp, Rutundu, Sirikoi, and Manda Bay are properties that also offer unmatched sights, sounds, and adventures of this dazzling country.

Visit www.thesafariandconservationcompany.com to learn more about these amazing properties.