Lena Katz View Profile

Sr. Travel Correspondent | JustLuxe
Ritzy Retreats: Best Caribbean Winter Getaways
Jan. 5th, 2011 | Comments 1 | Make a Comment
Luxury Vacations:
Had one too many glasses (or bottles ) of Veuve to welcome 2011? We know the feeling. And we can tell you that the cure for the common morning after is…a week of sunbathing and sailing in the
Caribbean
. Throw your swimwear in a bag and jet off to any of these posh and peaceful Caribbean getaways for Vitamin D therapy (and maybe a restorative cocktail, too).

St. Barths
French-influenced and celebrity-favored, this exclusive little island winds up its ultra-peak season just after New Years…but the only thing that means is, you won't have to fight for yacht space with oil sheikhs and Steve Case types. It also means you can have some space to sift through the racks at Mandarine and Mia Zia, find the perfect personal scent at Ligne de St. Barths, and pick up bottles of vanilla rum at La Pinta. After hitting the shops, head back to a luxe villa like the beauty above—available for rent on private villa specialist Wimco.com—and take in some sun before showering and changing into your new finery for dinner and nightclubbing in town.



Anguilla
This friendly little island also evinces some French tendencies—mainly in the culinary scene, which is amazing in its quality and its accessibility. Though Anguilla's first French chefs worked in the kitchens at luxury resorts like the Malliouhana, they were encouraged to disperse throughout the island and open their own independent restaurants, which combine traditional French cooking and wine standards with local spice and plentiful island seafood. From gorgeous beaches to its rum bars to its finest hotels, Anguilla is a place of positive island vibes and nicely chilled Chablis.



Nevis
On the smaller and less populated sister island to St. Kitts, there are no fast-food restaurants, no traffic lights, and no buildings taller than the tallest palm tree. With its signature "gingerbread" architecture and British traditions (cricket is one of the most popular island sports), Nevis maintains something of a "yesteryear" grace. What developments there are on the island, are compelled to meet a very high luxury standard—case in point being the just-opened Four Seasons Nevis, hangout for everyone from Beyonce to Kelly Ripa to Uma Thurman.



St. Lucia
Lush and mountainous, this eastern Caribbean island hit the hot list in the past couple years, racking up "world's best" awards from travel sites and glossy mags alike. Its tropical rainforests and striking peaks are incorporated in the design of eco-conscious luxury resorts like Jade Mountain (pictured), The Landings and Ladera. Though cruise business has historically brought the most tourism to St. Lucia, more visitors today are opting to skip the port for a few days in one of these stunning retreats, where guests can be at one with nature by day, and enjoy room service and a bath by night.



Barbados
With its British plantation history and colorful Caribbean culture juxtaposed in yin-yang fashion, Barbados is an island where you can have an ultra-luxurious experience with white-gloved service and formal dinner dress, or a reggae-and rum-infused vacation where you come away sunburned from the sailing and footsore from the dancing. It has an older crowd than Aruba, is much safer than Jamaica, and has all the traditions that more recently developed islands lack. Other Barbados benefits include amazing golf, friendly sea turtles just offshore, and a number of visitor-friendly rum distilleries.



Bonaire
A diver's paradise, Bonaire is small and quiet, with far more "action" going on undersea than on land. The waters offshore enjoy protected status, and have for three decades . More than 450 species of fish have been seen around the pristine reefs and crystalline waters—not to mention, rays and sea turtles. Most of the on-island lodgings are just simple dive resorts without too many luxe amenities, and there's no nightlife to speak of.



Vieques
The tiny Puerto Rican island of Vieques is what many would call an "unspoiled retreat"—but to those who equate "unspoiled" with "not touched by chains or major developments," there's been a major adjustment to the landscape. And for those of us who enjoy a luxury vacation, that a good thing. The W chain just opened W Vieques – Retreat & Spa, its first W Retreat in the Western Hemisphere. It's a lovely, breezy and chic place with that quintessentially sexy-fun W service and spirit. Two equally blissful scenes: poolside with fresh juice or a chilled glass of Rose by day; and becoming hypnotized by the flickering blue flames within the outdoor firepit at nightfall.
Featured Luxury Hotels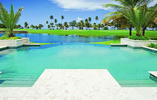 Rio Grande, Puerto Rico
The St. Regis Bahia Beach Resort
In the romantic setting of a Caribbean coconut plantation, nestled between a...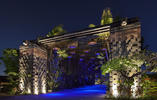 Bali, Indonesia
The St. Regis Bali Resort
Bask in luxury on the soft, sandy beach of Nusa Dua, the Garden of Bali, where...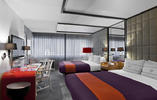 Atlanta, United States
W Atlanta - Buckhead
In the city's most becoming neighborhood comes its most welcoming hotel - the W...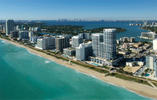 Miami Beach, United States
Canyon Ranch Hotel & Spa
Set on 750 feet of pristine beach, in the beautifully restored Carillon Hotel -...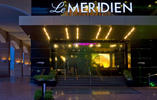 Panama City, Panama
Le Meridien Panama
On the edge of the Bay of Panama overlooking the old and new quarters of the...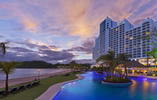 Panama City, Panama
The Westin Playa Bonita Panama
Discover complete rejuvenation at the natural refuge, where a serene beach...