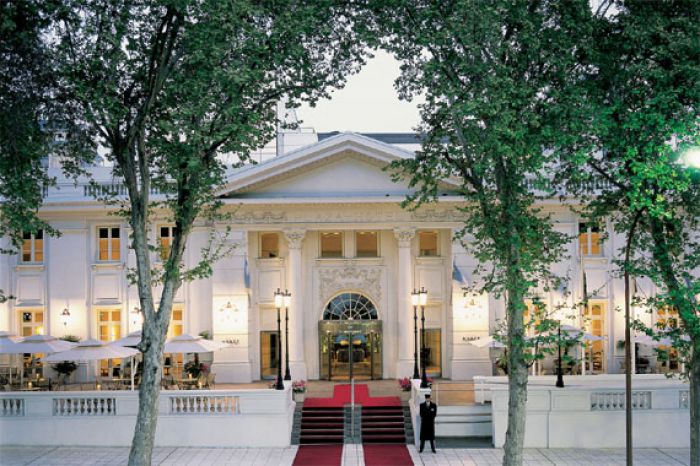 Courtesy of Park Hyatt Mendoza
Let's face it. Most of us love to indulge in great food and great wine. We grab the opportunity whenever it presents itself, whether at a good friend's home or a dinner at a famed eatery.



Couple the great food and wine with a spectacular setting and you'd be hard-pressed to say no, even if you had a scheduling conflict. Naturally, I enthusiastically said yes to the organizers of the Park Hyatt Mendoza Masters of Food & Wine, a four-day extravaganza in Mendoza, Argentina, early this month. Great food from world-renowned North and South American chefs? Check. Great wine from well-known Argentine producers? Check. Great vistas of the Andes mountains? Check.


Day 1: I miss day one because of another event I have to attend. The other attendees headed for a tasting at La Alboroza, the home of Argentine contemporary artist Sergio Roggerone. Midday is spent touring and dining at Zuccardi Winery. Zuccardi is known for its Tempranillo, a full-bodied red varietal mainly found in Spain. Chef Brian McBride of Blue Duck Tavern in Washington, D.C., demonstrates how to cook one of his signature dishes during an afternoon class.

Trapiche Winery, probably the most well-known of all Argentine producers (it has a strong Stateside presence) hosts dinner at its palatial estate in the hills above Mendoza city. Twin chefs Nicola and Fabrizio Carro of Quattro Gastronomia Italiana fame in the U.S. served some of their specialties as Trapiche employees serenade diners with a variety of Argentine folk songs. Fabuloso!

Day 2: I wake up at the crack of dawn to head to Bodega Catena Zapata, named the top New World Winery by Wine Enthusiast magazine last year. The winery is known for creating some great Argentine Cabernets and the tasting doesn't disappoint. Everyone is "ooohing" and "aaahing" over the rich flavors of the Nicolas Catena Zapata 2007.


Lunch is spent at Rutini Wines, a new estate in Uco Valley. Attendees are split into teams and sent around the winery to answer trivia questions. The winners receive a bottle of the winery's Malbec. We dine on a hearty repast, some opting for vegetarian choices but most choosing the Argentine beef. The ceviche with butter beans is a menu standout.

Terrazas de los Andes winery, owned by Chandon, hosts a unique dinner featuring piranha, sweetbreads and other specialty dishes concoted by Brazilian chef Rodrigo Oliveira of Mocotó Restaurant in Sao Paolo. It's a meal most attendees are unlikely to forget. Some don't even know what their eating as the menu is in Portuguese. The wines featured include the Afincado, a single-vineyard selection that includes Cabernet Sauvignon and Malbec.

Day 3: The last day of the festival is marked with a light repast, reception and polo match at the majestic Cheval des Andes winery, another Chandon property. The views of the Andes are spectacular from the modern homestead. The sun is shining, everyone is relaxed and enjoying Argentine tapas, great local Malbec and sparkling wine and the human eye-candy. It's time to leave but nobody has the heart to end the festivities.


I head home with a belly full of food and part of my heart left in Argentina. Three days is not enough to see this beautiful country and I hope to be back one day.

The Park Hyatt Mendoza Masters of Food & Wine is held every April at the beautiful Park Hyatt hotel in Mendoza City, about an hour and a half by plane from Buenos Aires. American Airlines flies regularly to Argentina via New York City and Miami.

The Park Hyatt chain, which has high-end properties throughout the world, holds similar events in Washington, D.C. (June 2-5, 2011), Zurich, Switzerland, (September 27-30, 2011) and Shanghai, China (November 22-26, 2011). For more info, go to www.mastersfoodandwine.com.

Park Hyatt Mendoza
Chile 1124
Mendoza 5500
Argentina
(0) 261.441.1234