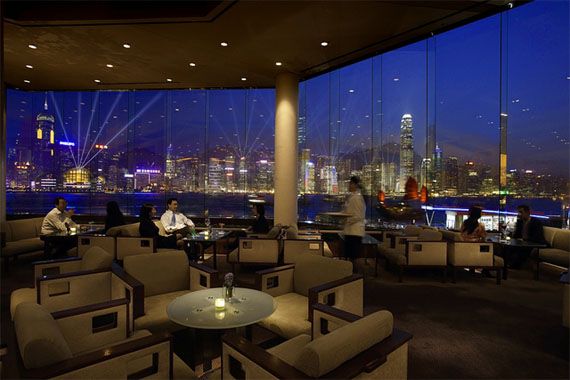 Photo Courtesy of InterContinental Hong Kong
Hong Kong
has always been the crossroads to China and the east, and never has that been more evident than today. The city is as exciting as ever, with the world's most user-friendly airport, new skyscrapers rising every day on land reclaimed from the teeming harbor, and a food scene that draws inspiration from the city's cultural heritage as well as the most sophisticated of international cuisine.
Don't have much time to explore this bustling metropolis? Don't worry. Forty-eight hours is all you need to get a good sense of its storied colonial past, its thrilling present and its dynamic future.


DAY ONE

6:30 a.m.: Arrive on Cathay Pacific. Hopefully you've scored a seat on one of the planes outfitted with the airline's new Business Class which takes the herringbone configuration we love on other airlines like Air New Zealand and Virgin Atlantic, and opens it up so that couples traveling together can take the center section and actually see and speak to one another; while travelers craving a little privacy can opt for the single seats lines up along the walls with seats that face out to enjoy the window views.


8:30 a.m.: After the half-hour ride into town from the airport inside your private Mercedes transfer, you'll be deposited at the InterContinental Hong Kong (formerly the Regent) right on the Kowloon waterfront overlooking Victoria Harbour and the island of Hong Kong itself.

Spring for access to Club InterContinental (the hotel's executive club, it's about $100 extra a night) so that you can check-in privately up in the spacious lounge on the hotel's second floor. You'll even be able to graze on a few of the gourmet goodies they put out at various times for guests and can order a cappuccino to fuel you for your day. Then you'll be taken up to your room (hopefully you opted for a Harbourview one so you can watch the junks and barges glide along the shimmering harbor waters) where you can relax, unpack and get cleaned up.

12:30 p.m.: If it's a sunny day, take the historic Star Ferry on its five-minute journey across the harbor (it leaves from a pier about five minutes' walk from the InterContinental) and grab a taxi to the historical Victoria Peak Tram for a ride up the mountain to the viewing platform for stunning vistas of the city and harbor.


2:00 p.m.: Back in the center of town, stop by the Man Mo Temple on antiques-filled Hollywood Road, dedicated to the gods of literature and war. Enjoy a quick fortune-telling on your way to a multi-course dim sum lunch at nearby Island Tang. Though located in a modern mall, the restaurant feels like stepping back in time to Art Deco Shanghai.



4:00 p.m.: Take time out to schedule a massage in the InterContinental's rigorously feng shui-ed I-Spa. Your spa suite comes with a geisha-style soaking tub and steam shower. The 90-minute Jet Lag Recovery Massage works out all your travel-induced kinks with a combination of deep-tissue, Swedish and reflexology techniques.

6:30 p.m.: Take an hour-long scenic cruise around the harbor (glass of wine in hand, of course) aboard the Aqua Luna, an authentic junk that has been restored and club-ified with red sails and a cozy, cushioned sitting area upstairs.



7:30 p.m.: Choose from one of the InterContinental's celebrity chef restaurants for a relaxed dinner tonight with the best view of Hong Kong's City of Lights display beginning promptly at 8 p.m. Feel like a light sushi dinner? Then try the menu at the beautiful HK franchise Nobu Matsuhisa's eponymous Japanese restaurant. Though if you're more ravenous for contemporary French fare, you'll want a reservation at Alain Ducasse's Michelin-starred Spoon.

10:00 p.m.: Call it an early night so you are recovered for a big day of shopping tomorrow.


DAY 2

8:30 a.m.: Have a leisurely buffet breakfast either in the Club InterContinental Lounge or at Harbourside adjacent to the lobby.


10:00 a.m.: Head to the enormous Harbour City at Ocean Terminal mall for some of the best shopping in the city. Here you'll find flagship international brands like agnes b, Chanel, Jean Paul Gaultier and Versace.

1:00 p.m.: Just around the corner from Harbour City, stop by the ultra-chic Shanghai Tang mini-department store (and maybe the Tiffany boutique as well) at the recently restored 1881 Heritage, the former Marine Police Headquarters that has been turned into a shopping, nightlife and hotel compound. You might also grab a spot of lunch at one of the restaurants here.

3:00 p.m.: We suggest the ladies and gentlemen split up for this portion of the afternoon so as to achieve optimal shopping coverage. The ladies can hit the Jade Market for precious trinkets as well as the Ladies' Market for bargain basement souvenirs to bring back home, as well as the odd street performance. Gentlemen shouldn't come to Hong Kong without planning on having at least one item of clothing custom-tailored for them. The prices aren't cheap at Baron Kay's Tailor, but the fabrics come from mills that make cloth for Zegna and other high-end brands, and you can also pick up a hand-crafted pair of shoes as well.

6:00 p.m.: After all that walking and shopping, meet back up at Tai Pan Reflexology for an hour-long foot massage to put a spring back in your step.


8:00 p.m.: Hop on the Star Ferry or on the metro system across the harbor to the Central district on Hong Kong Island and have a pre-dinner cocktail at the rooftop Sevva lounge and restaurant atop the Prince's Building. The skyline views are spectacular, the crowd is young and trendy and the cocktails are tasty.

9:00 p.m.: Just a few minutes' walk away at the LKF Building is your dinner destination: Gold by Harlan Goldstein. An American chef, Goldstein has made a name for himself with several Hong Kong restaurants and this is his newest venture. It's a chic hideaway where he serves up contemporary continental fare to Hong Kong hipsters and international foodies out for a night on the town.

11:00 p.m.: Speaking of which, after dinner, you'll find yourself right in the heart of Hong Kong's main nightlife district, Lan Kwai Fong, so take a little time to explore the clubs here like Azure atop the LKF Hotel on Wyndham Street, or the subterranean Volar on D'Aguilar Street.


DAY 3

6:30 a.m.: Optional: We won't blame you if you don't drag yourself out of bed at this early hour, but if you do have the energy, it's worth it to take a private class with the InterContinental's on-staff Tai Chi master. He'll talk about energies, flow and the benefits of practicing Tai Chi while walking pupils through a series of basic movements.


10:00 a.m.: Time to take your private Mercedes transfer back to the airport.

At the Airport: You have time for a little last-minute shopping at what has to be one of the best collection of airport luxury stores in the world including Coach, Longchamp and Jimmy Choo. Don't forget to spend a little time relaxing before your flight in one of Cathay Pacific's three lounges: The Cabin, The Pier or The Wing. Though we love The Wing's noodle bar and plentiful desk workspaces for sending some final emails before boarding our flight, our vote is for the ultra-swank The Cabin. We can socialize at the marble coffee and drinks bar or have some private time sipping Champagne or a made-to-order fruit smoothie and playing with one of the lounge's 20 WiFi-enabled iPads while you wait for your plane to depart; because it's already time to go!



{start-jlvideo}1281{end-jlvideo}