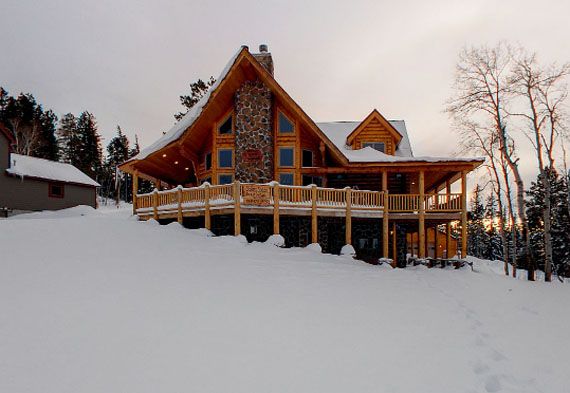 Photo Courtesy of Executive Lodging of the Black Hills
The once wild, wild west of the Black Hills region of South Dakota remains intact. However, it also is now luxurious as well as wild with a little help from Executive Lodging of the Black Hills. The specialty hospitality provides fully furnished cabins and vacation homes in destinations such as Mt. Rushmore, Historic Deadwood, Deer Mountain, and the Mickelson Trail.
Executive Lodging of the Black Hills has deluxe accommodations located throughout the region. Dozens are available in various sizes and styles that range from less than four bedrooms up to six or more. There really are no fitting generic classifications, as each place has its own atmosphere and amenities.



There is the Hoof Prints Lodge, which is a five-bedroom, four-bathroom lodge located in the northern Black Hills near Lead and Deadwood, which looks out onto the Deer Mountain Ski area. The Hoof Prints Lodge has two fireplaces, a loft game room with a big-screen TV, and a hot tub which is positioned on a private deck that is surrounded by pine trees. It also has an attached double garage and a jet-stream tub in the master suite. There are four complimentary bicycles too. It offers great proximity to both skiing and snowmobiling facilities.

For those who would prefer a more remote environment and back-to-nature, get-away-from-it-all experience, there is a three-bedroom, three-bathroom log house located between Sheridan Lake and Pactola Dam. There is no television and most cell phones will not work either; Internet access is dial-up only as well.

However, there is still a lot of luxury, as it is furnished with a wraparound deck, a gourmet kitchen with stainless steel appliances, granite countertops, a wood burning stove, and a fire pit. It is an opportunity to try something a little different that is just a bit pre-contemporary without needing the assistance of a "new lifestyle" coach.

In addition to vacations, there are spaces for rent that could be used for weddings, social gatherings and business retreats. For more information, visit Executive-Lodging.com.