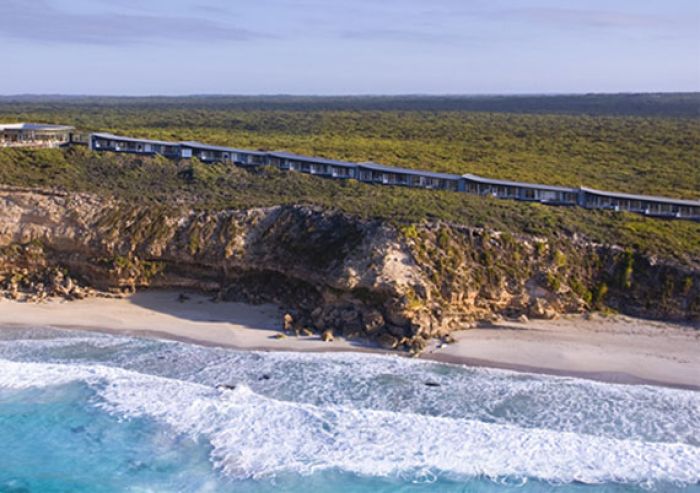 Photo Courtesy of Southern Ocean Lodge
Sydney might have the Opera House; Queensland has the Great Barrier Reef; The Northern Territory is where you'll find Uluru; but South Australia is the state with three distinctive
Luxury Lodges of Australia
properties that showcase the best of Australian opulence, as well as the special character of three very unique, quintessentially down under settings.
Wild Life: Southern Ocean Lodge
Let's start in the far south with a wildlife lodge that was the talk of Australia when it opened in 2008, and has remained one of the country's all-time highest-rated design hotels: the Southern Ocean Lodge on Kangaroo Island. This wildlife paradise is just a short 20-minute flight from Adelaide. Unlike many of the hotels here, the Southern Ocean Lodge is located on the southern end of the island between two nature preserves, with no development anywhere near it. Its spa, restaurant, reception and living area, and 21 suites are all perched dramatically on clifftops above the roaring waves, facing out to the Southern Ocean and beyond to Antarctica.


Suites come in three sizes. The standard Flinders Suites start at about 675 square feet and include a king-size bed or two double beds, a walk-in wardrobe and all-inclusive mini bar stocked with local goodies. There is also radiant floor heating, Bose sound systems, satellite WiFi, and limestone bathrooms with open showers, as well as sunken sitting areas and outdoor patios with a loveseat overlooking the cliffs.

Larger suites including the Ocean Retreats and Remarkable Suites have additional amenities like fireplaces, freestanding tubs and flat-screen TVs (though guests can also curl up on the sofa in the hotel's media room to watch movies).


The rates, which start at around $1,000 per person per night with a two-night minimum, are all-inclusive. This means guests are fed three square meals a day featuring local produce and proteins, as well as a vast cellar of high-end Australian wines. Guests also receive a free "Wonders of K.I. Tour" of various sights on the island's southern shore with the top-rated Exceptional Kangaroo Island tours and a guided hike along the nearby cliffs.


Additional experiences like the popular Kangaroos and Kanapés evening tour to a nearby wildlife sanctuary, further Experience Kangaroo Island tours, and treatments in the Southern Spa (which use Li'tya products from the Queensland rainforest) are extra. Best of all, despite living in the lap of luxury, guests have a minimal impact on the environment thanks to the lodge's eco-initiatives, including the replanting of nearly 5,000 native shrubs and trees on the property.

Wine and Dine: The Louise
Next, we stop by Australia's most famous wine-producing region to visit one of its best wine-country inns, The Louise. Located just an hour from Adelaide, outside the hamlet of Tanunda, amidst grapevines and flowering fields, and near over 100 wineries, the 15-suite Louise caters to the most discerning of palates.


Its construction is a contemporary update on traditional South Australian architecture, with simple concrete buildings shaded by corrugated metal roofs, and a calming water element running down the walkway between the rooms.

Each suite is a private oasis, with enclosed private front and back patios, a small foyer and closet area leading into the king bedroom and sitting area complete with armchairs, a coffee table, fireplace and wall-mounted flat-screen TV and DVD player. There is also a small breakfast area and mini-bar with espresso machine and a work desk with bookshelves stocked with information on Australian food, wine and wildlife. The all-marble bathrooms feature heated floors, dual vanities, a separate WC, a spa tub, separate double showerhead shower inside, and an outdoor shower as well.


Under the aegis of Chef Mark McNamara, the hotel's Appellation restaurant is one of the most highly regarded in South Australia thanks to the chef's innovative take on local market cuisine. Dishes include delicately shaved abalone with confit fennel in a saffron-mandarin tea broth; juicy medallions of beef with bacon crumble and creamed chestnuts in a red wine reduction; and fluffy baked quince pudding with almond cream.


All paired with Barossa Valley wines, of course. Just the thing to fortify you for another day amongst the vineyards.

Outback Glam: Arkaba Station
For our final luxury lodge, we travel five hours north of Adelaide, deep into the South Australian outback's Flinders Range, a prehistoric landscape of red rock outcrops and hidden green valleys. There we visit an 1850s sheep ranch, or station, that Wild Bush Luxury has converted into an intimate five-bedroom inn: Arkaba Station.


Four of the five bedrooms are in the original 1856 homesteader's house and feature individual touches such as high-ceilinged entrance foyers, historical wooden vanities, desks and wardrobes. There is also 500 thread-count sheets on king-size or twin beds, bathrooms with typical wooden vanities, brass fixtures, and even antique-style burgundy-red tubs in two of them.

There are also design elements such as bed headboards made from Arkaba Station wool (it's still a working sheep station) and bedside lamps made from emu eggs that lend the décor a touch of local authenticity. The fifth bedroom is in a small separate building that used to be the coachman's cottage.

The lodge also has a beautiful outdoor patio sitting and dining area where guests can enjoy three-course lunches and dinners during fine weather. There is a cozy breakfast dining area next to the kitchen and a small library with books and digestifs and liqueurs to enjoy after dinner by a crackling fire. Outside, there's also a small infinity-edge pool.


During the days, guests can take nature hikes around the 60,000-acre property or on nearby trails to see Aboriginal rock paintings, take private Cessna flights over the stunning scenery of Wilpena Pound and the Elder Range about 30 minutes away, or enjoy 4WD tours of the property with an onsite guide or one of the former owners of the property.




Guests looking for a more rustic experience can also participate in one of the four-day, three-night walking safaris and camp out under the stars in Australian luxury "swags" on the property. Hot showers and three full meals included, of course.



Speaking of meals, like Southern Ocean Lodge, all the meals here are included in the approximately $800 per person per night rate. Guests get a cold breakfast buffet, a light lunch, and then a gourmet three-course dinner that features South Australian specialties and produce including kingfish tournedos with truffle-infused eggplant puree. It also comes with their choice of any and all the South Australian wines (including limited-release Penfold's reds) stocked in the cellar, as well as all other beverages including beer, liquor, soft drinks and purified rainwater water. Bet life back on the old sheep station was never this good.

Though within hours of each other, each of South Australia's three Luxury Lodges showcase unique, unspoiled aspects not only of the state, but of the continent in general, bringing together the best of scenery, wildlife, wine and food.