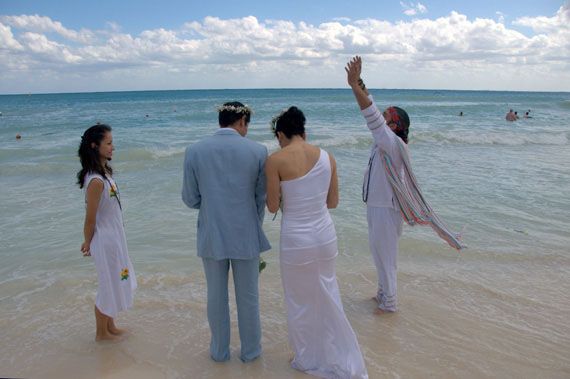 Photo Credit: Karin Leperi
With an economy that continues to falter and no immediate relief in sight, many committed couples are looking for innovative ways to tie the knot. However, future brides and grooms still want the option to customize their nuptials. They also want luxury - albeit, luxury on a budget. An emerging trend has developed to meet those needs: the destination wedding.
It blends together what many couples are seeking - exotic venues with ramped up romance yet affordable luxury. According to a Destination Weddings and Honeymoons magazine survey, about a quarter of engaged couples opt to tie the knot away from home. Reasons can run the gamut from having extended families, geographically dispersed friends and relatives, as well as social media guests that may reside just about anywhere.


Have Passport, Will Travel
Once the invites are sent out, guests basically "self-select" as they normally pay their own way to get to the destination as well as pay for their accommodations. Because of this, destination wedding brides tend to be older than the average bride, with an average age around 33 versus 27 as reported by Bride's Magazine. About 70 percent of destination couples have college degrees and the average number of guests tends to be about 48 celebrants. The destination couple also has passports to enable their international traveling.

Real Deals in Cancun and Riviera Maya
Nowhere are values as abundant as they are in Cancun and the Riviera Maya. With many four- and five-star all-inclusive resorts offering a variety of wedding and honeymoon packages to fit just about every type of budget, a couple can essentially have their cake and eat it too! Plus, you can fairly well seal the "value" deal with affordable flights, close proximity (as far as international travel goes), and an abundance of sun, activities, and archaeological intrigue that will be sure to entertain guests of all ages and lifestyles.

Though June weddings will always be popular, consider the "shoulder seasons" - spring and fall - as a way to realize even more cost savings. For the greatest savings, an August wedding can result in affordable luxury on a tight budget. Be forewarned that August heat and humidity can be oppressive.


Keeping it Real
The Real Resorts in Mexico are no stranger to customized weddings, having conducted a total of 993 weddings at their four properties in 2010 - about three weddings daily. As a result, they have a variety of packages to fit all budgets and lifestyles.

The Royal in Cancun, a luxury-gourmet, all-inclusive, all-suite resort, is the flagship for Real Resorts. Located on prime beachfront real estate in the heart of Cancun's famous Hotel Zone, this property along with its sister property - the Royal Playa del Carmen - are popular adult only resorts that redefine romance in the most opulent of ways.



On the other hand, the Gran Caribe Real in Cancun and the Gran Porto Real in Playa del Carmen offer choices for couples seeking a more casual yet upscale experience, and one that accommodates families. Couples staying in either hotel at the Cancun location can choose from simple ceremonies on the beach, traditional Catholic ceremonies at the resorts' oceanfront Our Lady of Guadalupe Chapel, or even a Mayan-inspired ritual with a shaman and attendant primitive dancers. Traditional and beach-front weddings are also available at properties in Playa del Carmen, but without a dedicated property chapel.

Classic Catholic
Mexico's only Catholic sanctified resort chapel, this indoor-outdoor chapel is perched on a seaside bluff. Surrounded by reflective light and glass with marble floors, the one-of-a-kind chapel boasts such amazing views of the Caribbean below, that the real danger is guests may become intoxicated with the ocean jeweled-beauty instead of listening to marriage vows.


With a Mayan Twist
For a more unique marital option, try a wedding with a Mayan twist. Officiated by a Mayan Shaman, the traditional Mayan ceremony is a spiritual, interactive celebration honoring the four basic elements of earth, water, air and fire. Serving as the "spiritual guide" during the beach ceremony, the shaman blesses the union through an altar of flowers, fruit, seeds and fire.

Next day, after the ceremony, consider having guests join you for a traditional Temazcal, a Mayan sweat lodge where the shaman guides guests through a purification ritual. Lucio, a trained Mayan Shaman who heads Well-Being Services at the resorts' SPAzul, explains that since Temazcal is a holistic healing ritual, it can be done for couples before or after their wedding as well as for honeymooners, vacationers, guests and individuals seeking to commemorate new beginnings.

"Mayans thought that every single object was alive, so they treated the Temazcal as a living entity, as a being with soul," says Lucio. He adds that Temazcal helps us find what we are looking for, whether it is introspection of self, conscious awareness, or simply the art of meditation. It helps us realize that we are all part of the same energy force and that we share something bigger than self. We are all brethren.


Civil or Symbolic?
It's important to decide whether the bride and groom want to have a civil ceremony (official wedding where you get the license) or a symbolic ceremony (anyone can have this) in Mexico. A religious ceremony can follow either a civil or symbolic.

For non-Mexican weddings in Mexico, it is necessary for couples to be in the country at least three working days prior to the ceremony so as to process passports, tourist cards, license application, and original birth certificates with certified Spanish translations.

Blood tests are required as are two Mexican witnesses (an exception is granted for non-Mexican witnesses if the two witnesses submit their passports - originals as well as copies). The ceremony is conducted in Spanish, and can be translated into English. The issued marriage license is also in Spanish.

Some couples prefer to have symbolic weddings in Mexico rather than civil ceremonies, because of the convenience and ease. For Greg and Vanessa Fernandez, a twosome from Fairfax, Virginia, they chose to honor their marriage with a symbolic destination ceremony in Mexico preceded by a civil ceremony in Washington, D.C. A bit unconventional perhaps, they decided to take a Cancun honeymoon prior to their symbolic ceremony in August - also in Cancun.

Greg explains, "We chose this way so that family and friends could join us in our celebration of wedded bliss, without us having to worry about the legal requirements of marriage across borders. We wanted something simple yet romantically lovely, and this meets our needs."