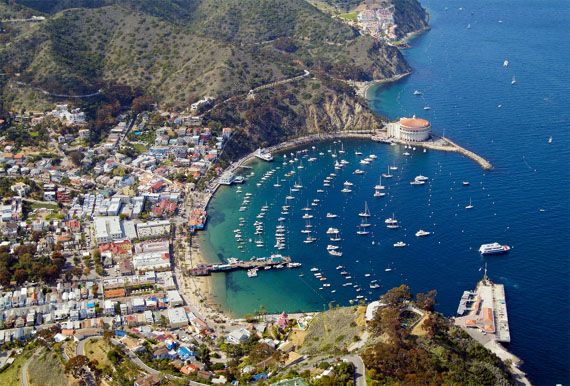 Photo Courtesy of Santa Catalina Island Company
Wouldn't it be nice if you could escape to a quiet island with nice people, quaint shops, great restaurants, and a variety of activities all at your fingertips? While you might not have the time for a lengthy vacation, a weekend getaway can be the perfect way to recharge your batteries and forget the stresses of everyday life. Enter
Catalina Island
, where total relaxation is just a quick ferry ride (about an hour from each port) away from Dana Point, Long Beach, or San Pedro, California.
I picked up the Catalina Express ferry in Dana Point, and from the ticket counter on, was impressed with the genuine friendliness of the staff. We hopped aboard, sipped a drink, watched dolphins breaching along the boat, and the next thing I knew, we were docking.


Views of golf carts zipping through the streets and houses stacked up high on the lush, green mountainside were a great way to welcome me to the beautiful, sun drenched island. Golf cart rentals are available around the island for about $40-$60 per hour, making it easy to blend in seamlessly with the locals.

The island of Catalina has been embracing and entertaining the masses for 117 years now, with a mission to provide "an exceptional customer experience, enhancing appreciation for Catalina's history and preserving its character." Downtown Avalon does just that with its colorful bars, family-friendly restaurants, souvenir shops, ice cream parlors, water sport rentals, and convenience stores - all there to make your stay as comfortable, easy, and fun as possible. There's a distinct charm about the city of Avalon that makes you feel at home and appreciate the simple pleasures in life.


We grabbed our bags and headed to the newly remodeled Pavilion Hotel, an ideal spot to hang your straw hat for the weekend (or longer if you're so inclined). Conveniently located a few minute's walk from the dock and steps from the sand, Pavilion Hotel has the laid back vibe of a beachfront property, but still maintains a distinct level of sophistication.



This 71-room, two story hotel ensures that guests are always able to take in the warm sunshine and ocean breezes by way of a spacious courtyard in the center of the property. Most of the ground level rooms contain semi-private lanais or outdoor living areas, while second story visitors can kick back at the many seating areas in and around the courtyard, including their new indoor lounge area just outside of the front lobby.


Here, guests can take advantage of complimentary continental breakfast each morning and wine and cheese pairings in the evenings. The remodeling process also brought new amenities such as HD flat screen TV's, upgraded in-room coffee/tea, iHome MP3 players and complimentary use of Apple's new iPads; not to mention the most comfortable hotel bed I have ever slept in.

By day, the Descanso Beach Club is the place to be. Sitting on a strip of beach just beyond the Catalina Casino (sorry folks, no gambling here; this casino is an entertainment venue containing a large ballroom and movie theater), the beach club is a large, completely outdoor restaurant and bar serving up refreshing cocktails, fresh island fare, and playing music that sets the tone for a day of fun in the sun. With my toes in the sand and sunscreen applied, I gazed out onto the seemingly endless ocean and began to feel a true sense of seclusion and peace.


After some chilled ceviche and a salt-rimmed margarita, it was time for some activities – and this island has just about everything you could imagine. If you're ready to take to the air, reserve a spot on the thrilling new zip line eco-tour. Zigzag down Descanso Canyon on five different lines spanning from 500 feet to 60 feet above sea level. One of the lines runs over 1,000 feet long so I was really able to soak up the views from above.

What's more, each platform contains a plaque with information about the island's wildlife, history, and the surrounding areas so visitors can truly appreciate how Catalina Island came to be their new favorite vacation spot.

If you're more interested in splashing in the water, all that's left to do is decide what's first: swimming,
kayaking, paddle boarding, snorkeling, scuba diving, or fishing. For an even more exciting way to see the island's underwater world, the Catalina Sea Trek Undersea Adventure is the way to go. Surround yourself with schools of fish or catch a sea lion swimming by while you walk along the ocean floor in the specially designed undersea helmets.



All the island activities are sure to work up an appetite so I highly suggest heading to the Catalina Country Club for a beautiful fine dining experience. Under the guidance of the exceptional wait staff, I savored the delicious crab cakes, light, flaky halibut, and juicy rib eye steak paired with a glass of fruity pinot noir.


The location is perfect for a romantic dinner for two, but is also available for meetings, groups, and weddings. There was a gorgeous wedding reception taking place in the open-air patio the night I dined. You can also catch live music May through September when Steamers Jazz Club comes to perform every Friday night.

One thing's for sure: There's no better feeling than being able to take a break from the everyday to calm your mind and revive your spirit. Catalina Island's accommodating staff, endless activities, delightful restaurants, and overall soothing quality makes it an ideal location for a rejuvenating retreat. Whether you want to get away for the weekend or can take a longer respite, let the beauty and ease of the island wash your cares away. Go to VisitCatalinaIsland.com to start planning your next island escape.