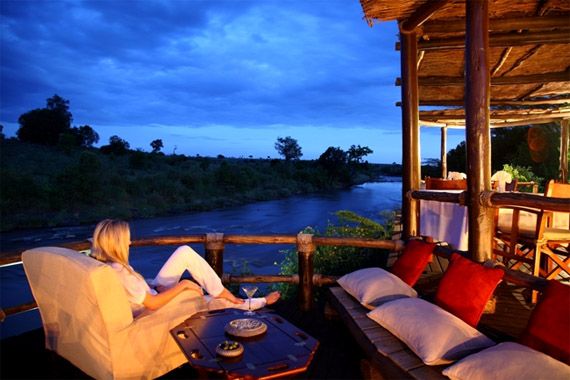 Photo Courtesy of Sanctuary Resorts
Luxury is changing. The old view showcased glam and glittering possessions few could ever purchase. The new view is having access to experiences few on the planet can gain or even fantasize about. On my recent tour of
Africa
, one resort showcased such an outstanding example of the new luxury that is a challenge to me to put into words the surreal experiences I soaked in. This is my feeble attempt, if not my urging, to encourage a stay at the Sanctuary Olonana.
Deep in the Heart
Getting to Sanctuary Olonana is a bit of a challenge, but I have always maintained that the harder it is to get to a place, the more often it's likely to be a place you've never dreamed of before. Sanctuary Olonana is a luxury camp resort, on the edge of one of Kenya's most spectacular national parks, the Masai Mara. An airport with a dirt runway is the only access to the resort, but a handy national airline, Safarilink, makes daily trips in hopper planes.


These flights are gladly arranged by the Sanctuary's staff. Peering out the window, upon the easy gliding descent of the plane, I furrowed my brow. "What were those striped horse-like things below? Those blobs of grey? Those spotted sticks?" It took a moment to realize I was descending upon the reality version of The Lion King, for those awkward shapes were zebras, elephants, and giraffes. The Sanctuary Olonana is surrounded by these majestic creatures and clings along a river where "resident" hippos honk and spray throughout the day.

One late afternoon, sipping tea on the porch of the lodge, I watched a baby hippo and mom waddle around the river's edge, while a statuesque foursome of giraffes glided across the calm waters. There are few places on earth that offer these glimpses of nature, and the Sanctuary Olonana makes these seemingly rare opportunities daily occurrences.

Up Close and Personal
One of the Sanctuary's best attributes is a staff that so delightfully encourages explorations. Unlike an international hodge-podge staff sometimes seen at luxury resorts around the globe, the Sanctuary is conducted by a team of Kenyans. These proud natives are precisely trained to welcome guests to their epicenter of sheer natural adventure.


I loved that some staff members joined our dinner tables or gathered around the fireplace to listen to tales from their younger guests' exciting adventures from the day. When my travel companion and I first arrived, we were immediately invited to join a Land Rover just heading out for a late afternoon safari spotting session.

Of course, we hopped right in, and I lost count of the array of species we encountered: a reserved female rhino hidden in the bush; a massive crocodile with a mouth set open displaying a gleaming saw of teeth; a pair of lions pawing either other for play; a group of baboons preening one another. Our guide was born and raised in the park and knew it intimately. Our group was constantly stunned by his ability to uncover creatures in hiding, such as a sleepy cheetah upon a termite hill and a hobbling turtle tucked between grasses.

The True "Once in a Lifetime" Moments

A day at the Sanctuary Olonana can overflow with a surge of unforgettable experiences. At the time of my visit, the annual migration, "Nature's Greatest Show on Earth," was taking place. Our guide drove us to the center of 1.2 million wildebeest where we witnessed droves of galloping creatures cross the riverbed, a male lion surveying the scene along with us. After a nine hour adventure, including a gourmet picnic under the umbrella of a giraffe-nibbled acacia tree, we lazed in our "tent," a luxurious parquet floored tent with a four post bed, stone surrounded shower, and private deck.

Later that evening, noshing on game meats and seasonal fruits, we watched a stunning summer thunder and lightening storm light up the lodge, the rain pitter-pattering below in the river. I wondered if the hippos minded. Then I wondered where else in the world would that thought have even entered my mind.

Learn more at SanctuaryRetreats.com.