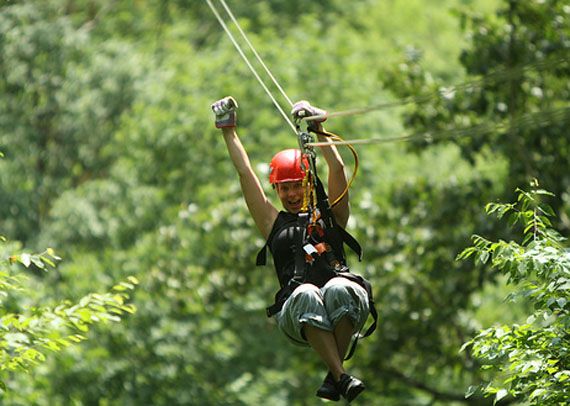 Photo Courtesy of Navitat Canopy Adventures
Here is a unique and adventurous experience from a new angle. The Navitat Canopy Adventures, with locations in Wrightwood, California, and Asheville, North Carolina, presents two natural habitats in an unparalleled way. Guests travel on
zip lines
through the woods on canopies atop trees while at heights of more than 200 feet above the ground.
Navitat's North Carolina tour is in Moody Cove, North Carolina, which is located in the Blue Ridge Mountains and is part of the Southern Appalachians. It is one of the oldest mountain ranges in the world and home to some of the most diverse flora and fauna. Wildlife enthusiasts will marvel at being able to observe the abundant wildlife in their natural habitats from both tours.



Visitors take in views of the Blue Ridge Parkway and the Craggy Mountains while zipping through the tops of various tree species and looking down on the foliage and the indigenous wildlife. Tours are offered whether it is sunny or rainy. There also is a special Navitat at Night tour, where adventurers travel through the forest by lamplight and experience the forest after dark.


The Wrightwood, California tour is Navitat's newest offering, having just opened this summer. It is located on the 300-acre Wrightwood Guest Ranch, which is in the San Gabriel Mountains adjacent to Angeles National Forest, and is about 75 miles from Los Angeles.

Action-loving adventurers zip through the mountains and woods on a line from one tree platform to the next. They will soar from heights as low as 24 inches off the ground to as high as 300 feet above the canyon floor and allow them to experience long-range views of natural wonders, such as the Mojave Desert and the southern Sierra Nevada, the Sierras and the San Gorgonio, which is Southern California's highest peak.

The running time of a tour is generally between three and four hours at either location. Group, military, and local resident discounts are available. For more information, visit Navitat.com.

See our picks for Best Adventure Travel



{start-jlvideo}781{end-jlvideo}