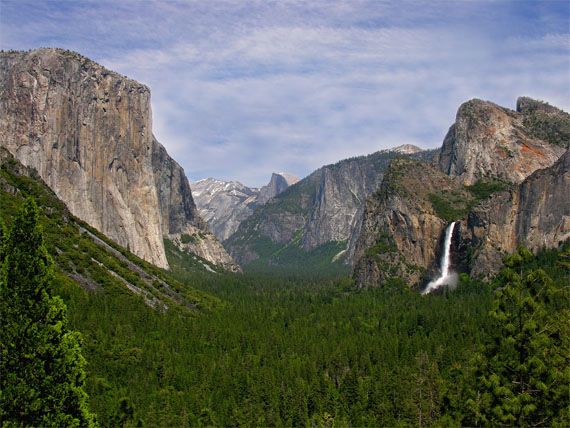 Photos Courtesy of Delaware North
The idea of
international travel
is always intriguing, but occasionally we need a little extra inspiration. Enter the UNESCO World Heritage Sites, a treasure trove of amazing things to see and do, with cultural and historic significance that bring travelers closer to the culture of the places they visit, while educating them a little bit along the way. These sites are located all over the world, so chances are you could find one in the next region on your list, or maybe our list will help you decide on where to start.
UNESCO World Heritage Sites
(United Nations Educational, Scientific, and Cultural Organization)

- "to contribute to peace and security by promoting international collaboration through education, science, and culture in order to further universal respect for justice, the rule of law, and the human rights along with fundamental freedoms proclaimed in the UN Charter"




Yosemite National Park
Location: Central California
When to go: Late Spring – Early Fall

Designated as a World Heritage Site in 1984 for its variety of flora, fauna, and geographic features, Yosemite is one of the most well-known and frequented UNESCO sites in the world. It provides a welcoming retreat for both Californians and international travelers, with majestic valleys, remote wilderness, and plenty of activities from natural waterslides to rock climbing.

What to do: Get yourself a permit to hike half dome for one of the most striking views in all of California, trade in your Google Maps for a hiking trail guide, go fishing in a quiet stream, or come up in the winter for skiing and snowboarding at Badger Pass.

Why it's special: Yosemite is the west coast's mecca of outdoor activities. The park is approximately the size of Rhode Island, and has thousands of lakes and streams, 800 miles of hiking trails, and countless scenic viewpoints.

The majority of visitors to the park venture to the Yosemite Valley, where you will find the frequently-photographed El Capitan, the peak gracing the back of the California state quarter, Half Dome, and the majestic Yosemite Falls, North America's tallest at 2,425 feet.

Hotel Pick: The Ahwahnee. Blending in to the forested floor of Yosemite Valley, this AAA Four-Diamond hotel invites guests to recoup from daily travels around the park in luxury.

The lodge is designed to maximize views of the surrounding features of the park, and also provides award-winning dining options.

Fun Fact: The Yosemite Valley was carved out of the granite bedrock by a glacier, about one million years ago.