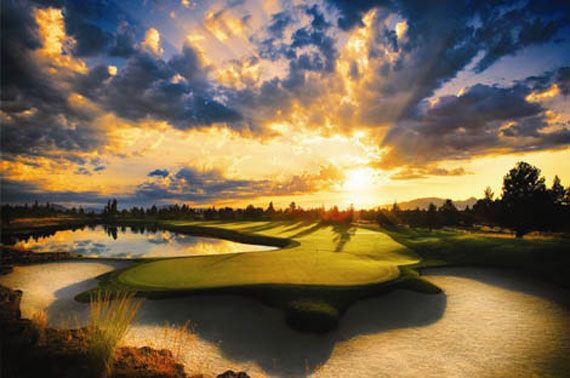 Photo Courtesy of The Tour Club
The Tour Club just may be the consummate destination-club option for golfing enthusiasts ever to hit the market. It combines the know-how of one of the world's most distinguished destination clubs,
Quintess
, with golf's most prominent professional organization, the PGA Tour. It is the dynamics of this unique pairing that results in various all-encompassing golf-related vacation experiences.  
There are travel packages that enable golfers to play on the same golf courses that host PGA tournaments or at signature courses that have been highly rated by recognized golf publications. Extra special perks include attending opening and closing ceremonies at PGA tour events; playing in select pro-am tourneys; 

having full access to media centers; and staying at residences valued at around $2 million in the U.S. and internationally. 

The Atlanta National Golf Club, in Georgia, is an example of what club members can expect via The Tour Club. Golf Digest has rated the destination as "Best in State" three years consecutively. Father and son, Pete Dye and P.B. Dye are the designers of the club's championship golf course. Additionally, the destination has three Tour Club golf courses within a 10-mile radius, and there is a personal concierge on hand to ensure that all requests of guests are tidily fulfilled.    


For lodgings, there are two residences that overlook the golf course: a four-bedroom accommodation called the Lodge and a five-bedroom dwelling known as the Villa. The four-bedroom option, while thoroughly luxurious, is perhaps best suited for foursomes than families, as there is no kitchen. However, the Lodge does have two full-size beds in three of the rooms and a king-size bed in the master suite. The Villa features a fully stocked chef's kitchen, two living rooms, a media room, and billiard table.

Additional destinations include a hosted tour of Scotland and Ireland with PGA Tour Hall of Fame members. Club members also have year-round access to the Tour Academy, which has one of the most elaborate and sophisticated learning programs for golfers at all levels of the game. For more information, visit TheTourClub.com. 

TPC Sugarloaf, Duluth, GA

TPC Jasna Polana, Princeton, NJ

Atlanta National Golf Club, Alpharetta, GA

The Resort at Pelican Hill, Newport Coast, CA