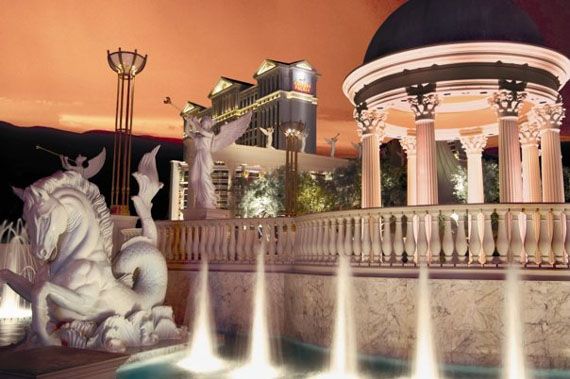 Photo Courtesy of Caesars Palace
The continuing evolution of
Caesars Palace
on the Las Vegas Strip shows that, while some hospitality concepts come and go, others can change with the times while still maintaining a classic brand.
Twenty years ago, nobody would have called Caesars a classic. It was actually the opposite: a corny architectural knockoff of Rome, smack-dab in the center of the
Las Vegas Strip
. After the first 20 years catering to the famously seedy gambling demographic of yesteryear, it led the nineties trend toward a theme park-style, family-friendly Las Vegas. From the blue sky ceilings to the moving statues to the Forum Shops, this hotel set many Vegas trends.
After a lull in the mid-2000s, when it seemed like every hotel brand in Las Vegas
except
for Caesars was expanding by wild leaps and bounds, the brand suddenly turned the tables in 2008, announcing plans for a $1 billion expansion. New parent company Harrah's had decided to gamble big on this flagship property — and while the Recession hijacked similarly grandiose plans for other developers, Caesars continues to roll out new restaurants, shops, stage shows, hotel towers and groundbreaking integrated entertainment like clockwork. The hotel's current heyday was officialized when Harrah's changed its corporate name to Caesars Entertainment in late 2010.
Some would say that it's not merely Caesars Entertainment's expansion dollars that matter. It's the thought behind their strategies — i.e. the PetStay program that was rolled out in 2010, and the new "All Night Pass" that gives unlimited front-of-line access to seven nightclubs for $49.99 per night. If you haven't hit this hotel since the World Series of Poker was the "next big thing," here are a few of the new attractions you've been missing:
Dining
The restaurant opening that's received the most buzz lately is CENTRAL, helmed by charismatic French Chef Michel Richard. Though Richard's California restaurants have had a rocky reception, his DC ventures are bastions of the social and culinary scenes. Though the demographic in Las Vegas is slightly different, hopes are high that Richard's signature American-French specialties — lobster burger, goat cheese Caesar, charcuterie tower — will prove a hit, particularly since they're served 24 hours a day.
This isn't a first for French food in the heart of Caesars, though. Bistro/ bakery Payard opened in 2008, and continues to draw crowds with its light and buttery pastries, gorgeous pancakes and strong coffee. This cozy, sweet-smelling little nook seems suited to a street off the Champs Elysees, but instead it's right to the side of the Caesars sports book. Incongruous, but no one seems to mind.
Colorful, cheery and immensely portioned, Serendipity 3 brings a touch of Manhattan to its freestanding space in a corner courtyard of Caesars Palace. It opened in mid-2009, and at this point, its massive comfort food creations are well known to the general public...but to those who stumble up on it mid-day and wind up nose-deep in a cup of frozen hot chocolate, Serendipity still remains a fun, quirky discovery.
Buffet of Buffets offers the ultimate indulgence, in a way that ancient Romans most definitely would have approved. One $44.99 ticket gets guests a 24-hour pass to all seven buffets at Caesars, Harrah's, the Flamingo, Paris Las Vegas, Planet Hollywood, Imperial Palace and Rio Las Vegas. This may be an offer that no one except 22-year-old male athletes could possibly accept, but the fact that it's
there
, like so many other Vegas excesses, is oddly comforting.
Entertainment
When the weather's warm, the Garden of the Gods pool complex, which opened in spring 2010, is the favorite hangout, with five tiered pools surrounded by cushiony deck chairs and cabanas, patrolled by sexy poolside waitresses bearing oversized drinks. There's also a topless pool run by an outside promoter. For pure luxury, book a treatment in the newly renovated Qua Baths & Spa — a place where one can easily picture Caesar's wives spending the days in ancient times. These days, it's more South American tourists and wives of high rollers and pro athletes.
Representing two extreme sides of the Vegas entertainment spectrum, Holly Madison heads up sister property Planet Hollywood's Peepshow, a naughty cabaret that raises the bar (and the pole, and the revealing milk bath) on Sin City topless entertainment...while meanwhile, Celine Dion enraptures crowds over in the Colosseum.
Shopping
From Christian Louboutin to Nike, designer brands continue to love the Forum Shops. The wave of store openings continues, with everything represented from value brands (H&M) to mid-priced trendy boutiques (True Religion) to high-end designers (Christian Louboutin). Expansions and renovations continue as well, with a newly reinvented Nike Las Vegas getting lots of buzz.
Louis Vuitton and Salvatore Ferragamo also sport a new look, though only the most affluent shoppers would frequent them enough to notice. On the dining/drinking front, P.J. Clarke's is a tremendous draw, with its Vegas version of New York saloon slumming.
Hotel Renovations

The latest big piece of hotel opening action on the Strip, Octavius Tower made headlines when it first began booking rooms on September 15, and we expect even more noise when the tower actually opens in early 2012.
And on the Horizon...
Shania Twain is booked to a two-year residency in the Colosseum, slated to begin just a few months after Celine Dion completes her run.
On the hotel front, a partnership with a famous LA/NYC restaurateur is about to go to the next level with the development of a Nobu-branded boutique hotel within the larger Caesars partner. In addition to Chef Nobu Matsuhisa, the project boasts Robert DeNiro as a partner. Expect drama, artistry, and ultimately, good taste from this interesting new collaboration.
And news is just starting to surface about The Linq, a $550 million integrated entertainment/shopping/hospitality experience to be built facing Caesars Palace in 200,000 square feet that used to belong to the Imperial Palace.
False jades may not go over well in Vegas, but the future seems to be all aces for Caesars and their subjects.
Chef Michel Richard
P.J. Clarke's Interior
Forum Shops