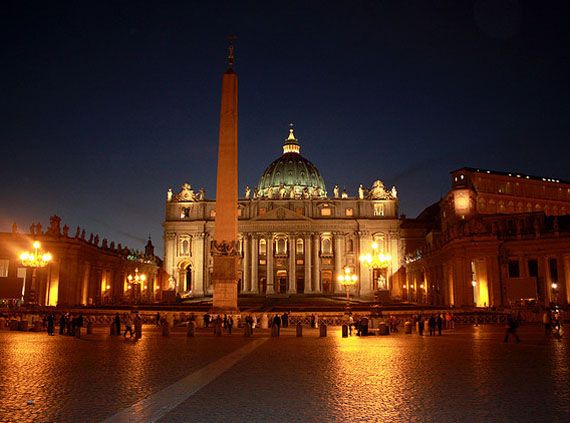 Photo Credit: Flickr Stirmind
No matter how many years have passed since weíve cracked a textbook, the seasonal change of summer to autumn will always be imbued with back-to-school significance. Reading, writing, history, foreign language... inconceivable, isnít it, that we once got a daily dose of each?†In honor of school days, weíve created a virtual field trip to four European cities that offer four distinctive perspectives on the humanities.


Burgenland Ė The Classics

Anyone who ever got choked up over Mozartís tragic demise in the movie Amadeus, listened to the Vienna Boys Choir at Christmas, or enjoyed a perfect cup of coffee and a slice of apple strudel has partaken in the Austrian legacy ó though perhaps not consciously. Vienna has been a cultural epicenter of the Western World since the Middle Ages; and the rich Burgenland province to the southeast brought forth the Esterhazy dynasty (fabulously wealthy friends of the Habsburgs), classical composers including Joseph Haydn and Franz Lizst, and late-harvest sweet wines prized as highly as liquid gold. (Photos courtesy of Sigrid Pichler and Austrian Tourist Office)


Austriaís still a destination defined by classical art, music, architecture, and gastronomy, but those who go there expecting to see "living history" parks and perfectly preserved monuments are in for a surprise. The destination has a particular flair for overlaying all those beautiful old cultural legacies with a youthful, energetic scene. Experimental violinists cover AC/DC in the Haydn Concert Hall in Eisenstadt, while the adjacent Haydn Explosive presents the composer's works in an† interactive pop-art setting that goes from whimsical to downright weird. On the border of Burgenland and Vienna, 10 minutes from the airport, a brand new coffee school has been opened right next to an outlet mall--educating the public about how to create the classic Austrian coffeehouse experience, right before sending them over to shop for cutting-edge and cut-price European fashions.

Burgenland is less than an hourís drive from the capital. It's here the "next generation" of winemakers, born in the shadow of the "Iron Border," have reclaimed their land and are now using government grants to build tiny but exquisite organic and biodynamic wineries. Itís one thing to be resilient, and another to thrive while remembering and preserving everything that came before. (Photo courtesy of Big John Winery)


Reykjavik Ė Arts with Edge
Ask anyone why Icelandic people tend to produce such unusual and complex ó even disturbing ó music, literature and art, and the first answer will probably be that for several months out of the year, they have to stay inside all the time. But thatís an overly simplistic answer. Probably closer to the truth is the dramatic, bleak and inhumanly beautiful landscape influences nativesí creative force, inspiring works that donít even make sense in a comfortable context.



The lines between fact and myth are blurred, just like the lines between the earth and the sky can be blurred when snows blanket everything, waterfalls freeze, and volcanoes blow ash hundreds of feet into the sky.


Reykjavik was recently named a UNESCO City of Literature ó an official acknowledgement of how important its epic sagas and poems really were ó but itís also a place of lush and eerie electronica, abstract sculpture and striking architecture. The newly opened Harpa concert hall is a shimmering geometric giant made of 10,000 pieces of glass. Representing another extreme, Yoko Onoís Imagine Peace Tower is a widowís wishing well that shoots a beam of light into the winter skies for one month a year, in memoriam.


Barcelona Ė Culinary and Convivial
Even the most stressed out and overbooked soul canít help but stretch, smile and relax after a couple days in Barcelona. Itís a city for feasting and also for snacking, grazing, sipping, and losing track of time in a bottomless glass of wine and the conversation of strangers.
Natalie Bovis, an American mixologist, on-air expert and author who recently moved back from Barcelona, deems the city's culinary scene "cutting-edge," but still recommends regular visits to the hole-in-the-wall tapas bars that have traditionally fed locals and hungry travelers.†Simple, hearty dishes like octopus, codfish fritters and patatas bravas typically make up the bill of fare, though in higher-end tapas bars such as Tickets

(owned by Ferran Adria, the legendary El Bulli chef), youíll also find higher-concept creations. Tickets also has its own mixology bar, 41 Degrees. (Photo courtesy of Tickets la vida tapa)
Though cocktail culture may never outpace cava, sangria and Spanish wines, it certainly has a presence in Barcelonaís current epicurean landscape. For well-heeled visitors in search of a good meal and some memorable drinks, Bovis suggests Dry Martini, a famous watering hole that served its one-millionth dry martini in 2010.

"Tucked behind the bar, behind an iron door, is Javier de las Muelas' exclusive restaurant called Speakeasy, which features an incredible multi-course cocktail pairing dinner," she says. (Photo courtesy of Flickr Marco Massarotto)


The three-hour meal was one of her more memorable Barcelona gastronomy experiences. Career-wise, she recalls the high point of her Spanish stay being the closing party of El Bulli, where she was asked to make a gin-and-tonic for Ferran Adria, and had to chip†ice for his glass off a large block, using an ax. "It was a nerve-wracking honor, and one of many incredible souvenirs I will treasure from my time in Barcelona," says Bovis, who chronicles this evening and many other incredible moments on her blog, TheLiquidMuse.com.


Vatican City Ė Communion
With the separation of church and state being a hot-button topic in the United States, itís rare that anyone takes a minute to appreciate the artistic and architectural legacy of the Catholic church. Thus, even though a thousand travel stories have been written about Rome, most non-Catholics only know about the Vatican City through the Tom Hanks Hollywood vehicle Da Vinci Code.



In truth, this walled-off city-state has history separate from the greater city of Rome which contains it ó as well as gorgeous medieval gardens, one of the greatest museums in the world, and architectural masterpieces like St. Peterís Basilica and the Sistine Chapel.†


In addition to its artistic wealth, Vatican City presents a rare and humbling experience to see modern people by the thousands, united every day to pay their respects to divinity. Regardless of how you feel about dogma, religious practices or the Pope, the concentration of human faith and hope that convenes every morning on the Vatican steps is worth a moment of respect. (Photo courtesy of Wikimedia Commons/James Bromberger)