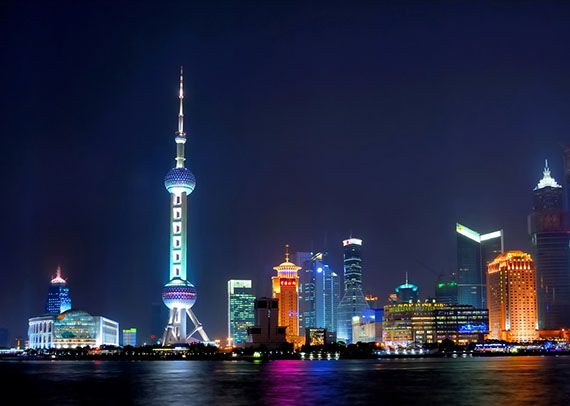 Photo Courtesy of Shutterstock
It might be half a world away, but with more direct flights than ever from the U.S., a spate of new hotels, world-class shopping and a sophisticated restaurant scene, Shanghai is now more accessible than ever, and all you need to get a taste is just three nights. Here's the plan.
Frequent Flying
American Airlines was the first U.S. carrier to launch daily service to Shanghai from LAX in April of last year (United now offers it as well), and it also has a daily nonstop service from Chicago. The flight is aboard the largest craft in its fleet, the Boeing 777-200, and features the airline's Flagship First and Business classes.
The flight from Los Angeles departs at 3:00 pm and takes 13.5 hours, arriving the following day at 7:30 pm, just in time to grab a bite of dinner and get a good night's sleep. Flights on the way back to LAX depart at 9:45 pm and land at 5:35 pm the same day (ah, that International Date Line!).
American Airlines Flagship Business service contains 37 angled-lie-flat seats with adjustable 10.6-inch screens with dozens of movies, TV shows, music, games and travel programs. The amenities kit features Burt's Bees products along with the usual goodies like an eye mask and warm socks.
Meal service each way includes a multi-course dinner (with wine pairings if you so choose), and then a small breakfast or snack about two hours before landing.
Boutique Beds
Though all the major chains are well represented here—including the newest Peninsula and an expansive Waldorf-Astoria in a historic building along the Bund, a high-altitude Park Hyatt in the Pudong District, and lovely Four Seasons and Ritz-Carlton hotels—in this sprawling metropolis, why not opt for an individual boutique property like the PuLi Hotel and Spa—a one-of-a-kind luxury hotel in the Jing'An Park district just a few minutes drive from the waterfront that is suited both for leisure and business travelers.
The PuLi's slender, soaring tower contains just 209 rooms and 20 suites. Each is decorated with a modern Chinese sensibility of simplicity and spare design, with unique contemporary art pieces like photographs by local artists and traditional sculptures, along with natural wood accents.
Rooms also come with all the techno-gadgets we require when traveling abroad, including Bose Wave sound systems, Nespresso machines, free minibar items, high-speed WiFi, huge flat-screen televisions, and automated blackout shades. The spacious bathrooms contain dual stand-alone vanities, separate showers, sinks and WC facilities.
Though most guests congregate in the lobby reception area at the Long Bar, (the longest bar in Shanghai, at 32 meters!) we chose a prime spot at the new outdoor Garden Terrace overlooking a small manmade pond to enjoy the hotel's list of new signature cocktails and small bites—that is, when we weren't enjoying a swim in the indoor lap pool or a treatment at the hotel's Anantara Spa.
City Sights
Now that you've had a good night's rest, it's time to head out and explore the city. To get a sense of Chinese art history, start with the Shanghai Museum, whose exhibits span several media and eras all the way back to the Bronze Age.
For a more political take, visit the home of Dr. Sun Yat-Sen, who helped bring down the Qing Dynasty and is credited as the founder of modern China at the beginning of the 20th century.
Another great way to get a feel for the city is to visit the vertiginous observation deck of the Shanghai World Financial Center across the river from the old section of Puxi in business-oriented (and skyscraper-studded) Pudong.
Walking tours are the way to go as you explore the treasure trove of Art Deco buildings lining the world-famous Bund along the river (where you'll also find many of the city's landmark hotels, restaurants, and shops) and the classic architecture of the French Concession neighborhood.
Finally, for a mix of low-key history and some good shopping, visit the restored alleys of Xintiandi, where you'll find museums about daily life in old Shanghai, the staid Museum of the First National Congress of the Communist Party of China, and name-brand stores like Shanghai Tang.
Shanghai Shopping
Of course, most people come to Shanghai for the shopping thanks to a profusion of flagship stores from world-renowned designers. Start in the neighborhood around Xintiandi, where you'll find many of these.
Along the streets and wider boulevards that border the French Concession, you'll find both massive malls as well as one-off boutiques from up-and-coming local designers, while Nanjing Road is a pedestrian mall of enormous stores that sell both big-name designers and collectible antiques and keepsakes.
Most tourists stop by the historic Yu Yuan Gardens, which were once a vast private parkland but now house souvenir shops in faux-classic Chinese buildings. Though much of what is here is, to put it mildly, schlock, you can find some great deals on authentic Chinese goods as well.
If you're all about high fashion like Prada, Gucci and Versace, try the Shanghai IFC Mall in the same Pudong building as the Ritz-Carlton, or HuaiHai Road, where there are tons of shops.
Eastern Eats
Shanghai has some of the most sophisticated cuisine in China, and chefs both from Asia and abroad are finding a home here.
The PuLi's own Jing'An restaurant serves an upscale continental menu, as does the restaurant Shook at the newly restored Swatch Art Peace Hotel right around the corner from the Bund.

M on the Bund is another popular destination for expats and the city's glitterati, where you can have a multi-course banquet fit for the Emperor.
Near Xintiandi, Y? Shanghai is a stylish restaurant perfect for enjoying a leisurely lunch of classic Shanghainese dishes and dim sum as you decide what to do next.
And for a taste of the city's famous pork soup dumplings, xiao long bao, try a variety at the award-winning Din Tai Fung, just outside the gates of the Yu Yuan Gardens.
It might be an ocean away, but faster and more frequent flights, an efficient and comprehensive tourism infrastructure, plenty of enriching sights, and some of the best shopping in the world make Shanghai an ideal destination for travelers who want to experience the thrill of an exotic international destination but might not have the time to spend several weeks abroad.

Shanghai's famous pork soup dumplings, xiao long bao

The living room of a Deluxe Suite at the PuLi.