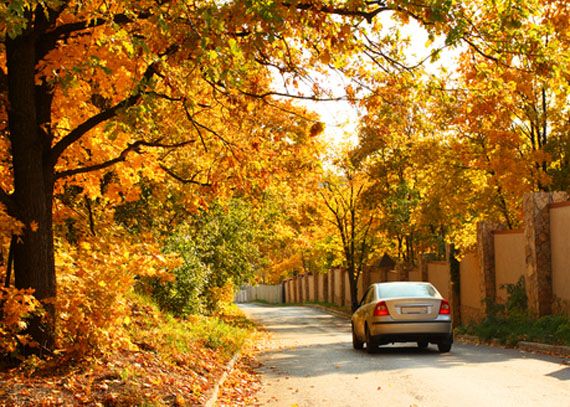 Packing up the car for a
road trip
is a thrilling ritual that looks entirely ordinary on the outside. Painstakingly thought-out routes, snacks lovingly put together, and the excitement of arriving wherever it is you're headed all come together at that moment, usually early in the morning. And there's never a lack of excuses for skipping town for the weekend — a local (or not-so-local) festival does the trick, but so does a great hotel deal or just wanting to get out of dodge.
Fall is the perfect time for weekend road trips, whether impromptu or well thought-out. Driving through rows upon rows of trees changing colors is like having built-in entertainment, and there's nothing as refreshing as stepping into the crisp, open air when you pull into a harvest festival, stop for a sweet treat, or detour for a wine tasting.

Finding gorgeous hues of falling leaves is easy, particularly within a stone's throw of New England, but all across the country there are vivid pictures of autumn from coast to coast. Here are our five picks for great fall road trips.



Unexpected Leaf-Peeping Pilgrimage: Arizona

When you think of Arizona, the last image to pop into your head would be rolling hills covered in orange, red, and yellow leaves. Au contraire. Arizona's Route 89 is an adventurer's autumnal road trip, with steep mountains and winding roads with lush hues of red, orange, and yellow all around. Slow down through the Verde River Valley, where the colors are awe-inspiring. Then veer just off the highway, and about 20 minutes from Sedona, into Oak Creek Canyon which is a myriad of fall colors come October. It is the perfect excuse to stop into Elote Cafe for their delicious, much-lauded, and authentic Mexican cuisine. (Photo courtesy of Flickr/jmenard48)



Food-Filled Fall Weekend: Asheville, N.C.

A leaf-peeping weekend in Asheville is a multi-sensorial experience. The sights and smells of autumn will surround you whether you're strolling through the gardens at the Biltmore Estate or making your way down the Blue Ridge Parkway. Asheville offers scenic hikes, drives, and bike paths for spotting colorful trees, and delicious, fresh, and seasonal food for a sumptuous weekend stay. Stop by 12 Bones for dry-rub brown sugar ribs or pop into City Bakery for sticky buns or coconut custard pie. (Photo courtesy of Flickr/saidunsaids)





Classic Choice: Cape Cod, Mass.

Where better to hunt bright leaves in all shades of red, orange, and yellow than in New England? It's the gold standard for leaf-peeping, and for good reason. The region has more scenic, autumnal drives (complete with roadside stops and harvest festivals) than we can count, but our pick this fall would be a Cape Cod journey

on Route 6A through Sandwich and Brewster. Stop into the Brewster Scoop for an ice cream cone, make your way to Brewster Fish House for the day's fresh catch, and hit the Sandwich Farmers Market for local cheeses and fresh produce. (Photo courtesy of Flickr/harryalverson)



The Historic Journey: Western Maryland

Soaking up the colors of fall in Maryland means absorbing a bit of American history, as well. Take the National Historic Road through the Casselman River Bridge Park, past the only remaining toll house from the historic road, into Cumberland, and then to Baltimore. Harvest festivals and sweet treats are abundant along the route — in Cumberland, stop at the Queen City Creamery for delicious ice cream in an old-fashioned fountain shop, and in Baltimore hit Hollins Market for a corned beef sandwich and freshly baked sweets. (Photo courtesy of Maryland State Parks)



Through the Grapes: Oregon Wine Trail

With autumn comes wine harvest season, which means that any leaf-peeping day is also a prime wine-tasting day. Pack the car with savory sustenance and make way for the Willamette Valley, Oregon's premiere wine region with more than 200 wineries. Stop into the Dundee Bistro for dinner and rest your head at the Black Walnut Inn, before sipping, swilling, and spitting at Whistling Dog Cellars, Lange Winery Reserve, or Adelsheim. The Tasting Room offers a look at some of the region's top producers in one go, if you're on a time crunch. Then, when you're done wine tasting, peer outside at the gorgeous leaves. There are hiking and biking trails that surround you in the region, making it easy to get even closer to nature. (Photo courtesy of Flickr/Pouregon)


More from our friends over at TheDailyMeal: