Shandana A. Durrani View Profile

New York Editor | JustLuxe
Things to Do in Kauai | Explore the Island on Bike, Zipline and Paddle Board
Posted: Jan. 12th, 2012 | Comments 0 | Make a Comment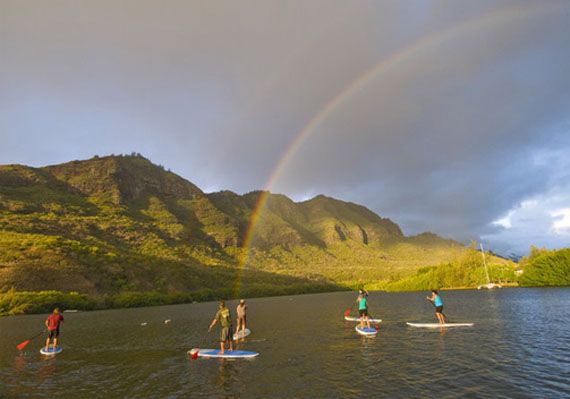 Photo Courtesy of Outfitters Kauai
This island has enraptured many throughout the centuries. The ancient Polynesians, legend has it, canoed their way across the vast Pacific Ocean to lay claim to its green valleys and white sand beaches.
Then came Captain Cook and finally British and American settlers. Even King Kamehameha the Great, wanting to unify the Hawaiian Islands, coveted Kauai the most. His two armadas sacked the island unsuccessfully. Kauai's King Kaumualiʻi took pity on him and swore allegiance to Kamehameha to avoid further bloodshed.

Sitting on zodiac, gazing at the rugged Napali Coast, I can see clearly why this land enthralls. Even 200 years after Hawaii became one kingdom, much of Kauai remains wild and untamed. Vast stretches of the interior are heavily blanketed by trees and are hard to get to via car. Traversing much of this ground requires steely determination as well as permission by property owners.

Spending five days here is not enough to enjoy all the splendors of the island, but affords enough time to get a taste of its unique appeal. Much of the action centers around Poipu, an area on the southern coast of the island. This section of the island has arguably the best beaches, surfing, restaurants and accommodations.


Day 1
To get a lay of the land, head out on a bike tour of the Koloa Heritage Trail via Outfitters Kauai. The two-hour tour ventures through four districts of the southern shore. With Stella Burgess, a native Hawaiian as your guide, you will discover the significance of various archaeological and cultural sites in Poipu. (Photo courtesy of Blue Hawaiian Helicopters)



After lunch, head on a Blue Hawaiian Helicopter tour. The one-hour journey takes you around the entire island, from Hanapepe Valley to Manawaiopuna Falls (Jurassic Park was filmed here) to Waimea Canyon, the "Grand Canyon of the Pacific." You won't want to miss Mt. Wai'ale'ale, the site of an ancient volcano and considered one of the wettest spots on the planet. For those wanting extra adventure, opt for a doors-off adventure via Inter-Island Helicopters that gets you closer to the action and may literally have you jumping out of your seat.

Dine at Dondero's, the Grand Hyatt Kauai Resort & Spa's award-winning Italian eatery. You get a prime spot looking at the ocean as you savor classic Mediterranean fare with a twist.


Day 2
After a restful night, head out on a Kauai SUP Adventure. That's stand up paddle boarding in layman's terms. If it's your first time, don't worry. You're unlikely to fall as you'll traverse the gentle Hule'ia River rather than the bumpy ocean. After the two-mile river stint, you'll hike three miles through canyons and waterfalls with a chance to zipline into the water at the end. The six-hour journey invigorates. (Photo courtesy of Grand Hyatt's Anara Spa)



After six hours of hard work, a massage might be in order. The Grand Hyatt's Anara Spa is one of the best on the island. Opt for a traditional Lomilomi massage, which embraces flowing strokes to release tension in the mind, body and spirit. The soft ocean breeze wafting through the palapa will relax you as much as your therapist's hands.

Koá Kea Hotel and Resort has one of the hottest restaurants on the island. Red Salt serves contemporary cuisine using indigenous plants and herbs. Fresh seafood is a mainstay on the menu so pick one of the local fish and enjoy the savory repast in a chic yet comfortable ambience.


Day 3
The over-water zipline just wetted your appetite so reserve a half day zipline adventure with Outfitters Kauai. Your handsome guides will brief you on safety tips before they take you into the interior of the island to zoom down eight different ziplines of various lengths and heights. The thrill of beating your partner across the valley is only one of the highlights of the adventure. It's also a great way to see spots on the island you'd never see otherwise. (Photo courtesy of Outfitters Kauai)



Kukui'ula Village is one of the newest additions to the dining and shopping scene in Poipu and after a day zipping over trees and rivers, you'll want to check out the cute boutiques and eateries dotting this center. The architecture harkens back to Kauai's origins as a sugar cane plantation. Stop at the culinary market for local produce and products. Don't miss Uncle's Shave Ice and Smoothies, the best on the island. Bungalow 9 showcases well-priced art and housewares and you'll want to grab one of the shop's signature canvas bags, which list famous destinations on Kauai. Savor light appetizers at Josselin's Tapas Bar & Grill. End the night at Merriman's Fish House, a Hawaiian institution.


Day 4
Captain Andy's Sailing is one of the largest outfitters on the island offering tours of the rugged Napali Coast. The bumpy and frenetic journey takes more than an hour and a half and is not for the elderly, pregnant or faint of heart. You'll be holding on for dear life for most of it but you'll be rewarded with dolphins putting on an acrobatic show for your pleasure and ambitious hikers clinging to the cliffs as they head to a secluded beach used in the last Pirates of the Caribbean film. (Photo courtesy of Captain Andy's Sailing)



The jarring nature of the journey will make you want to spend the rest of the afternoon in the spa. Kukuiula is a new real estate development that offers members homesites, a holistic farm filled with fruits, vegetables, flowers and herbs, a private golf club and one of the best spas you'll likely every visit. The beautifully designed facility — hand-carved teak benches vie with lava rock for aesthetic supremacy — has a yoga and Pilates studio as well as outdoor exercise greens but you've come here for the spa services, which range from traditional lomilomi massages to acupuncture to vichy showers and hydrotherapy tubs. After your treatment, unwind in the steam room, which has beautiful mosaic tiles and looks onto a private garden. You'll never want to leave.


Day 5
All good things must come to an end but before this trip does, take a surfing lesson or just head out to the beach on a boogie board. Nukumoi Surf Company is run by extremely friendly and helpful locals who will provide you with the proper gear for your day in the sea. Poipu has the best beaches on the island. Brennecke's is right outside the surf shop and is popular with tourists and locals alike. Lawai Beach offers exciting surf breaks and Shipwreck's Beach is best for advanced surfers. Poipu Beach has been named the best beach in the country by the Travel Channel and with myriad spots to see turtles and rays, you'll agree. (Photo courtesy of flickr/bobmartin)



As you watch the sunset while heading back to the surf shop, you'll understand why King Kamehameha fought so ardently for this land.
Related Topics : Hawaii, Kauai, Travel Destinations, Surfing, Adventure Travel, Watersports, Luxury Travel
LET'S CONNECT LUXURY NEWS & MORE






Featured Luxury Hotels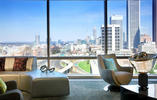 Atlanta, United States
W Atlanta - Downtown
Contemporary sophistication is all yours at this savvy southern W Atlanta...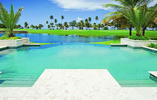 Rio Grande, Puerto Rico
The St. Regis Bahia Beach Resort
In the romantic setting of a Caribbean coconut plantation, nestled between a...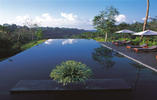 Bali, Indonesia
Alila Ubud
Alila Ubud is a tranquil and secluded hillside retreat that sits high up on...

Fort Lauderdale, United States
W Fort Lauderdale
Lounging on Florida's sugar-sand coastline W Fort Lauderdale makes its debut as...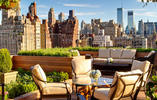 New York, United States
The Surrey
Exceptional moments at The Surrey extend well beyond your accommodations....

Palm Beach, Aruba
The Westin Resort & Casino, Aruba
Imagine the sand beneath your feet and a soft steel drum playing in the...