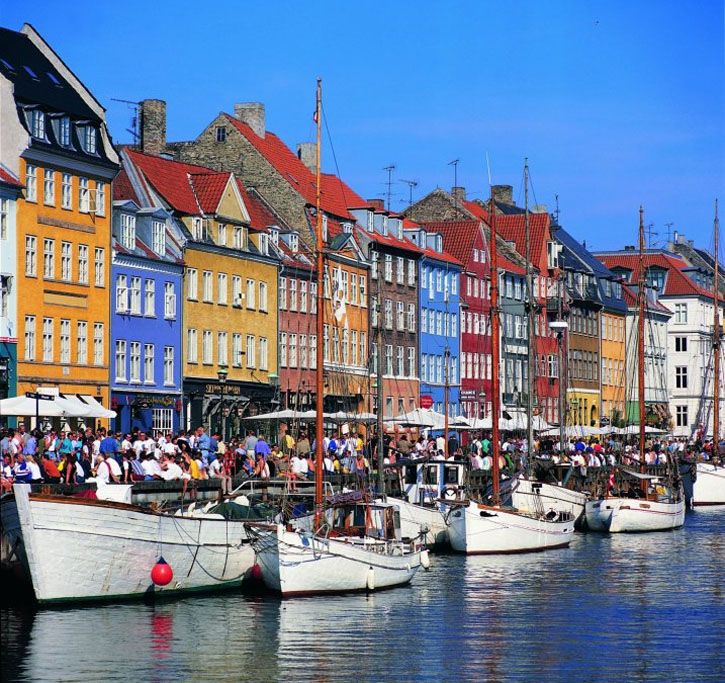 Photo Courtesy of Denmark Official Tourism
The majestic kingdom of Denmark is situated in
North Western Europe
between the Baltic and the North Seas. This often overlooked Scandinavian nation is home to one of the most ancient royal dynasties in Europe and has emerged from the twentieth century almost entirely unscathed. With enchanting scenery and an abundance of picturesque structures and villages dotted throughout the countryside, international visitors will discover a treasure trove of magical destinations within easy reach of the capital city of Copenhagen.
Kronborg Castle is one of the best preserved and most spectacular Renaissance castles in all of Denmark, boasting impressive turrets, spires and regal courtyards. Situated in the historic port city of Helsing?r, the castle has been listed as an UNESCO World Heritage Site and it has achieved global notoriety through the writings of William Shakespeare as "Hamlet's Castle." This proud maritime fortification dates from the sixteenth century and it possesses a truly royal heritage as it was given the honor of housing King James I of England when he arrived in Scandinavia for his marriage to Princess Anne of Denmark in 1589.
The tiny, romantic seaside town of Helsing?r is equally atmospheric. Founded in the fifteenth century, Helsing?r contains several museums, the impressive St. Olai Cathedral and a six-hundred-year-old Carmelite priory. After strolling through the narrow, cobbled lanes of the old town center, an intrepid voyager can enjoy a salty ferry ride across the straight to explore Denmark's next-door neighbor. Ferries sail regularly throughout the day for the short crossing to Helsingborg, Sweden, which takes one hour and twenty minutes.
Although it is the younger of the two, Frederiksborg Castle claims the title of "largest Renaissance castle in Scandinavia." Built in the early 1600s and situated in the nearby town of Hiller?d, this magnificent palace is home to the Danish Museum of National History. The vast collection of fine art and ornamental design at Frederiksborg extends beyond the castle walls. This palace is not only surrounded by a magnificent castle lake, it is framed by a sumptuous baroque garden, an absolute must-see for any garden enthusiast.
Both Helsing?r and Hiller?d share the island of Sjaelland with Copenhagen and both can be reached by train in less than forty-five minutes. Round trip tickets for an afternoon adventure can be purchased at the main train station for as little at $38. For visitors who prefer the luxury of bus travel, several tour companies run day-trips directly from the capital. Both City-Discovery.com and Copenhagentours.net offer excursions that include admission to either Kronborg or Frederiksborg Castle for around $75 per person while Denmarktours.net offers a comprehensive day trip for the price of $85 that includes entry to both of the famous, historic castles.
For travelers wishing to journey further afield, the delightful town of Odense will reward their efforts. Odense is the largest city on the central island of Funen and it lies between ninety minutes and two hours away from Copenhagen by train. Rail tickets will cost approximately one-hundred dollars for a standard round trip or $160 for a luxurious first-class journey. Accommodation in this small city can range from a centrally located, traditional bed and breakfast for $85/night to a four-star hotel including breakfast buffet and full amenities for only $145/night.
Visitors to Odense are able to enjoy the leisurely pace of this provincial center in many ways. The colorful, half-timbered houses lining its old cobblestone streets can be viewed on foot or by sailing down the scenic Odens? River. Riverboat cruises departing from Munke Mose Park provide an unforgettable view of the town and its beautiful, historic old quarter.
Additionally, the thousand-year-old village is famed for being the birthplace of beloved children's fairy-tale author, Hans Christian Anderson. The historic cottage purported to be his birthplace has been turned into a museum and a gift shop dedicated to celebrating Anderson's cultural contribution. While children can delight to his unforgettable tales of The Little Mermaid, Thumbelina and The Ugly Duckling, inquisitive adults can connect to the author through exhibits, artifacts and a collection of original, handwritten letters.

All of these exquisite towns and buildings strung from coast to coast display the distinctive, delicate beauty of traditional Danish design. International tourists will be delighted to discover that this unique aesthetic is evident on the larger islands, the smaller islands and the Danish mainland province of Jutland.
The charm of Denmark is undeniable whether rambling across the picturesque countryside, withdrawing into a tranquil and cozy seaside cottage or searching for the gleaming, golden amber jewelry plentiful throughout the Baltic. Replete with quaint villages and fairy-tale palaces, the pure magic of Denmark will prove intoxicating and its appeal will be completely irresistible!