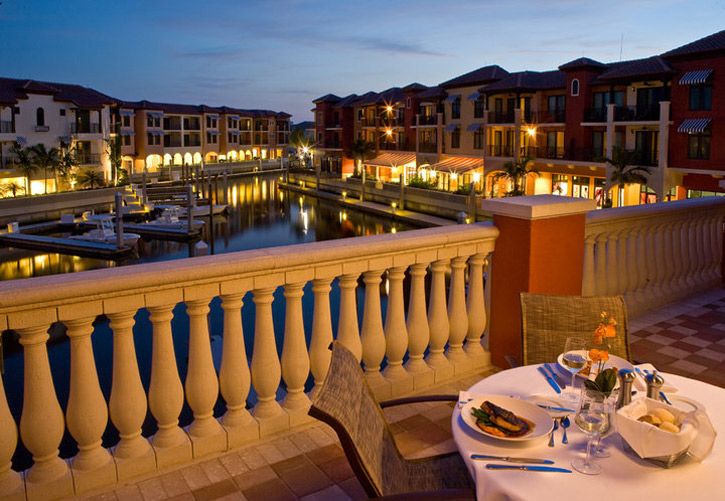 Photo Courtesy of Naple Bay Resort
Naples, Florida was named by its founders, who described the site as reminiscent of and surpassing the bay in Naples, Italy in beauty, beach and climate. You will be the judge of Naples, once you have experienced this magical spot that has long been an enclave of affluent Midwesterners and other discerning folks, who are enamored with the climate, culture, fauna, flora and
food scene in South Florida
.
Once a snowbird haven, this city is now a year round Mecca for international sun worshippers and seekers of the good life. Every denizen is delighted to share their story of discovery and is fiercely devoted to this city by the sea or more precisely, the Gulf of Mexico. Besides the boating, fishing, and birding, the world-class beaches boasting clear, warm gulf waters and white sand strewn with seashells beckon to all, to come, play and stay. It is no wonder why Coastal Living has named Naples as #2 in its just-released list of the "15 Happiest Seaside Towns in America!" (Photo Courtesy of Naple Bay Resort)
Naples Bay Resort: A Room for all Seasons
The Naples Bay Resort, the newest property in town, is a perfect place to settle in for a short stay or an extended visit. This Tuscan villa complex offers luxury hotel accommodations with marina views and two to three bedroom cottages suitable for families. The service is warm and personable. With Tony at the bell desk and Marilyn, who recently won top honors as exemplary concierge, the service couldn't be more accommodating. (Photo Courtesy of Naple Bay Resort)
The décor is comfortable and it is easy to make yourself at home, except that home was never this good. After surveying the expansive grounds, it's time to decide on what to do first; rent a boat, kayak, bike, play a round of golf or a game of tennis, peruse the shops or hop a resort shuttle to the beach or the resort Club. (Photo Courtesy of Naple Bay Resort)
The Club is an activity center onto itself, with pools, waterfalls, a lazy river with floating rafts, a quiet, adults-only pool and lounging area, and a café and bar. The Club houses a state of the art fitness center supervised by trained staff and a serenely sensual spa. The spa offers all the services you would expect to find with sea salt as a pervading theme ingredient in the treatments. One important feature is the quality of the staff. The receptionist and masseuses are seasoned professionals who make your spa visit a therapeutic pleasure to experience and repeat. When it's time to eat, consider these finds. (Photo Courtesy of Naple Bay Resort)
L'Orient-Southeast Asia Meets Naples Bay Resort
At L'Orient restaurant open your eyes, and you are in Naples by the gulf; close your eyes and you are in some exotic amalgam of Thailand, China and Japan with a bit of the Mediterranean thrown in for good measure. This family owned and run bistro has something for every taste. Yes, there are the traditional dishes that you crave: Kung Pao, Pad Thai, Lo Mein Noodles—all exemplary! (Photo Courtesy of L'Orient)
But far more interesting are the specials: Salmon with Truffle Emulsion, Star Anise Duck, Short Rib and Caramelized Onion Flatbread. Ooh, la la...now we are eating! L'Orient goes far beyond the norm to offer a sophisticated palate the chance to soar well beyond the usual Thai offerings in an exquisite marina setting. What a combo! (Photo Courtesy of L'Orient)
Sea Salt
Third Street in Naples Florida is rockin' with live music and plenty of eateries, and no place is more hip than Sea Salt. Chef Fabricio and his wife Ingrid have designed a contemporary indoor/outdoor space that is irresistible to the senses. The décor is exciting, and as you walk into the dining area, the first thing you see is the impressive wine cellar, floor to ceiling, with some of the largest and most intriguing selections on the West Coast of Florida. Then just past this stellar collection, you'll glance at the Chef's Table in full swing with 10 diners enjoying a twelve-course repast fit for a king—yet available for the mere cost of the table for the evening.
The Chef's Table dishes are special editions of the menu items showcasing the uber fresh selection of fish and seafood that distinguish this restaurant from so many others in a town noted for its restaurants. There for the viewing and eating, was a freshly caught swordfish, including tail and head with the sword still intact. Quite a site for anyone who hasn't ever seen the real deal. (Photo Courtesy of Michael Reiss)
This is just one of the many fish varieties delivered daily to Chef Fabricio by his local fishermen who know he will accept only the finest and freshest catch. These are prepared in a variety of ways including simple grilling that brings out subtle, fresh flavor. Not to be outdone by the fish, the fresh pastas also elevate this restaurant to star status among the gourmet crowd who gather faithfully at the door, patiently waiting for a table during the high season.
The waitstaff are professional and are eager to impress with a tasting selection of the global salts that line the kitchen walls. And then there are the wines, by the glass or by the bottle. Sommelier Liset Zelaya will surprise and delight the most sophisticated connoisseur with the broad and deep range of selections on offer. It is evident from the patrons that once you have enjoyed the pleasures of this contemporary Venetian cuisine laced with new world influences, you will return to be surprised and delighted by Chef Fabrizio's latest creations. (Photo Courtesy of Sea Salt)
The Naples Food Tour
Whether you are here for a weekend or an extended stay, The Naples Food Tour is a must on your short list. The Naples Food Tour Owner, Elaine Osbond, is a self professed "foodie" and former owner of a local tea room. She became the keeper of so many secret culinary finds that she decided to share her wealth with the community. When you hop on her bus, you are off for a grand adventure into what makes Naples cook. (Photo Courtesy of The Naples Food Tour)
Osetra
We started off at Osetra on Fifth Ave., sipping champagne, and tasting caviar and smoked salmon crostini. (Photo Courtesy of Osetra)
Swan River
We next went to Swan River for the freshest seafood since Cap Cod, sampling calamari, seared tuna salad, main lobster salad and their renowned seafood chowder. (Photo Courtesy of Swan River)
Jacquie's Jamming
Then on to Jacquie's Jamming for a taste of her current tropical fruit selection and the jellies, jams, chutneys and salsas that she creates to highlight her tropical treasures. (Photo Courtesy of Jacquie's Jamming)
Madam Mac/Radical Rations Catering
Self taught, Madam Mac specializes in all manner of mac and cheese and she adds her pulled pork, beef brisket, collard greens and black bean medley to the tasting for some mighty fine eatin'. We go on to visit two more gourmet stops, well orchestrated, as we are just beginning to crave dessert. (Photo Courtesy of Madam Mac/Radical Rations Catering)
Royal Palm Chocolates
Off to Royal Palm Chocolates where Philip and his wife welcome us to their hand crafted chocolate shop. Here we learn about the intricacies of making perfect truffles, as we sample some of their ever changing creations. (Photo Courtesy of Royal Palm Chocolates)
Peace Love and Little Donut Shop
Last on our tour was the Peace Love and Little Donut Shop serving Intelligentsia Coffee and some of the most unique raised donuts you'd never imagine finding housed in Wayne's World Gas Station. The drive-through lines are hot and heavy from early morning and at only 70 calories for an undressed delight, we can see why. (Photo Courtesy of Peace Love and Little Donut Shop)
Tour guide Elaine is a trail blazer and a determined foodie scout who is constantly adding more sources to her list. She has many additional stops, each more fascinating than the last, with the tastes, personalities, and stories that make for a thoroughly enjoyable and delicious afternoon delight. This is a tour worth repeating and recommending. Bon Appetit!