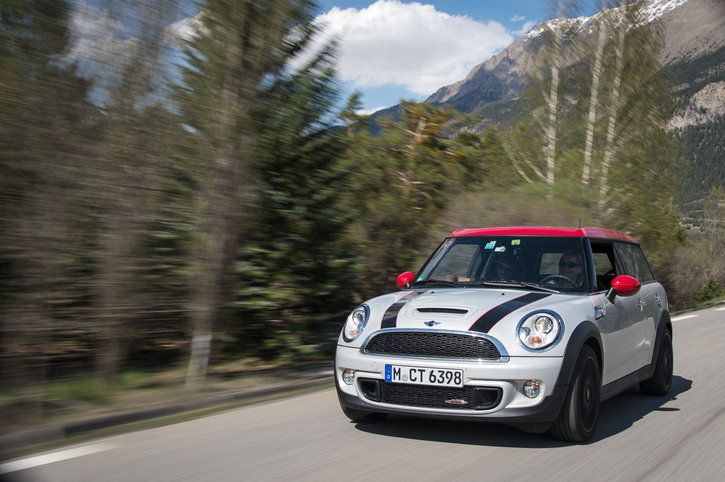 Photo Credit: Uwe Fischer/Carrie Coolidge/Devin Chanda
In mid-May, I experienced first-hand what it is like to be a MINI Cooper owner when I went on a whirlwind
trip to France
to experience a celebration of the brand known as MINI United 2012. MINI United is a biennial owners convention/festival that occurs in a different part of Europe or the United Kingdom every two years. It is a fun-filled three day weekend featuring a wide range of activities and events including car racing, stunt driving, test drives, track drives and go-cart racing to a showcase of historic and celebrity-designed MINIs.
Uwe FIscher
A highlight of the event was the unveiling of the new MINI John Cooper Works GP which will be launched as a limited edition of 2,000 units in the fall. At this year's MINI United, there was also a world-class music festival featuring such well-known acts as Iggy (Pop) and the Stooges, The Ting Tings, Gossip and Charlie Winston, among many others.
The plan was to arrive in Europe several days before the festival so I could drive to Provence in the South of France, much like the 30,000 other attendees who were traveling to the event from nearly 50 different countries. I met three colleagues in Munich, Germany, where MINI's parent company, BMW, is located. We spent our first afternoon visiting the BMW museum and BMW World, which is an incredible building designed by noted architect Wolf Prix. Beginning this summer, it will display the latest MINI's alongside BMWs and Rolls Royce Motor Cars.
Uwe Fischer
The following morning we embarked on our journey, split into pairs, in two different MINIs on loan from BMW: a pristine 2000 MINI Classic Knightsbridge in "British Racing Green" with an extra large sunroof, Sport suspension and Minilite alloy wheels (original MSRP was 13,068 Euros) with Sport suspension and a 2012 MINI John Cooper Works Clubman with a white silver body color and red roof (MSRP: $32,000 with the MINI Connected navigation package that costs an additional $2,750). Both vehicles had manual transmissions and were fun to handle, making the excursion even more enjoyable.
The first day we drove the Classic MINI for approximately eight hours through some of the most beautiful vistas I have ever seen. The driving experience was unique and probably much like being behind the wheel of an antique MINI from the 60s or 70s. The car was a base model with four speeds but no power steering, air conditioning, power windows or even a radio. Driving this petite vehicle made me feel extremely close to the road and often I felt dwarfed by some of the massive 16-wheeler trucks that frequently passed me by.
Carrie Coolidge
Steering was a chore when parallel parking, but fine otherwise. We drove through the German countryside before reaching the Austrian Alps, followed by the Swiss Alps, and finally into the Italian Alps. We saw castles and beautiful cathedrals and went through incredibly long tunnels that took us through mountains. The highlight of the day was the hour we spent sipping coffee at a beautiful outdoor restaurant on the banks of Lake Como in the town of Como before heading to Milan to spend the night, have gelato and go to the Piazza del Duomo to see the majestic cathedral lit up in all of its glory.
The second day was spent driving the MINI John Cooper Works Clubman through Italy and France where we saw more of the magnificent Alps. Unlike the Classic MINI, driving the Clubman was a breeze, as the vehicle was loaded with options. The Clubman was much more powerful than the Classic and though it also had a manual transmission, it offered six speeds, which was fun to play with.
We elected to drive on as many country roads as possible, which took us through tiny villages such as Oulx, ski resort villages including Vars and ancient villages such as Barcelonnette and Remollon. The tour took us through some beautiful parks in France, as well, including the Ecrins National Park where we saw people white river rafting in a river that paralleled the road.
Devin Chanda
Next, we drove through the Parc Naturel Regional du Queyras, which was so high up in the mountains that there were snowbanks on either side of the road. One of the most beautiful sites of the day was in the Alpes-de-Haute-Provence region where we had a bird's eye view of a pristine lake.
We drove through the lovely town of Aix-en-Provence before reaching our final destination which was a boutique hotel in St. Cyr sur Mer early in the evening. The next two days were spent at the festival in Le Castellet at the Circuit Paul Ricard complex where I met dozens of MINI owners from all over the world. My two-day trek in the Classic MINI and the Clubman was an admirable badge of honor in their eyes and one that I was thrilled and honored to experience. It really was a once-in-a-lifetime adventure.
Should you wish to experience a similar road trip in Europe, several car rental agencies with offices in France and other European countries offer MINIs for rent, including HireLuxuryCar.com (which offers a full range of models) and Hertz (which offers a limited selection).