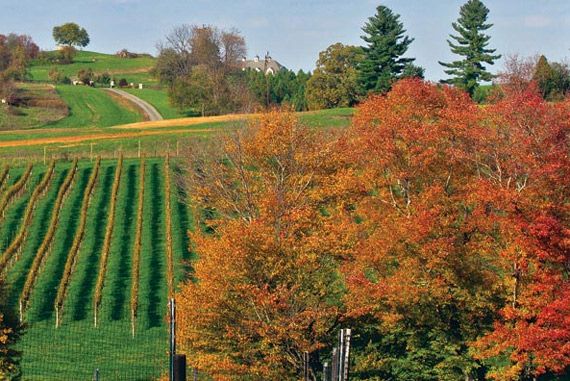 Photo Credit: Matthew D. Hagarty
A true
wine touring experience
is not only what you sample, it's about what you do, see, smell, and taste along the way. The beautiful Commonwealth of Virginia offers endless possibilities for exploration and discovery all year round—and harvest time is no exception when Virginia invites you to "Discover your Local Crush" during October, Virginia Wine month. On most October mornings, there's a chill in the air here that softens as the sun climbs to center stage.
Well into the afternoon, it is decidedly warm. And as the sun lowers in the sky, the air cools again, causing one to reach for a sweater or jacket. It is this dependable temperature pattern that causes Virginia's crops to develop their intense flavors. Wine grapes attain an optimal level of sugar, acid, and tannin—so they're lusciously ripe in every way. October is a wonderful time to visit Virginia and experience the harvest in every sensorial way.
Breathtaking foliage
The first visible sign of autumn occurs in the last days of September when Virginia's state tree, the dogwood, turns a muted red. Peak colors are expected in the mountain region during mid-to-late October, and in the Piedmont and Coast Plain in late October to early November. Besides the dogwood, leaves of poplar, sweet gum, and maple trees lead the color parade. Many berries also take on a different hue. By mid-October, the mountains' sugar maples are vibrant orange; and red maples, which are abundant statewide, are ablaze with brilliant color.
This stunning foliage paints a perfect backdrop for hikers, cyclists, campers, photographers, and picnickers seeking fresh air, exercise, and natural beauty in an autumn afternoon or weekend. There are trails, parks, and scenic drives in every direction, from the Blue Ridge Mountains, to the Shenandoah Valley, to the Eastern Shore.
The flavors of a Virginia Fall

As the foliage undergoes its radiant transformation across the Commonwealth, so do the crops that are planted in its fields. Crisp, crunchy apples, pungent mushrooms, plump roasted peanuts, smoked country ham, blue crab, oysters, and flounder make for flavorful ingredients in a host of traditional Virginia recipes. Many of these dishes date back hundreds of years to Colonial times. According to lore, the first Brunswick stew originated in the Commonwealth in the 1830s. Today, it has evolved into a marvelous concoction of chicken, corn, tomatoes, and other vegetables.

October is Virginia Wine Month

Virginia is a Commonwealth of Wine—with more than 200 wineries stretching across every region of the state, from the waters of the Chesapeake Bay to the Blue Ridge Mountains. Each October, when its vineyards come alive in brilliant red, orange, and yellow hues, Virginia rolls out the red carpet to visitors from around the world. With a feast of festivals, genuine hospitality, and a seemingly endless amount of exceptional wines to be tasted, Virginia is a wine destination unlike any other.

Wine is an integral part of a history dating back nearly 400 years. Today's booming wine industry pays tribute to the likes of Thomas Jefferson, the author of the Declaration of Independence and the Statute of Virginia for Religious Freedom, third president of the United States, and founder of the University of Virginia, who knew it could be done. When you celebrate wine with Virginians at harvest, you realize you're celebrating more.

Planning your trip couldn't be easier. Besides relying on two very complete websites (virginia.org/wine and virginiawine.org), a downloadable portable guide to Virginia wineries is now available to smartphone users.

From the coastal serenity of the Eastern Shore to the majestic splendor of the Blue Ridge Mountains, each of the Commonwealth's nine wine regions provides a host of memorable ways to discover the beauty and flavors of Virginia in October.



Where to Tour and Taste

Blue Ridge Region
Main Towns: Abingdon, Blacksburg, Floyd Tour Rocky Knob AVA, North Fork of Roanoke AVA, Mountain Road Wine Experience
Taste Pinot Grigio, Petit Manseng, Sauvignon Blanc, Traminette, Vidal Blanc, Viognier, Cabernet Franc, Cabernet Sauvignon, Chambourcin, Merlot, Pinot Noir

Central Virginia Region
Main Towns: Charlottesville, Richmond, Gordonsville
Tour Monticello AVA, Bedford County Wine Trail, Blue Ridge Whiskey Wine Loop, Colonial Virginia Wine Trail, Explore Nelson Wine Trail, Heart of Virginia Wine Trail, Jefferson Heritage Trail, Monticello Wine Trail, Nelson 151, Southern Virginia Wine Trail
Taste Cabernet Franc, Cabernet Sauvignon, Chambourcin, Chardonnay, Gewürztraminer, Malbec, Merlot, Norton, Petit Manseng, Petit Verdot, Pinot Gris, Pinot Noir, Riesling, Rkatsiteli, Sauvignon Blanc, Seyval Blanc, Tannat, Touriga Nacional, Traminette, Vidal Blanc, Viognier

Chesapeake Bay Region
Main Towns: Tappahannock, Irvington
Tour George Washington Birthplace AVA, Chesapeake Bay Wine Trail
Taste Cabernet Franc, Cabernet Sauvignon, Chambourcin, Chardonnay, Merlot, Petit Verdot, Pinot Grigio, Seyval Blanc, Vidal Blanc

Eastern Virginia Region
Main Towns: Cape Charles, Chincoteague, Onancock
Tour Virginia's Eastern Shore AVA, Eastern Shore Wine Trail
Taste Chardonnay, Merlot, Cabernet Franc, Cabernet Sauvignon, Petit Verdot

Hampton Roads Region
Main Towns: Jamestown, Williamsburg, Yorktown, Virginia Beach, Norfolk, Hampton, Portsmouth
Tour Chesapeake Bay Wine Trail, Colonial Virginia Wine Trail
Taste Cabernet Franc, Cabernet Sauvignon, Chardonnay, Merlot, Seyval Blanc, Vidal Blanc, Norton

Heart of Appalachia Region
Main Towns: Norton
Tour Blue Ridge Wine Way
Taste Cabernet Franc, Cabernet Sauvignon, Norton, Chambourcin, Villard Blanc, Viognier, Tinta C?o, Traminette

Northern Virginia Region
Main Towns: Arlington, Leesburg, Fredericksburg, Alexandria, Middleburg
Tour Artisanal Wineries of Rappahannock County, Blue Ridge Wine Way, Blue Ridge Whiskey Wine Loop, Fauquier County, Heart of Virginia Wine Trail, Loudoun Wine Trail, The General's Wine and History Trail, Tuskie's Wine Trail, Vintage Piedmont
Taste Cabernet Franc, Cabernet Sauvignon, Chambourcin, Chardonnay, Merlot, Norton, Petit Verdot, Sauvignon Blanc, Seyval Blanc, Vidal Blanc, Traminette

Shenandoah Valley
Main Towns: Winchester, Lexington, Roanoke, Staunton
Tour Shenandoah Valley AVA, Blue Ridge Whiskey Wine Loop, Botetourt County Wine Trail, Shenandoah County Wine Trail, Shenandoah Valley Wine Trail, The General's Wine and History Trail
Taste Cabernet Franc, Cabernet Sauvignon, Chambourcin, Chardonnay, Merlot, Norton, Petit Verdot, Riesling, Sauvignon Blanc, Seyval, Vidal Blanc, Traminette

Southern Virginia
Main Towns: Danville, Clarksville
Tour Southern Virginia Wine Trail
Taste Cabernet Franc, Cabernet Sauvignon, Chardonnay, Merlot, Syrah, Pinot Grigio, Vidal Blancv

TOUR OCTOBER

HIKING TRAILS
Appalachian Trail
Cascades National Recreation Trail
Crabtree Falls Trail
James River Heritage Trail
Little Stony National Recreation Trail
Natural Bridge Cedar Creek Trail
Read Mountain Preserve
Sky Meadows State Park

SCENIC DRIVES
Big Walker Mountain Scenic Byway
Blue Ridge Parkway
Rte. 611 Cumberland Mountain Scenic Drive
Skyline Drive/Shenandoah National Park
The Virginia Birding and Wildlife Trails (Coastal, Mountain, and Piedmont regions)

FASCINATING FARMS
Burnside Farms, Northern Virginia
Clinch Haven Farms, Heart of Appalachia
Eastfields Farm, Chesapeake Bay
Great Country Farms, Shenandoah Valley
Loudoun County Farm, Loudoun County
Meadow Farm Museum, Central Virginia
Owen Farm, Southern Virginia

AMAZING FARM TOURS
Fauquier County Farm Tour
Loudoun County Farm Color Tour
Rappahannok County Farm Tour

TASTE OCTOBER

Apple cake
Apple dumplings
Brunswick stew
Clam fritters
Chesapeake Bay blue crab cakes
Corn chowder
Fried oysters
Oyster and sausage dressing
Pan flounder
Peanut soup
Scalloped oysters
Smoked ham with biscuits
Sweet corn pudding