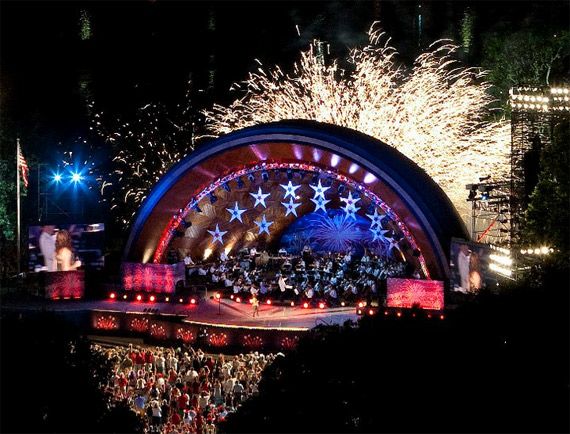 Photo Credit Boston Pops Fireworks Spectacular
As soon as summer hits, cities across the United States get geared up to celebrate our nation's most collective party — Independence Day. Fourth of July parades color city streets with a hurricane of red, white, and blue flags while concerts and festivities maintain patriotic sentiment well into the evening with bouquets of sky-splitting fireworks lighting up the night. It's a series of traditions that Americans across the country know by heart. Almost every American can conjure up a Fourth of July memory, whether it was watching a crescendo of fireworks from the middle of a summer-warmed lake or eating an ice cream cone with a gaggle of sun-browned kids at a pool party.
However, it is not only Americans that reserve a day to honor their nation's fight for freedom. Countries around the globe from Sri Lanka to Kenya observe national independence, and the incredible international heritage the United States has come to reflect makes it easy to take part in some of these amazing celebrations. Take a look at a few colorful events that take place across the U.S including one of the best places to commemorate the Fourth of July this year.
Bastille Day
— San Francisco
If you have a sense for French fashion and social democracy, then reserve your tickets for Paris Is Burning: ArtPoint's Annual Bastille Day Party in San Francisco. The event celebrates high art as well as the first major event of the French Revolution in 1789 when the Bastille prison was stormed. In addition to access to the VIP lounge, exhibition tours, and a bevy of hors d'hourves, guests with VIP tickets will have exclusive viewings of The Fashion World of Jean Paul Gaultier: From Sidewalk to the Catwalk exhibition. This year's event takes place on Bastille Day, Saturday July 14 from 8 pm to midnight.
Philippine Independence Day Parade & Ball
— New York City
The biggest Pilipino Independence Day celebration outside of the Philippines takes place every year in New York City with an elaborate street parade including floats, open cars, marching bands, and many, many renowned officials. The parade is traditionally held along Manhattan's Madison Avenue during the first Sunday in June. The occasion also includes beauty and talent contests, a Youth Festival, as well as Grand Marshal Night and a lavish Independence Ball.
Haitian Independence Day Gala
— Randolph, Massachusetts
While millions are ringing in the New Year on the first of January, Haitians everywhere are also recognizing the years of 1804 and 1805 when the country won their independence from France, becoming the first black republic in the world. Annually, Haitians, especially throughout Florida, New York, and Boston, throw parties, make a special pumpkin soup (soup
joumou
), and enjoy dancing and music. For the past decade, Haitian-Americans United, Inc. throws an annual Haitian Independence Gala in Randolph, Massachusetts. The event gathers over 500 philanthropists, elected officials, as well as civic and business leaders from across the Northeast. The gala also hosts musical talents and much anticipated keynote speakers.
Boston Pops Fireworks Spectacular
— Boston
As June is heading to a close, Americans of all backgrounds, ethnicities, and native tongues look forward to the Fourth of July. With thousands of parties, parades, and fireworks displays, big and small, occurring all over the United States, it's hard to pick a favorite destination for Independence Day merry-making. However, the Boston Pops Fireworks Spectacular has been doing the occasion right for nearly forty years. The event got its beginnings in 1974 by David Mugar who suggested the city celebration include an extra few verses of Tchaikovsky's
1812 Overture
. The next several years included additions of cannons, fireworks, and the ringing of church bells, creating an unparalleled patriotic fervor that eventually led to the fireworks spectacular it is today.
The event draws over 500,000 visitors from New England and around the world and seven million more television viewers. Performers at the event include Michael Chiklis, Jennifer Hudson, Keith Lockhart, the United States Navy Sea Chanters and more.