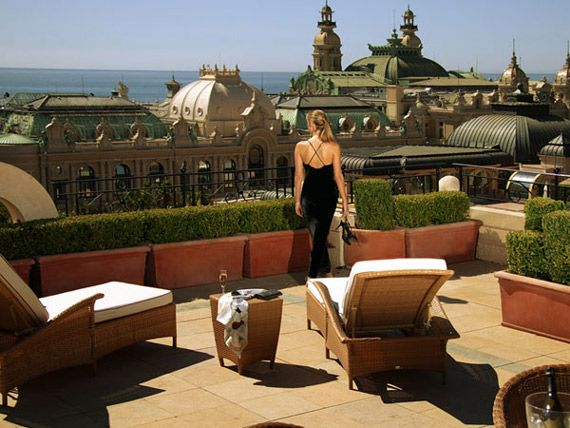 Photo Credit: Hotel Metropole/Louis XV-Alain Ducasse
The Principality of Monaco is one of those mythical places that is featured as a necessary stopover in the summer months for movie stars, captains of industry and royalty alike. It is a place to be seen, to wear your best outfits and to put it all on black at the casino.
Although Monaco's busiest times and biggest parties take place on the weekend of the Grand Prix in May, my visit the following week did not reveal a city with a collective hangover, but rather a place of beauty not overrun by tourists. It exuded a more subtle glamour that previously popularized the Riviera. While in Monaco, I stayed at the iconic
Hotel Metropole
. It is located right on the main gardens of Monte Carlo, close to the casino and the main square, yet sufficiently set back at the end of a long narrow driveway to keep the throngs of day tripping tourists from getting too close.
The ornate exterior of the hotel dates back to the Belle Epoque period and is in stylistic harmony with the other grand buildings surrounding the main square, which gives the impression of an exclusive urban destination in the middle of a chic and vibrant area. The interior holds a world of decadence in plush velvets set to a background of cool lounge music, all bearing the signature touch of world renowned designer Jacques Garcia.
Our junior suite was spacious with floral prints and rich fabrics, which was more sedate and classic than the vibe that the communal areas create of the hotel. The large bathroom featured an enormous shower with Hermes beauty products, and the bedroom windows opened to beautiful views of Monaco. Service was impeccable throughout our stay at every level, striking the ideal balance between being formal, efficient and friendly.
The pool was unfortunately closed for renovations during our stay, but the grand re-design by Karl Lagerfeld is currently being implemented, due to be unveiled at the end of summer. The second phase of the renovations will finish in early 2013 with a third Joel Robuchon restaurant designed by Karl Lagerfeld, adding to his eponymous two Michelin-starred restaurant, the hotel's main restaurant, and YOSHI, the hotel's Japanese offering.
Monaco specializes in formal fine dining and on our first day, we were lucky enough to secure a reservation at one of the best tables in town at Le Louis XV by Alain Ducasse. This is the restaurant where Ducasse, one of the world's most celebrated chefs, initially made a name for himself and earned his first three Michelin stars. The dining room is ornate with gold gilding and crystal chandeliers; interior doors are marked by antique mirror panels; and one wall of glass doors opens onto the exterior terrace that overlooks the Place de Casino (in the summer, be sure to request one of these prized seats).
We indulged with the 25th anniversary tasting menu, which was a tour de force of Ducasse's finest creations. Our lunch started with a trolley of a variety of champagnes encased in ice, setting the scene for a truly memorable experience that lingered long into the afternoon. A mesmerizing array of bread was accompanied by an enormous cylinder of butter wheeled out on a cooled piece of marble. A health conscious meal this is not, but the taste sensations are worth the sacrifice.
The seven course tasting menu ranged from one exemplary dish to another, but notable highlights included San Remo Gamberoni with delicate rockfish gelée and caviar; veal with wild mushrooms, potatoes and onions (which they kindly substituted in for us); local 'fraises des bois' with mascarpone sorbet; and warm Piedmond hazelnut soufflé. Le Louis XV was a truly memorable lunch that is a must for any visit to Monte Carlo.
My second meal in Monaco was less elaborate, but no less noteworthy. In a kitchen overseen by another celebrity chef, YOSHI is Joel Robuchon's first venture into pure Japanese cuisine. I ordered a bento box to sample a broad array of dishes, most of which sounded familiar as Westernized Michelin-style Japanese fare, but each was executed to a very high standard, with the seaweed salad and the miso cod being particularly remarkable.
YOSHI's décor is a breath of fresh air in a city that seems to shy away from modern design. The bijoux restaurant has lime velvets and pink silks as accents in a room of a dark wood base with views directly onto a small Zen garden. This is a perfect place to pause and take a break from the hustle and bustle of Monaco, while still enjoying excellent Japanese cuisine.

If you need an injection of culture then a visit to the palace is a major attraction, and Monaco's many upscale shops are in prime position across the principality. In the height of summer, Monaco's beach clubs take center stage with locals and visitors battling for the best seats on the promenade of the Monte Carlo Beach Club. (Photo courtesy of Monte Carlo Beach Club)
Monte Carlo is famous for its haute hotels, fine dining, the casinos and the nightclubs, and on our recent visit, it didn't disappoint. Go to
Metropole.com
to learn more.