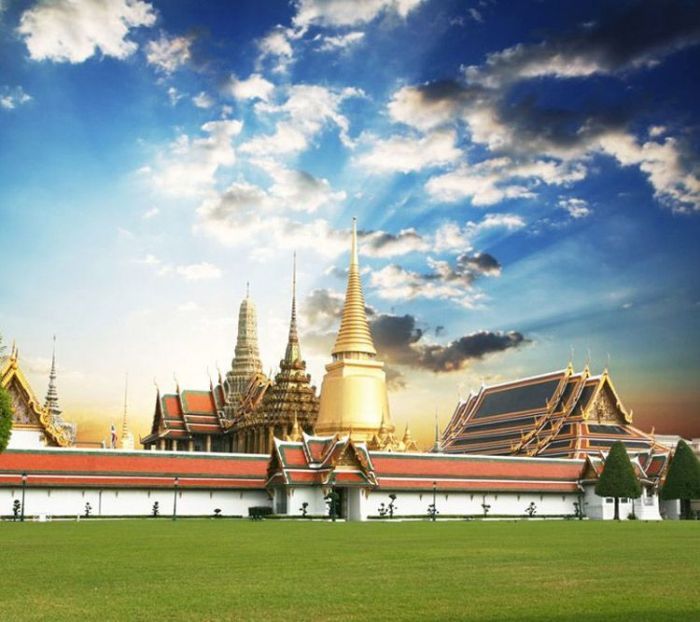 Photo Courtesy of Exotissimo Travel
Traveling to some of the world's most sought after, remote and exotic locations used to mean extensive research, weeks of planning and crammed airplanes...but not anymore. Now, under the care of private jet travel companies, all you have to do is choose your dream tour, relax in the comfort of your private plane, and know every last detail is taken care of. They offer some of the
best luxury vacations
with itineraries revolving around everything from extraordinary islands to the Golden Triangle, to UNESCO World Heritage sites. Here are a few of the once-in-a-lifetime educational and enriching trips taking place this fall.
Cultures & Cuisines
If you're a foodie then this tour by Smithsonian Journeys is right up your alley. Hop on board a VIP-configured Boeing 757 and head out to eight exotic destinations to taste the local fare and get an inside look at the cultures that make each country unique. Explore the mysterious city of
Reykjavik, Iceland
; savor Hungarian cuisine in
Budapest
; learn about the Golden Temple and Punjabi cooking techniques in
Amritsar, India
; explore the tea plantations in
Hangzhou, China
; float along Ha Long Bay and experience the flavors of
Vietnam
; and join the Arabian Nights Feast in
Muscat, Oman
. But it doesn't stop there...
Discover the ancient ruins and Mediterranean delicacies of
Crete, Greece
; journey through the vineyards and sample the classic French dishes of the
Burgundy region
. Along the way visit some legendary UNESCO World Heritage sites and get insight from experts like editor-in-chief of
Gastronomica: the Journal of Food and Culture
Darra Goldstein and extensive world traveler, historian and writer Charles Doherty as they come along for this trip of a lifetime. This private jet tour starts at $59,950 and is taking off from September 17-October 5, 2012. (Photos courtesy of Smithsonian Journeys)
Highlights of Asia
Exotissimo Travel is taking guests on an eight-day tour of Asia, hitting all the most beautiful and fascinating locales on the continent. Your private Cessna CJ3 will first head to
Bangkok
for a look at the modern and traditional aspects of this capital city and end the day with a stay at the Four Seasons, Bangkok. Next, the jet will take you to
Northern Thailand
to
Chiang Rai
. Take a boat ride down the Mekong River, visit the Hall of Opium and then spend the night at Anantara Golden Triangle Resort & Spa. Day three and four will take place in and around the Malikha Lodge in
Myanmar
where you'll ride elephants through the jungle with the
Himalayas
and Nam Lang River in the distance; picnic on the riverbank and experience rural life in Putao. (Photo courtesy of Anantara Golden Triangle Resort & Spa)
Temples are the focus of your time in
Siem Reap, Cambodia
, where a guide will have you hopping from once ancient temple to the next. Then watch a traditional dance performance during dinner and get a good night's sleep at La Résidence d'Angkor. The next morning you will set out for a visit to
Angkor Wat
and have lunch before jumping on the plane to
Phuket
. A stay in a private pool villa at Anantara Phuket Resort & Spa for the last two days will round out this exciting excursion, with a day at the beach or a relaxing spa treatment. This tour operates year round and rates change frequently. (Photo courtesy of Exotissimo Travel)
Circle the Globe
While these other private jet tours may concentrate on showing you the best that one region has to offer,
National Geographic
Expeditions is flying you off to a whopping five different continents; and not only that, they'll take you to 12 UNESCO World Heritage sites, from
Machu Picchu
to the
Pyramids of Giza
. Hold onto your safari hat because your whirlwind 24-day vacation will start in Washington D.C. and from there go to
Peru, Chile, Samoa, Australia, Cambodia, China, India, Tanzania, Egypt, Morocco
, and finally back to Washington D.C.
Enriching the experience along the way will be a world-class team of experts to give some captivating insight into the many locations. While in
Tanzania
,
National Geographic
Explorer-in-Residence Meave or Louise Leakey will be there to take you through
Serengeti National Park
and explain fossils found on location. Archeologist Edmundo Edwards is waiting in
Easter Island
to walk around the moai statues and discuss the lost culture and rich history of the Chilean village. Dates in 2012 are full but interested parties can go on a waitlist for October 7-30 or December 28-January 20, 2013 starting at $66,950. 2013 dates include February 19-March 14, October 8-31, and December 27-January 19, 2014 starting at $68,950. (Photos courtesy of
National Geographic
Expeditions)
Four Seasons Around the World
TCS & Starquest Expeditions have been flying guests around the world via private jet for over 20 years and they show no signs of stopping. Catering to the luxury lover, they are currently offering a chance to stay in 10 Four Seasons hotels around the world. This is a great opportunity to explore some of the most exotic and remote locations, while under the care of a five-star hotel staff. You'll land in destinations like
Kona, Hawaii, Sydney, Australia, Bali, Indonesia
and
Cairo, Egypt
where you'll discover the highlights and hidden gems by day and enjoy locally inspired dishes at distinguished Four Seasons restaurants by night. (Photo Courtesy of Four Seasons Mumbai)

Flying from one country to the next on a Boeing 757 jet that seats only 78 passengers means you will receive the utmost in personalized service every step of the way; this is even further ensured by their crew-to-traveler ratios of one to five. Perhaps the most rewarding part of their expeditions is not what you take away from it, but what you end up giving to the places you visit. At each destination, the company makes sure to purchase local goods, supply to medical centers, or donate to improvement programs. The 22-day Four Seasons Around the World tour takes place from September 30-October 21, 2012 or October 29-November 19, 2012 and starts at $8,500 for single accommodations and $66,950 for double occupancy. (Photo courtesy of Four Seasons Bora Bora)