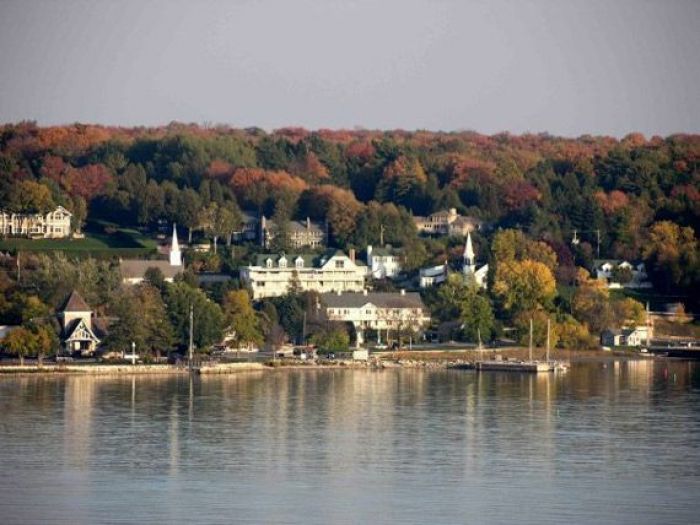 Photo Credit: Cynthia Dial/Door County Visitors Bureau
May I introduce you to Door County?  If "Where?" should be your response to this question, you are not in the minority. But should you overlook Door County, called the Cape Cod of the Midwest, you are making a mistake. First, let me tell you just where Door County is located. This region is the Wisconsin peninsula that juts into the water between Green Bay (to the west) and Lake Michigan (to the east). 
Door County is the state's largest county with 300 miles of shoreline and a population that explodes between Memorial Day and Labor Day. Named one of the Top Ten Fall Foliage Destinations in North America by TripAdvisor.com, it hosts two million visitors a year. During my recent discovery of Door County, I asked Jon Jarosh with the Visitors Bureau this question.
If one had limited time, what top five activities would he recommend to best showcase Wisconsin's largest county?
Here goes:
#1 Water Activities
Cynthia Dial
Sister Bay is the hub of on-the-water fun, from swimming and kayaking to sailing. Our treat was to be one of the first passengers on the
Edith M. Becker
, a 62-foot Class B tall ship (translation: a traditionally-rigged sailing vessel), the newest addition to the harbor.
#2 State Parks
Cynthia Dial
Door County is home to five of Wisconsin's state parks: Newport State Park, Peninsula State Park, Potawatomi State Park, Rock Island State Park and Whitefish Dunes State Park (known as "five jewels in the crown"). One of my mornings was spent barefoot along the shores of Lake Michigan exploring Whitefish Dunes in the white-sugar-granulated sand.
An additional prime perk is the county's 11 lighthouses, most of which were built during the 19th century and are listed in the National Register of Historic Places. Cana Island Lighthouse (the state's most photographed) has 97 steps (I counted them) and an unobstructed view.
#3 Fish Boil
Showcasing a peek into the area's back-in-the-day style of communal cooking, fish boils are popular meals for tourists and are prepared with flair. We went to Rowley's Bay and "Peter Rowley," the greeter/historian explained it all—potatoes, onions and whitefish from the local waters are cooked in a large kettle over a wood fire. At the end of the cooking, kerosene is thrown on the fire and the dramatic "flame up" causes the water to boil over. The result: mouth-watering fish and vegetables served with melted butter.
#4 Wisconsin Foods
Cynthia Dial
Door County is known for its cherries, resulting in cherry everything and I sampled it all—cherry pie, cherry candy, cherry wine, cherry coffee and my personal favorite, a cherry margarita at the on-the-water locals' favorite Fred & Fuzzy's. Note that many of the cherry orchards offer "pick your own cherries," so grab a basket and enjoy.
If it's Wisconsin, there's cheese. Cheese curds are a long-time tradition. And in the interest of proper research, I sampled cheese curds all along the way—again, Fred & Fuzzy's received my top vote. (
Photo courtesy of Fred & Fuzzy's
)
Coffee is not to be missed. Full disclosure: I gave up coffee several years ago, and yes, I had coffee every day throughout my trip in Door County. My choice was the Door County Coffee & Tea Co. Tip: Arrive at breakfast time and enjoy your coffee with one of their homemade egg dishes. (
Photo courtesy of Door County Coffee & Tea Co.
)
#5 Cultural Performances
What an unexpected gift I received when I discovered Door County's top-notch, professional cultural offerings. American Folklore Theatre is set in the woods in the town of Fish Creek and its production of locally written and produced "Victory Farm" rated right up there with plays I've seen in New York and London. And though the setting of Midsummer's Music Festival was in a renovated barn (the venue continually changes), the music transported me to Vienna—it was world-class. (
Photo courtesy of American Folklore Theatre
)
Bonus activity: Washington Island. As Door County's largest island (36 square miles), it is home to one of the largest Icelandic communities outside of Iceland and is located north of the "tension line" (the line marking the halfway point between the Equator and the North Pole). Washington Island is reached by ferry crossing the treacherous strait that connects the waters of Green Bay to the open body of Lake Michigan; and it's probably because of this isolation that Washington Island seems miles further than its actual seven miles from Door County mainland.

There you have it. Door County is special. It's American flags being flown everywhere and it's Adirondack chairs scattered about the green lawns and parklands for the purpose of simply sitting back and smelling...in this case, the cherries.
Visit
DoorCounty.com
to learn more.