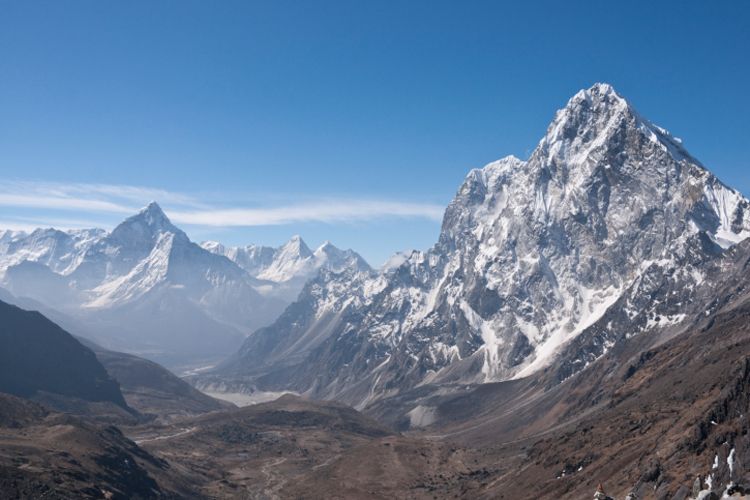 Photo Courtesy of iStockphotos/Thinkstock
Remote Lands is "the world's foremost" bespoke travel agency focused on Asia alone. With over 20 years of traveling experience under their belts, founders Catherine Heald and Jay Tindall created the agency to bring luxury travelers to areas that have been left relatively untouched by modern society. The company specializes in unique, difficult to arrange trips that require extensive insider knowledge and attention to detail. Bhutan is the last Himalayan Buddhist Kingdom, and epitomizes the type of region that Remote Lands specializes in helping luxury travelers to explore and contribute to.
Located high in the Himalayas between India and China, Bhutan has remained largely isolated from the outside world, not even welcoming television or Internet until 1999. "A remote Eden," the kingdom is a picture of the kind of simplistic existence that few foreigners will ever experience. Remote Lands' goal is to immerse their clients in the rich culture of Bhutan, exposing them to the diverse peoples ranging from nomads to nobility. Though Remote Lands makes personalized itineraries, the suggested Bhutan schedule includes five culturally rich areas for travelers to explore during the trip.
Paro
A popular destination in Bhutan, Paro is a town featuring many spiritual and historical sites to visit. Experience the National Museum of Bhutan, with a private tour from its director or a senior curator. Also in the area is Rinpung Dzong, or "The Fortress of the Heap of Jewells." It was built as the protector of the Paro valley and is an excellent example of Bhutanese architecture. While in Paro, Remote Lands will arrange for you to dine with a reincarnate lama, who will give you an introduction to the national religion of Buddhism. If you aren't spiritually satisfied by that little chat, hike or take a horseback-ride up to Tiger's Nest Monastery, a stunning temple complex clinging to a granite cliff 2,000 feet above the Paro Valley. Upon arrival, you will be given a private tour by the senior lama, and if you are deemed worthy, you may even receive a special blessing. After that spiritual refreshment, you will probably need to relax physically, and for that your Paro hotel will provide a traditional hot-stone bath.
Thimphu
Experience the more civic side of Bhutan at the nation's capital city, Thimpu. Remote Lands will arrange for you to dine with a member of parliament, get a private tour of the Institute of Traditional Medicine and even visit an orphanage run by a foundation that the Queen of Bhutan herself created. You will also have the opportunity to take a look at the largest book in the world at the National Library of Thimphu. The capital is also home to the Motithang Takin Preserve, which will introduce you to the national animal, the Takin. Further, you will be offered private instruction in the national sport of archery during your stay. Your accommodations in Thimphu will be the Taj Tashi Thimphu which blends traditional architecture with modern design.
Punakha
Get a taste of the average Bhutanese citizen's traditional way of life in Punakha by visiting and lunching with a farmhouse family. After they give you a cooking demonstration in traditional Bhutanese cuisine, you will be asked to help with their chores, getting a real feel for what everyday life looks like to a Punakha villager. Remote Lands will also organize a private tour of the Punakha Dzong's prayer halls and living quarters, as well as set you up to receive a "personal blessing from the head abbot or a senior lama." In addition to the prayer halls, Punakha is home to Chimi Lakhang, which you can hike to. It is a temple dedicated to a peculiar monk from the 16th century, referred to as the "Divine Madman." If you are in the mood for a little excitement, Punakha also offers white-water rafting.
Gangtey
For a quieter experience, an expert guide will lead you through this quaint village, only to impress you with the magnificent Gangtey Monastery, and tea with one of the senior monks. Gangtey is also home to the Black-Necked Crane Center, where you can view the shy bird's nesting grounds. Afterwards, perhaps you would like a half-day hike to Lawala Pass, where you will view the Himalayas from 10,500 feet. Then, return to your hotel, the Amankora Gangtey for a Bhutanese cooking class, and feast on your creations.

Bumthang
Remote Lands will coordinate your Bumthang visit to begin with a Chipdrel ceremony held in your honor by local villagers when you arrive at the Swan Temple. The procession will end with you meeting the most important village citizens. After that elaborate ritual, it is only fair that you help said villagers out with their daily work, such as rice pounding, wheat threshing, and weaving. If you're traveling with your spouse, your stay will also allow you the chance to have a traditional Bhutanese wedding vow renewal ceremony. Remote Lands offers you the chance to put your teaching skills to the test by arranging for you to visit a local school for the day and teach an English lesson. The agency will even arrange for you to receive a water blessing from the monks at Jakar Dzong while experiencing the Dzong's majestic landscape.