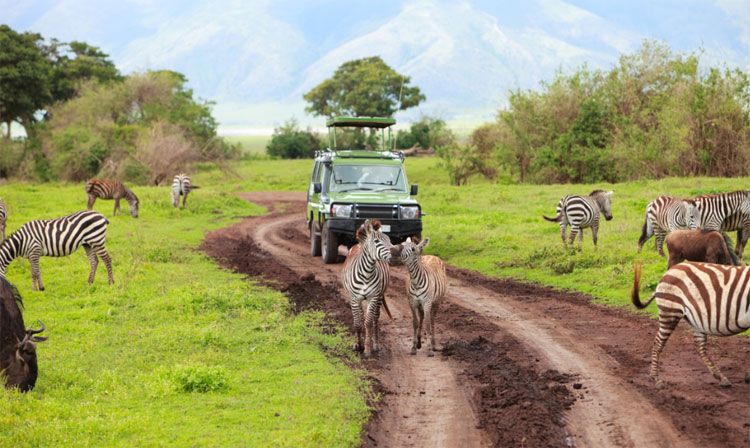 Photo Courtesy of ThinkStock/John Rowley/Jupiterimages
It happened—you decided your life was lacking true excitement and the only cure is an authentic African safari complete with leopards, buffalo and elephants, live in the flesh. Up until now, you might've only seen such creatures on TV or behind secure fencing, so this is going to be quite the exhilarating travel experience. Now that you know you're ready to take life by the antelope horns, it's time to prepare for this once-in-a-lifetime excursion into the wild. First things first: What does someone voluntarily roaming around the African bush bring with them?
International Senior Correspondent for
Condé Nast Traveler
, Susan Hack explains that some obstacles may arise when packing, since most small aircraft enforce a strict weight limit. And we all know if you can't get on that connecting flight to your remote location, then you can't become a lion's potential lunch later. Including all camera equipment, you could be looking at only 20-30 pounds to carry on. Hack says a lot of clothing isn't necessary though, as many lodging facilities have laundry services. For a 10-day safari she's packing:
2 pairs of hiking pants
2 short sleeve T-shirts
2 long-sleeved shirts
1 fleece
bicycle arm warmers (for cold mornings)
3 pairs of socks
4 pairs of underwear
1 cashmere sweater
1 pair of black yoga pants
1 pair of rain pants (during wet season)
1 waterproof windbreaker (during wet season)
We also looked inside the backpacks of more African safari experts including private guides, volcanologists, and owners of tour companies to see what they consider must-have items on such an exotic journey. Everything from iPads to goosedown pillows to dark chocolate and malaria antidotes were accounted for. Other than these personal "necessities," and those listed by Hack, there were several items that most of the experts could agree are crucial:
Unscented sunscreen (with insect repellent a plus)
Binoculars
Durable hat with an under-chin tie
Flashlight
Comfortable walking shoes
Alternate footwear like sandals or slippers
A shawl or kikoy (an African sarong) for varied uses
Camera with extra batteries and memory cards
Reading material
Waterproof bags
Knowing that most people do not partake in African safaris in their spare time, travel and tour companies will usually provide a list of exactly what to bring based on the area you are visiting, activities scheduled and weather conditions, so there's no guesswork or option to overpack. You can simply relax, enjoy nature's majestic beauty, and try to stay out of the way of hungry carnivores.