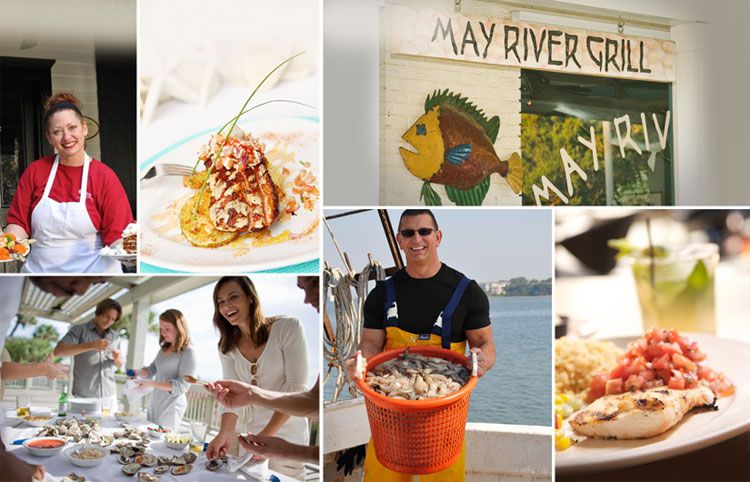 Photo Courtesy of Visit Hilton Head
There's a lot more to Hilton Head Island than just beaches and golf courses as we discovered on our recent trip to the area's
Motoring Festival and Concours d'Elegance
. The South Carolina retreat is also home to the 28th Annual Hilton Head Island Wine & Food Festival, taking place in March, one of the East Coast's largest tented wine festivals. In the meantime, however, there are plenty of options for indulging your gourmet leanings at the area's many fine restaurants which offer a wide range of wines and cuisines as well as some special features elevating them above mere places to eat.
Michael Anthony's Cucina Italiana has been a Hilton Head staple of fine dining for over a decade, but they are by no means resting on their laurels. The authentic regional fare making use of the freshest local ingredients often gets it recognized among the country's best Italian restaurants.
The elegant Enoteca Bar, popular for antipasto, and main dining room on the ground floor are complemented by a perfectly-curated market featuring the finest Italian specialty foods, many of which are impossible to find elsewhere, and a large selection of wines for those wishing to try their hand at home. A copy of Michael Anthony's beautiful cookbook,
A Taste of Italy in the Lowcountry,
is also essential.
A more recent addition is a professionally designed demonstration kitchen on the upper level that's a paragon of functional luxury. The kitchen area, which feels like taking a trip to a private villa in Tuscany, is set up both for posh private dining with everything prepared right in front of your party, to popular cooking classes that can be as hands-on as you wish. Wine pairings are another specialty of the house, and various elixirs are available by the flight, glass or bottle. True enthusiasts might even get to peek at the house's Private Reserve List of tightly allocated, small production vintages that are rarely available. (
Photos courtesy of Michael Anthony's Cucina Italiana
)
When it comes to wine, Red Fish, which specializes in the freshest seafood, artisanal meats and handpicked produce from its own farm, is impossible to beat. This is thanks to its incredible in-house wine shop offering over 1,200 bottles which can be ordered with every expertly prepared meal.
Winner of
Wine Spectator
's Best Of Award for Excellence, the vinous offerings complement the local flavors and house made spices that impart a true "Lowcountry"—a colloquial name for the South Carolina Coast—taste and feel to the attractive space. With Hilton Head's temperate climate even in the cooler months however, a table in front of the impressive outdoor fireplace is our favorite place to dine. (
Photos courtesy of Red Fish
)
On the upper end of the scale, it would be foolish to visit the area without a trip to indulge in low key luxury at The Inn at Palmetto Bluff. There are several dining options on the picturesque property, but you must be a guest at the resort or own real estate there to secure a table at our top pick, the exclusive Canoe Club. Situated in the resort's private boating club complex, the artful architecture manages to blend Southern style with nautical elegance as imagined by a millionaire sportsman of a bygone era. And the gracious staff will make you feel like a member of the club no matter what.
Vast arched ceilings and walls all finished in rich warm wood evoke both an updated Adirondack Great Camp and the interior of a massive mahogany sailing yacht. Offering views of both the bucolic May River and the Palmetto Bluff Water Trail, the feeling of having a private chef at your beck and call is amplified by the menu. It allows you to customize your meal by choosing from a variety of fresh local seafood or natural cuts of meat from the Club's Butcher's Block, and then select accompaniments and sauces as you desire.

The concept extends to the desserts, which can be "built" to your specifications and finished with one or more of the 15 special toppings. And if you spot one of the many celebrities who frequent the posh resort, designed for the relaxation and privacy, remember they're on vacation as well, and try not to stare. (
Photos courtesy of Inn at Palmetto Bluff
)