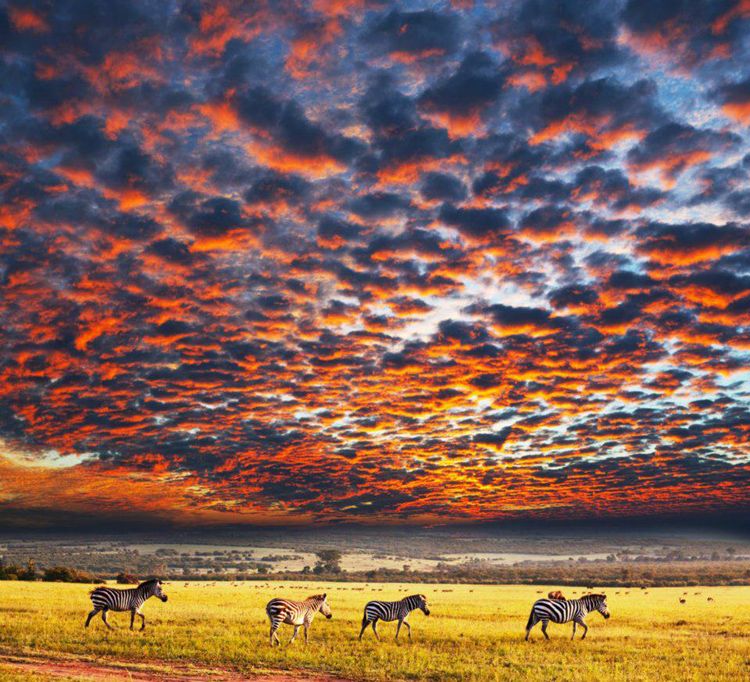 Photo Courtesy of Extraordinary Journeys Africa
Extraordinary Journeys is teaming up with ecotourism company Asilia Africa to offer a truly exhilarating, yet relaxing Tanzanian
luxury vacation
. During their Yoga Safari, you will experience the excitement of sleeping in close proximity to the River Mara, full of violently territorial hippopotamus and sneering crocodiles. Not to worry, twice-daily yoga should bring you back to center. Extraordinary Journeys tailors the yoga portion of your safari to fit your level of expertise, so that even beginners can enjoy a sun salutation or two, welcoming the orb as it blazes up from the Serengeti every morning.
The Safaris are to take place at Asilia's Sayari Camp, an award winning facility in rural North Serengeti. Mornings at Sayari are spent driving around Serengeti National Park and admiring the intimidating wildlife abounding—over three million animals to be more precise. After a few pictures with leopards, cheetah cubs, and bathing elephants, you will be chauffeured back to the camp for a hearty breakfast of fruits and fruit juices, and then attend a yoga session to work it all off. Once you've gotten nice and limber, it's time to go on either a game-drive or a bush walk, either of which could end in a strained muscle without properly stretching.
You will return from the pleasant—or terrifying—stroll to find time for an afternoon siesta. This can be spent splashing around the infinity pool, sleeping in your luxurious tent, or receiving a much-needed massage. After you awaken refreshed, prepare yourself for a second sunset yoga practice, where you're renowned instructor, Shannon Paige will motivate and inspire you to be a strong tree, despite the numerous things (such as your biological makeup) that are constantly trying to prevent you.
Once the day of adventuring is done, the Sayari cook will whip up something European infused with authentic African elements. You and your fellow yogis can laugh about Judy's warrior stance, or Steve's child's pose, while comfortably sipping cocktails around the fire, admiring the vast and mysterious landscape. You and your bunkmate will be happy to return to one of the 15 tents that blend softly into the surrounding Savannah. All tents are outfitted with king beds, wood floors, en-suite bathrooms, and large intimate verandas that look out onto the expanse of the Serengeti.

There are three yoga safaris to choose from during the year 2013. The first takes place March 2-7, during the rainy season; the second is June 10-15; and the third is December 2-7. Five nights at the Sayari Camp and one at Onsea House, domestic travel within Tanzania, all meals, drinks and activities including yoga sessions and park entrance fees is priced at $3,900 per person (this does not include international flights to Tanzania).