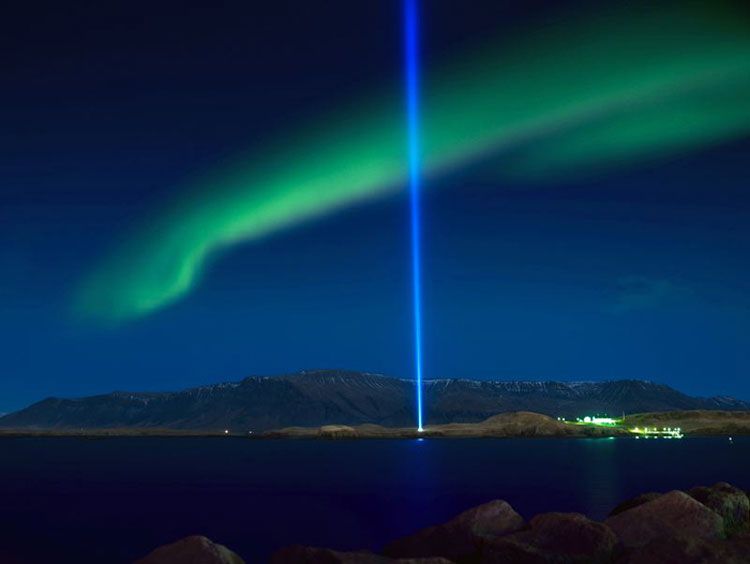 Photo Courtesy of Visit Reykjavik
Imagine walking over charcoal black volcanic stone with miles of untouched landscape in front of you, while hand-in-hand with your sweetheart. Imagine gazing at the sky and seeing mass lights dance across the horizon in a rainbow of colors, then stealing a quick nose kiss. Nothing short of magical, this place really does exist. Welcome to one of the most unique landscapes on earth. Welcome to Iceland.


Reykjavik, the capital of Iceland, is home to just 120,000 people and is a great combination of modern metropolitan city and a quaint seaside village. Explore the best shopping, restaurants, nightlife and entertainment. Or enjoy quiet strolls through the cobblestone streets admiring the historic buildings, boutiques and cafes, while embracing the strong contrasts that make up this city. With all it has to offer, a trip to Iceland can be just about anything you want it to be.
TO DO:
The Blue Lagoon
The Blue Lagoon geothermal spa in Iceland is one of the most widely visited attractions, and with good reason. Breathtaking views of frosty blue waters, attentive service and luxurious amenities make it a once-in-a-lifetime experience. Located in the youngest lava field in Iceland, the steamy waters are rich in minerals like silica and sulphur and have not only a documented healing effect on skin diseases, but cast a serene calm over you as you are part of nature in its purest form.
Once you arrive at the spa, I suggest booking the exclusive lounge for the ultimate experience. The private lounge area is outfitted with a cozy fireplace, lounge chairs, magazines and a fully stocked bar of teas, water, fruit, sparkling wine and more. Upstairs in the private showers, sample the Blue Lagoon bath products, plush robes, slippers and towels. If there is anything you may need, a butler is just a phone call away.

As you leave through your private exit, swim in the perfectly temperatured waters, rub the silica mud over your body, and explore the caves. When ready, head over to the massage area for an in-water treatment by a master masseuse. Afterward, float up to the swim up bar for a libation of wine or an electric blue cocktail.
For a bite to eat at the lagoon, check out one of the many restaurants. Lava Restaurant is built right into a lava cliff with views of the lagoon that you are welcome to appreciate in the comfort of your robe. Have a glass of wine, fresh seafood, and sample Icelandic Skyr (a type of dairy product similar to yogurt) for a light and refreshing dessert.

If you spend the day here, you may be lucky enough to catch a glimpse of the Northern Lights at night, whether on the roof deck or from the warm waters if it is a cool and crisp evening (especially September through April). (Photos courtesy of Blue Lagoon)


Harpa
Back in the city, much is to be explored in the artistic city of Reykjavik. Performing arts is a staple here, and one of the most stunning buildings you will ever see is the geometric Harpa - Reykjavik Concert Hall and Conference Center. Festivals such as Sonar Reykjavik (February), Reykjavik Fashion Festival (March) and Iceland Airwaves (November) have made Iceland a worldwide go-to music destination.
Opened officially in May 2011, this work of art is the home to the Iceland Symphony Orchestra and the Icelandic Opera. It was selected by Gramophone magazine, an authority on classical music, as one of ten best concert halls of the new millennium; it is also one of the greenest. Situated on the Reykjavik harbor, the four main halls all represent one of the four elements: water, air, fire and earth. See a concert if timing is right, or just grab a specialty cocktail from the flagship restaurant, Kolabrautin. (Photos courtesy of Harpa)


Museums
Iceland will not disappoint art and history buffs, with around 150 different museums. There's one dedicated to Noble-prize winning author Halldór Laxness; another constructed over the site of an ancient Viking longhouse; and one more on the history of the fishing industry. Of the most famous is the Reykjavik Art Museum with the largest art collection in Iceland. In over 32,000 square feet of gallery space, over 20 exhibitions run every year, covering a wide range—from the museum's collections to contemporary art installations. A full range of events, festivals and tours are also available here. (Photo courtesy of Reykjavik Art Museum)


Shop
Iceland has it's very own style and charm, and luxury goods are often cheaper in Iceland due to a favorable exchange rate and tax back deal for visitors. Known for its wool products, creative designs and delectable sweets, you can find something for everyone.

Kraum is one of the most interesting stores in Reykjavik. Located in one of the oldest houses in Iceland (dating back to the 17th century), it is the first store in the country dedicated only to Icelandic designers. Over 200 designers are featured with everything from clothing, jewelry, accessories, furniture, books and home goods. (Photo courtesy of Kraum)
For cute gifts, check out the trendy Suomi Prkl Design. Situated in a quaint house, the friendly staff will help you pick out colorful home wares, decorative pillows, rugs, mugs, bags and more. When you're looking for Icelandic designer couture, stop by Spaksmannsspjarir. Gorgeous lines, quality fabrics, and high-end items await you. From draping long skirts to on-trend half vests, this store has something for every fashionista. (Photo courtesy of Spaksmannsspjarir)


Outdoor Adventures
Outside of the city in the summer months, play and explore Iceland with your significant other by enjoying the great outdoors. Try your hand in rafting, fishing, diving, snorkeling, hiking, climbing, or jeep safaris. In the winter months, skiing, snowboarding, snowmobiling and dog sledding are prime. If you want to see rugged Iceland by car and guide, make sure to enlist Luxury Adventures. Your choice of tour and form of transportation can be personally selected to meet any thrill-seekers expectations. (Photo courtesy of Luxury Adventures)


Eat
Icelandic food is made with the cleanest, freshest ingredients and relies heavily on seafood, fresh vegetables and meats. Icelanders must also have a sweet tooth, with all of their local treats, chocolates and dairy products. Focus is on local ingredients, and you will see the use of salmon, trout, seabirds, blueberries, wild mushrooms and cheese used heavily. Try out a local delicacy, Minke Whale, served in many ways—one of the most popular is as a sashimi—with a shot of ginger tea on the side at The Lobster; or go more casual with a whale burger complemented by a side of lobster mayonnaise from Geysir Bistro. (Photo courtesy of Geysir Bistro)


Sleep
In true Icelandic style, Reykjavik Marina Hotel features modern décor, clean lines and is in total sync with nature. The newest hotel in the Icelandic Air Hotels, its 109 rooms are all outfitted with cool, quirky and colorful decorations that are functional and minimalistic. Located in the heart of the harbor district, the striking views of the Reykjavik Harbor brings you up close and personal with the port and vessels...so close you can touch them. In the lobby you can lounge and relax by the fireplace, or admire the sculptures by local artists.

Popular restaurant Slippbarinn, has a wide array of small bites meant to share, such as the charcuterie, calamari and winter salad. The bar is a hotspot on the weekends and drinks are just as creative as the décor with libations like "Amazing Almonds" (brandy, almond, egg, cream, cinnamon) and "Jesus Pain Killer" (Navy rum, lime, fermented pineapple syrup, star anise). (Photo courtesy of Reykjavik Marina Hotel)