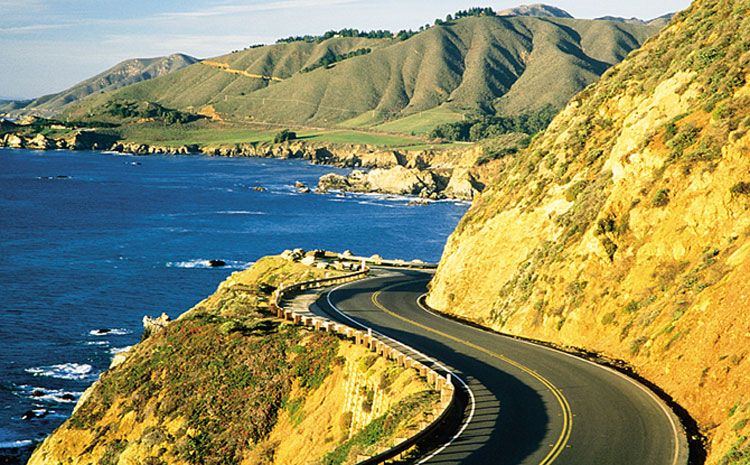 Sponsored by Pirelli Tires
With so many luxurious ways to get around these days, we shouldn't forget the simple pleasure of hopping in the car and driving off into the distance—wind in your hair, music blasting, and nothing but open road ahead. Lots of travelers still embody the philosophy that 'life is about the journey,' appreciating that the destination is just a part of the adventure. We have mapped out a few routes around the U.S. that will have road trip junkies ready to get behind the wheel, take in magnificent scenery, learn local traditions, and get away from it all...even if just for a day.

Our first road trip will take you through the sprawling desert of the wild west along with not one, but two national parks. Flashy Las Vegas is your departure city for this particular journey, where you can get your fill of blackjack, fine dining and more before hitting the road and arriving at stunning Lake Powell for some good clean fun.
Photo credit: NPS/Mike Large
Zion National Park should be your pit stop. Humans have called the park home since 6,000 B.C., setting up camps, hunting and developing farming traditions. Needless to say, there's a lot of history here and many ways to explore it.
From there you would have to get out of that flashy four-wheeler and hike to the Emerald Pools, where gorgeously green waters stream down from waterfalls and creates pools for hikers to take a dip in. Now that you've warmed up to nature at Utah's first National Park, you only have a little over two hours to go before arriving at Lake Powell.
Photo courtesy of ThinkStock
Straddling the Arizona/Utah border (yes, you will drive through 3 different states), Lake Powell is the second-largest man made reservoir in the U.S. and is visited by nearly two million people a year (See, you weren't the only one who chose to step away from the slots for some fresh air). Around the 186-mile-long Lake are opportunities to do an endless number of water activities, from wakeboarding or riding wave runners, to fishing, lounging on a luxury houseboat, taking a dinner cruise, or discovering one of the hundreds of little private beaches scattered throughout the area. The Lake is an ideal spot for FFI (Forced Family Interaction), boozing with your favorite friends, or finding seclusion with your honey.
Popular must-sees include one of the largest natural stone bridges in the world, Rainbow Bridge National Monument; Horseshoe Bend Overlook with epic views of the curving Colorado River and sandstone beneath your feet dating back to the Jurassic period; and Glen Canyon Dam, which provides hydroelectricity and reservoir storage for the Colorado River.

Photo courtesy of Tail of the Dragon
Hitting the open road between Atlanta and Knoxville can be quite the thrill for driving enthusiasts, thanks to Tail of the Dragon. As soon as you cross over the Tennessee/North Carolina state line, you are on the 11-mile winding road along route 129, referred to as either Tail of the Dragon, Tapoco Road in North Carolina or Calderwood Highway in Tennessee. The most highly suggested forms of transportation to take on this road trip are vehicles that know how to take a tight turn; either a motorcycle or sports car will really enhance the experience. If you don't already own one, a shiny sports car can be easily rented by stopping at Piedmont Road's Enterprise Exotic Car Collection and choosing from a selection of BMWs, Porsches, Corvettes or Maseratis.
Photo courtesy of William Klos/Wikimedia Commons
The Dragon takes motorists through 318 curves, with some of the sharpest being Copperhead Corner, Shade Tree Corner, Sunset Corner and Brake or Bust Bend. The nice part about cruising along this stretch of highway is that with no surrounding development, there is virtually no risk of cars pulling out in front of each other and causing accidents. However, drivers need to respect this serpentine road, as it is notorious for being extremely dangerous even for the most seasoned driver. The Dragon's Tail also carries a speed limit of just 30mph in both states, so while the many bends make it exciting, it can still be rather leisurely.
The Tail borders the Great Smokey Mountains National Park and goes mostly through forested areas, with a couple overlooks along the way to pull off to. Weekends from 11 a.m. to 5 p.m. tend to see the most traffic, so early mornings and late afternoons are better times to go if you plan on taking it easy around the curves and avoiding those who may have a need for speed. It's advised to take general precaution, keeping an eye on the road ahead for animals like bears, turkeys, deer, and wild boar, whose habitat you will be joyriding through.
Photo courtesy of Visit Knoxville
After your adventure along The Tail, you're only an hour from Knoxville. A small town feel is mixed with the liveliness of a big city to offer activities for people of all ages. History buffs can tour significant Civil War sites like the Mabry-Hazen House Museum and Civil War Bethel Cemetery.
Photo courtesy of Ijams Nature Center
Or opt for Ijams Nature Center to hike, bike, or canoe through 300 acres of protected wildlife reserve located just three miles from downtown. Can't-miss attractions inside include the keyhole stone structure on the Ross Marble Quarry Loop with rock bridge above for viewing; and the River Boardwalk built into its natural surroundings along the Tennessee River, where many hikers and bird watchers can be seen appreciating species like the Great Blue Heron.
Northern California may be fraught with beautiful scenery and area attractions, but you've seen the Golden Gate Bridge once, you've seen it a million times right? When you're looking for a more remote spot to watch flowers in bloom, sea otters wading in the water, and California Condors flying overhead, it's Big Sur to the rescue. With lodging options ranging from camping to cabins to luxury resorts, "roughing it" can be a matter of opinion and personal preference.
Getting to this little slice of natural wonders means driving along Highway One, listed as #1 on Top 10 American Road Trips by Forbes and called a "Drive of a Lifetime" by National Geographic Traveler. Cypress forests, jagged coastlines, and majestic redwoods will be among the dazzling sights along legendary CA-1.
Photo: Big Sur Chamber of Commerce/Howard Jones

Photographers often flock to Big Sur's Pfeiffer Beach for some stunning shots of the many rock formations, patches of purple sand (you can bring a jar and collect some for a souvenir), and little critters like crabs scurrying around. This is not your sun-bathing beach though; it is often very windy and cold on the Central Coast of Cali so dress accordingly.
Just know, the only way to find this hidden gem is to look out for a yellow sign that reads "Narrow Road." About 14 miles south of Bixby Bridge is this two-mile-long, one-lane road leading down to the beach where you'll be asked to pay $5 for parking after the death-defying drive down this extremely narrow stretch (the sign doesn't lie).
This road trip also happens to take a little detour inland to Carmel Valley to revel in even more California culture and outdoor activities. As one of the finest wine regions in the state, many come to taste the varietals and tour the land where the grapes are so carefully grown.
Photos: Monterey County Convention & Visitor Bureau

With year-round warm temperatures, averaging about 70 degrees, it's a great place to stop before you head into the cold and fog that tends to loom over Big Sur. You can spend the day under the sun walking trails, and the night eating alfresco at any of the quaint local restaurants.

Ready to go? Check out Exhilarating Road Trips, a fun, interactive guide with downloadable maps and more suggestions on where to eat, what to do and where to stay.
[Top Photo: Monterey County Convention & Visitors Bureau]