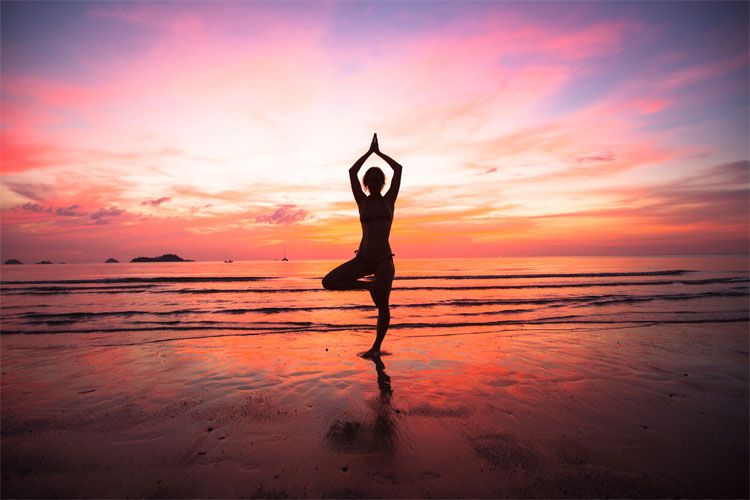 Photo Courtesy of Shutterstock/Dmitry Berkut
Celebrate the summer and get in a workout at the same time. As this gallery shows, when the sun shines, you can take your yoga just about anywhere outside—perhaps in an organized group, in some exotic destination if you're lucky, or in your favorite park with a fun prop.
Photo Courtesy of Hoop Yoga Sydney
Hoop Yoga in Sydney, Australia
Speaking of props, the hula-hooping yogis of Sydney, Australia find a new, but clever use for the generation-spanning hoop. A familiar sight at parks, beaches, festivals and yoga events, Hoop Yoga puts paid to the idea of yoga as a slow-moving meditational pastime. It's a high-energy hybrid that begs you to put on legwarmers and swap the meditational music for something more upbeat.
Photo Courtesy of StPete.org
Kayak Yoga in St. Petersburg, FL
The cousin to SUP (stand-up paddle boarding) yoga, "ka-yoga" is offered in St. Petersburg, Florida, and has the benefit of requiring slightly less coordination. Instead of requiring people to pose on the flotation device, the instructor divides the kayaking/yoga parts of the workout, so you just paddle to a scenic patch of beach and then begin stretching and posing.
Photo Courtesy of Houston Laughter Yoga
Laughter Yoga in Houston, TX
Great news:
Laughter yoga
is a real thing. It incorporates yogic breathing, "childlike playfulness" and visualization, usually in a small-group setting. It was created in the 1990s, and its popularity is increasing to the point where studios are cropping up everywhere from the OC to Beirut to Houston. Though it doesn't have to be outside, it often is because it's, quite frankly, too loud for the normal studio environment.
Photo Credit: Shinchi Linda Galijan
Mountain Yoga in San Francisco, CA
Tassajara Zen Mountain Center
bills itself as the most remote Zen monastery in the United States. Tucked in the ruggedly beautiful mountains 25 miles south of Big Sur, the center is surrounded by sea cliffs, protected forests and empty beaches. It's only open to the public for four months of every year—now through September 9, 2013.
Photo Courtesy of Samasati Nature Retreat
Rainforest Yoga in Costa Rica
What better way to remind yourself of nature's thriving presence than to practice your meditations in a rainforest? The setting seems to attract yoga studios and students, even in quite remote locations. The
Samasati Nature Retreat
on the Caribbean side of Costa Rica runs "Living Yoga" rainforest retreats, Yoga in the Caribbean packages and teacher training workshops.
Photo Courtesy of Canary Hotel
Rooftop Yoga in Santa Barbara, CA
Whether because it removes one from the hectic energy on the street or because it gives a more elevated visual perspective, rooftop yoga is ever-popular, especially when there's a beautiful horizon to contemplate. At the boutique
Canary Hotel
in downtown Santa Barbara, guests are invited to welcome another gorgeous California Riviera weekend with a complimentary 8 a.m. yoga class on the rooftop pool deck.
Photo Courtesy of Mirbeau Inn & Spa
Garden Yoga in New York
We all know the saying, "Take time to stop and smell the flowers." How about taking a full hour to surround yourself with them? If you're on vacation, you might be lucky enough to spend this hour in a dreamy landscape like
Mirbeau Inn
's Monet-inspired garden; but if not, your own back yard or community garden might be all you need.
Photo Credit: Boz Bros/Flickr
Yoga in the Redwoods
While luxury retreats or hip, celeb-attended classes might seem like the most motivating places to practice, yogis from Hawaii to Brooklyn to Bali know how to bliss-out in the moment, even on their own. One perfectly beautiful, inspiration setting: a Northern California redwood grove.