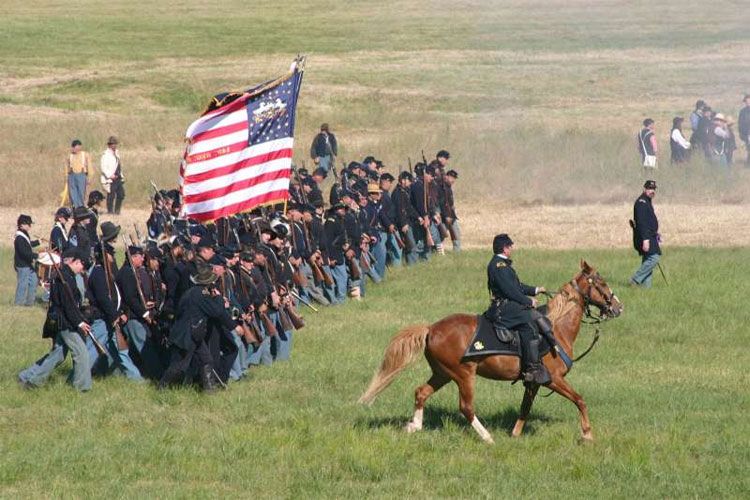 Photo Credit: Paul Witt
America is awesome. Aside from the United States of fast food and Six Flags, this country has exciting history, legendary personalities, and larger-than-life attitude; and July Fourth is the time to remind yourself of that legacy. At the 10 top "living history" attractions in America, you can step back into another era where pilgrims, Wild West lawmen, Founding Fathers and Revolutionary War heroes still walk...and ride...and occasionally, fire cannons.
Photo Credit: Michael Blanchard Photography
Boston Tea Party Ships & Museum, Boston MA
The term
Tea Party
may have been hijacked by modern politics, but Boston's out to reclaim it. The newest buzz-maker in living history is winning popular votes in its first summer for its innovative treatment of textbook American history. Visitors step off Congress Street Bridge in Boston and board a ship, where they get a rousing refresher course in Colonial politics and Revolutionary War-era strife. The experience incorporates some Hollywood-style effects, hands-on participation, and as often as possible, the kind of rousing waterborne theatrics that Vegas has employed for 20 years.
Photo Credit: Plimoth Plantation
Plimoth Plantation, Plymouth, MA
Two miles away from modern-day Plymouth village,
Plimoth Plantation
is a replica of the Pilgrim settlement as it was in 1627. The English village portion is built according to the 1627 census, and inhabited (during open hours) by period history experts who fully inhabit their characters, to the point of tending their gardens by hand, and speaking the dialects of the 17th century settlers. The Wampanoag Homesite area is staffed by Native Americans of various tribes, who are required to know Wampanoag lore well enough to speak extemporaneously to guests for hours on end. Attractions in town include the Mayflower II and Plimoth Grist Mill.
Photo Credit: Genesee Country Village & Museum
Genesee Country Village, Mumford, NY
Independence Day is a big deal at this lively replica of a 19th century working village. Located in Upstate New York,
Genesee Country Village & Museum
is a living history museum comprised of 40+ historic buildings, most of them inhabited by period characters. On July 4th, Genesee celebrates multiple Independence Day anniversaries, starting from the 50th. While the wealthier townspeople of Genesee don elaborate finery for formal house parties, the working class parties with cups of ale and period games like the sack race and pea-shooter contest.
Photo Credit: Thomas Jefferson Foundation/Jack Looney
Monticello, Charlottesville, VA
The former plantation, home of former President of the United States Thomas Jefferson,
Monticello
is notable not only for its stunning architecture and beautiful gardens, but for its historic significance. Jefferson was a fascinating character—a founding father and key author of the Declaration of Independence who also kept slaves and, in his presidency, was in the habit of using the American army to enforce his authority over citizens. Love him or hate him, Jefferson was a larger-than-life American icon, and his estate—now a designated UNESCO World Heritage Site—is well worth a visit, especially around the Fourth, when it hosts the country's oldest continuous naturalization ceremony outside of a courtroom.
Photo Credit: Strawbery Banke
Strawbery Banke Museum, Portsmouth, NH
So you thought living history was all costumed history nerds talking in accents? Allow this photo of the 2013 season's special exhibit at
Strawbery Banke Museum
on the New Hampshire waterfront to change your mind. Four local breweries teamed up with the museum on "Tapping Portsmouth: How the Brewing Industry Shaped the City." Celebrating its excellent microbrew legacy, the exhibit will showcase three specialty beers that the four participating brew-masters created collaboratively, using hops and other ingredients grown at Strawbery Banke.
Photo Courtesy of The Henry Ford
The Henry Ford, Dearborn, MI
There's nothing more American than a Ford, so it makes sense that the 200-acre
Henry Ford
campus in Dearborn, Michigan would strive to be the epicenter of American history. The automobile showcase component is only a fraction of the experience. Many eras of American history are represented, dating back to before the auto was invented, and progressing up to innovations of tomorrow. There's a living history village, a section of a factory open for touring, an IMAX theater and many special events throughout the year, but the exhibit everyone remembers is American Innovations in the Henry Ford Museum, featuring vehicles that were part of the biggest moments in American history. Among the collection is the bus where Rosa Parks refused to give up her seat. The bus, including that exact seat, is now open for museum guests to board.
Photo Credit: Bandera County Visitors Bureau
Cattle Drive, Bandera, TX
Though not a museum or organized attraction, the main drag of
Bandera
, the self-styled "Cowboy Capital of the World," draws fans of Texas and Southwest history from all over the world. Tourists come to kick up trouble in the honkey-tonks; residents stay because of the beautiful land and the history. But the events are a delight to one and all, whether it's the near-daily shootouts on Main Street, the weekly summer rodeos or the annual longhorn cattle drive reenactment that occurs on Labor Day Weekend and reinforces Bandera's status as a key stop on the original Western Trail.
Photo Credit: Michael Sharps
Columbia State Historic Park, Columbia, CA
Possibly the best-preserved Gold Rush town in the West, Columbia is a museum inside a Sierra Nevada town, and most of the people who live here and move around the streets by day are part of the living history experience overseen by the
California State Parks
system. You'll see an authentic candy kitchen, a blacksmith and multiple historic hotels in Columbia, all staffed by educated history enthusiasts. You won't see any motor vehicles on normal days, although during the annual July Fourth festivities, the rules change a bit. The Fourth brings a parade, games and more multi-period fun to this interesting Gold Country landscape.
Photo Courtesy of The Farmers' Museum
The Farmers' Museum, Cooperstown NY
New York State is not lacking in early American history preservation, as reflected for the second time in this roundup. Not too far from Genesee,
The Farmers' Museum
living history park at Cooperstown employs costumed characters to create context for its incredible collection of nearly 25,000 18th and 19th century items. The Historic Village here is more authentic than some better-known destinations on this list: Each building was located in a different rural community, relocated to Cooperstown and then restored to be part of the village. With various July Fourth celebrations beefing up the normal "village schedule," this is a great place to take kids for the holiday.
Photo Credit: Paul Witt
Reenacting the Battle of Gettysburg, Gettysburg, PA
The 150th anniversary of the Battle of Gettysburg is the occasion for some large-scale and quite moving re-enactments, slated to take place at
Gettysburg National Military Park
from July 1-4. Demonstrations and drills from both army camps, ranger-guided specialty programming, and intense first-person accounts from soldiers, rangers and others will make this an altogether memorable experience. Though some contend that the Revolutionary and Civil Wars should not mix, we think this particular chapter in American History spans several generation gaps.