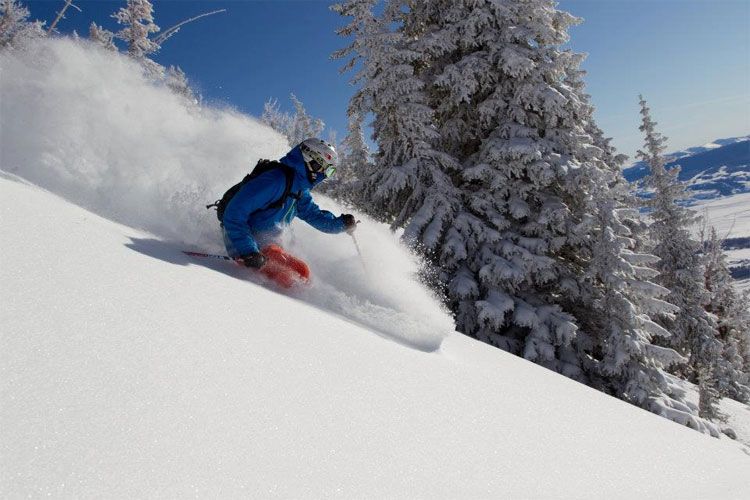 Photo Courtesy of Teton Mountain Lodge & Spa
Ardent sporting enthusiasts demand vacations that match their passions. Skiers, golfers, hikers, scuba divers and other athletic travelers won't settle for a day by the pool whiling the hours away sipping tropical cocktails, their vacations mean action. If you love getting your heart rate up, we found five resorts that offer plenty of ways to keep your body moving.
Photo Courtesy of The Fairmont Banff Springs Resort
The Fairmont Banff Springs Resort
The Fairmont Banff Springs Resort, situated a mile high on the majestic Canadian Rockies in Alberta, offers golfers a captivating and challenging 27-hole course. Designed in 1928, The Fairmont was the first course in the world to cost over $1 million to build. The 125-year-old destination resort caters to its many golfing guests by offering numerous amenities and programs focused at their needs. The Heritage Golf Experience allows guests to golf with Hickory Clubs while joined by a Forecaddie to guide them around the original design and learn about the history of the course. The property provides all the amenities of a world-class resort, with 768 guestrooms. Additionally, the weary golfer can rest assured they will be rejuvenated for their next game with golf-focused spa treatments at Willow Stream Spa.
Photo Courtesy of Teton Mountain Lodge & Spa
Teton Mountain Lodge & Spa and Jackson Hole Mountain Resort
Teton Mountain Lodge & Spa and Jackson Hole Mountain Resort are the ideal destination resorts for ski bunnies everywhere. The Wyoming properties offer mountain elegance and style while still remaining true to their mountain sport heritage. Throughout January 2014, the two resorts will pair up to host Elevate Women's Ski Camp. This all-women, week-long ski camp invites guests to improve their level of skiing at the world-renowned Jackson Hole Mountain Resort while relaxing and dining in luxury at the AAA Four-Diamond Teton Mountain Lodge & Spa. Fit for all skill levels, the camp includes four days of world-class instruction, dinners, après ski meals and Pilates classes to stretch and strengthen worn ski legs. Every group will also have the opportunity to be videoed on a variety of terrain to serve as a great post-instructional tool, experience different terrain, learn new techniques and learn from world-class women instructors.
Photo Courtesy of Hotel Terra
Hotel Terra
Located slopeside to the Jackson Hole Mountain Resort and at the gateway to Grand Teton National Park, the Hotel Terra Jackson Hole is a AAA Four-Diamond luxury hotel that includes a rooftop Chill Spa and Villaggio Osteria restaurant, renowned for its rustic Italian dining and expertly overseen by Executive Chef Paul O'Connor. The hotel provides 4,200 square feet of meeting space, an infinity pool and fitness facility. Continually developing its eco-friendly efforts to preserve and protect the environment while still offering an indulgent hotel experience for guests, Hotel Terra truly succeeds in offering a relaxing eco-friendly vacation experience.
Photo Courtesy of Rancho La Puerta
Rancho La Puerta
Rancho La Puerta in Baja California — one of the first true fitness resorts and spas in North America — is an award-winning retreat for anyone that wants to unplug and refocus on themselves and their well-being through exercise, meditation, healthy eating, spa treatments and more. Each day, the all-inclusive property offers more than 50 fitness classes that range from yoga and pilates, strength training, cardio and dance classes, tennis, water aerobics, stretch, guided hikes and plenty more. There are even specialized weeks dedicated solely to a certain style of workout for which an expert in the field, or a well known trainer, will teach at the resort as a guest instructor. Facilities, programs, and amenities include cottage-style casitas, fitness classes, spa, dining, outdoor recreation and more; available for exclusive use by guests during three-, four-, or seven-day stays.