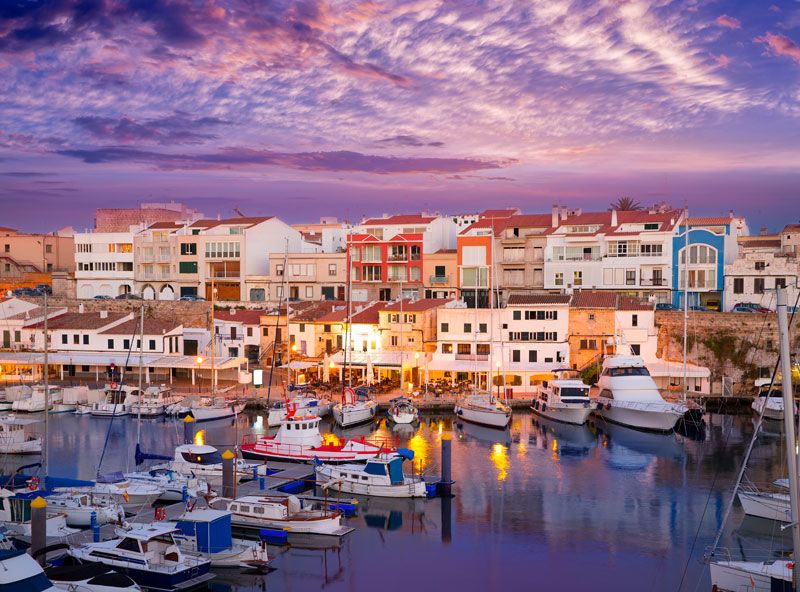 Photo Courtesy of Shutterstock
While the vibrant beaches and stunning mountains of Mallorca and the thumping clubs of Ibiza tend to attract the lion's share of international visitors to Spain's sun-drenched Balearic Islands, it is their quieter neighbor, Menorca, that has become the under-the-radar vacation spot of choice for Europe's low-profile jetsetters.
Photo Courtesy of Shutterstock
Less developed and crowded than its better-known neighbors, Menorca actually has more beaches than the rest of the Baleares put together, so there is always a chance to find a secluded stretch of sand or an olive tree-lined trail to explore on your own. It was also declared a UNESCO Biosphere Reserve in 1993, so its shoreline and marine areas remain relatively pristine.
Menorca is also just a 30-minute flight from Barcelona, and just over an hour from Madrid, making it an easy option for anything from an extended vacation to a weekend trip while visiting Spain. Though it lacks the dramatic mountains of Mallorca, its hilly landscape is perfect for exploring on foot, bike or even horseback along the newly redeveloped Cami de Cavalls bridle path. The route circles the island and drops by several popular beaches and towns, providing miles of gentle trails.
Photo Courtesy of Shutterstock
The interior of Menorca is also home to prehistoric structures that stand in some of the island's more desolate, secluded corners. The most famous site is the Naveta d'es Tudons near Ciutadella, which is an ancient tomb mound built to resemble the hull of a ship made out of indigenous stone. You can also see the Menorcan version of Stonehenge in various "taulas" around the island. They are thought to have been altars and places of worship. But you don't go to Menorca just to hike its meandering roads and rolling hills. The main attraction is its beaches, and Menorca has over 100.
Photo Courtesy of Shutterstock
Cala Macarella and Alaior are two great choices towards Ciutadella on the western side of the island. Macarella is in a sheltered cove with gentle currents and soft white sand sheltered by stone hills covered in pine forests. It is ideal for family excursions. For something a little livelier, Cala Galdana is a large, popular beach with tons of restaurants, bars and water sports activities to enjoy.
At either end of the island, travelers can visit the major towns, both with their own bygone charms. On the mild eastern side of Menorca is the capital, Maó (or Mahon as it is alternatively spelled) just a few minutes from the airport. The main town is a study in Baroque beauty, with meandering cobblestone streets and pastel-colored buildings. It sits perched on a hill with commanding views of the harbor, and walking its little lanes, stopping in at a boutique to buy some traditional albarca leather sandals or a café for snacks along the way (be sure to try the local ice cream), is the perfect way to spend a sunny afternoon.
Photo Credit: Eric Rosen
Down the hill on which Maó perches is the harbor, which has the distinction of being the second deepest natural harbor in the world, and whose shores are lined with historic forts, palaces and warehouses. Get the lay of the land with an hour-long cruise that will take you to the harbor's mouth where it meets the sea, and points out all the landmarks along the way, including Maó's medieval cathedral, former Spanish and British forts and a military hospital.
Photo Courtesy of Gin Xoriguer
Just around the corner from where the boats leave is another Menorca landmark, the Xoriguer gin distillery. The British military brought gin to the island and even planted the juniper bushes that now dot its landscape, when they occupied it in the early 19th century, and since then, gin and Xoriguer in particular have been part of the island's potable past.
Photo Courtesy of Bodegas Binifadet Menorca
Menorca is fast rediscovering its wine culture as well, with little vineyards and wineries springing up on once-fallow plots of land. The most popular (and probably most charming), is Binifadet, about a 10-minute drive from Mahon in the prefecture of Sant Lluis. The winery itself contains an understated wine and gift shop and tasting counter, and the front of the house holds a vine-shaded deck with tables and chairs as well as a lounge area with a fire pit and couches where you can while away the day over a selection of tapas and tastes of the in-house wines.
Photo Courtesy of Shutterstock
On the other western end of the island is the other major town of Ciutadella, where you'll find a selection of funky-chic hotels including Hotel Tres Sants, which is housed in a former shoe factory, and some of the best restaurants and nightlife on the island. The mood here is laid-back and afternoons find streets emptied of tourists and locals alike, as the midday sun warms the town.
If you feel like something a little more rustic, the Hotel Sant Joan de Binissaida is a charming little agriturismo so you get a feel for life on the farm, with contemporary touches like Wi-Fi and a refreshing swimming pool. However, the top luxury option on the island bar none is Torralbenc, a private resort opened mid-2013 on a sprawling 19th-century farmstead that has been reimagined as a luxury estate by designer Antonio Esteva. Just a 20-minute drive from the airport and 30 minutes from Maó, the hotel feels like a private hideaway with sweeping views of the surrounding vineyards and coastline.
Photo Courtesy of Torralbenc
The hotel's white-washed villas and local-stone walls and paths pay homage to the island's traditional architectural style. Rooms are grouped in the former farmhouse and outbuildings, and start at about 300 square feet with the smallest Albenc rooms located in the main building. Superior rooms are slightly larger and have private terraces and balconies overlooking little plots of land where lavender and rosemary grow. Sea View rooms are located farthest from the main buildings and boast private patios with tables and chairs for private lounging and dining with views of the Mediterranean in the distance.
Photo Courtesy of Torralbenc
The Garden Cottage is its own standalone building with its own garden and about 500 square feet of space including a separate bedroom and small living room as well as a private courtyard. The Pool Cottage faces south for maximum sun exposure and has its own plunge pool and a small, grassy lawn bounded by hewn rock walls. All 27 rooms feature locally-sourced and inspired design elements including limestone floors, blond chestnut wood furniture in the bedrooms and bathrooms, as well as upholstery in white and light beige.
Photo Courtesy of Torralbenc
The beds are dressed in simple, clean white-on-white linens, and rooms feature small sitting areas with an armchair or two and low wooden coffee tables as well as small wooden desks (Wi-Fi is free throughout the property), wall-mounted flat-screen televisions, in-room Krups coffeemakers and floor-to ceiling windowed doors to let in all that Mediterranean sunshine. The bathrooms feature oversize wooden vanities with his-and-hers sinks, deep limestone soaking tubs and enormous walk-in limestone showers and separate WC's. The private terraces and patios in some categories are the perfect place to enjoy a morning espresso while butterflies buzz about, or to take a sun-filled snooze after lunch.
Photo Courtesy of Torralbenc
The resort's focal point is the 25-meter swimming pool that is surrounded on three sides by a stone-tile deck with plushly cushioned wooden deck chairs. White linen umbrellas provide the perfect stand-in for clouds in an unbroken cerulean island sky. On the fourth side is a beautiful lawn whose green expanse is a sharp contrast to the otherwise desert-style landscaping of the resort with various cacti, stone gardens and olive trees.
Photo Courtesy of Torralbenc

There is also a small fitness center and two private spa rooms. Also on the path leading out to the pool is the hotel's restaurant, Sa Taula de Torralbenc, which used to be the former storehouse and was used for the grape harvest and as a barrel-aging room in the past. A decadent breakfast spread of farm-fresh delights including made-to-order eggs, yogurt, local cheeses and breads and more is served alfresco every day (you can also order a picnic basket sent to your room). The lunch fare is casual, but it is at night that Michelin-starred chef Paco Morales really brings his skill to bear with a menu of island-supplied delicacies prepared with precision and grace.
Though the menu changes frequently depending on what is in season and what the hotel's local purveyors bring by, the dishes on it always feature fresh local produce and seafood. You might find Mediterranean red shrimp crudo with black caviar in a spherified flash-frozen corn meringue with chili flakes and smoked herring; roasted sea bass with creamy cauliflower puree and herbaceous green couscous; or a traditional local specialty of Menorcan suckling pig roasted with oranges and cloves; and for dessert, spongy almond cake with crème fraiche ice cream.
Photo Credit: Eric Rosen
The experience at Torralbenc is at once laid-back but elegant. The friendly staff, dressed in crisp white linen shirts and khakis, are usually on hand to help with everything from finding the Wi-Fi signal to tracking down those cookies from lunch yesterday that you liked so much; and their responsiveness is only tempered by professional decorum.
They can also point you to the best beaches and leave a daily weather and wind forecast at turndown so you can plot your next day's adventures including an evening excursion up on the cliffs of the nearby town of Cala en Porter, where Cova d'en Xoroi is one of the island's most popular sunset spots (entrance is free for Torralbenc guests). The space is a lounge and nightclub whose various rooms been carved out of cliffside caves that open up to panoramic views of the sea and sunsets that fade from radiant orange to a glowing scarlet and finally to a glimmering blue-violet that leaves the crowds along the cliff walk quiet and dazzled. It's the perfect spot to spend your last evening.
Photo Courtesy of Shutterstock
The town's beach is a beautiful little spot you can hike down to with the locals and other beachgoers and lay your towel down in the soft sand before a swim in the turquoise, cliff-sheltered waters of the cove. There are also a few cafes, snack bars and stores just off the beach to find provisions. Whether it's a family-friendly beach vacation, a hiking and biking adventure, a luxury weekend away from the city crowds, or a wine-tasting jaunt to one of Europe's more modest appellations, Menorca is an unspoiled spot to spend some downtime on a visit to the Mediterranean.