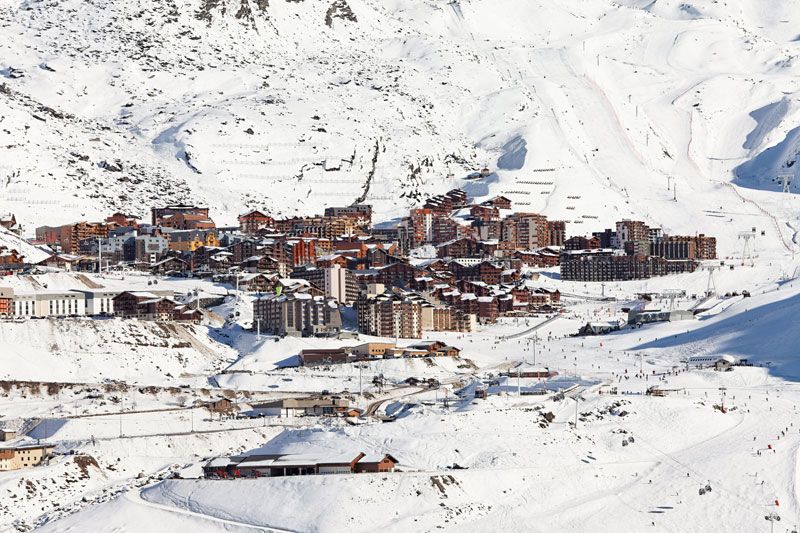 Photo Courtesy of Shutterstock
Extending across jagged Alpine peaks and smooth, snow-covered canyons, the ski resorts of Les Trois Vallées sparkle. Boasting over 370 miles of linked slopes and trails, the world's biggest ski area is located in the Savoy region of France and consists of eight resorts including Val Thorens, Les Menuires, Saint Martin de Belleville, Méribel and Courchevel. Conveniently, all are ski-in, ski-out properties.
Photo Courtesy of Hotel Altapura
Val Thorens
At 2,300 meters altitude, Val Thorens, is Europe's highest ski resort. Having such an attractive location, 170 days of skiing, Europe's longest toboggan run and a multitude of bars, cafés and restaurants, it has become a popular tourist destination offering more than 24,000 chalet-to-chateau beds, including 13 hotels—three five-star and two four-star.
Hotel Altapura represents classic Alpine accommodation in a five-star setting, complete with three restaurants, three bars and a three-level, 3,280-square-foot relaxation area, encompassing a Pure Altitude spa, gym, indoor and outdoor plunge pools, Jacuzzi, two hammams, a sauna and an Igloo room. With an airy décor of wood, stone and glass, a creative wall decoration fashioned from skis and a large open fire in the lobby, the 88-bed hotel managed by Frederic Carbonnel offers magnificent views over Cime de Caron and Aiguille de Peclet peaks. An added bonus is the fondue restaurant, La Laiterie, where diners are given a touch-tone screen containing information on the restaurant's history, the chef's background and a description of the food. Rooms are spacious with high, multi-level wood ceilings, French windows and tiled-floor bathrooms with double sink, bathtub and shower.
Photo Courtesy of Koh-l Nor Hotel
Or, the 63-room, five-star Koh-I Nor hotel ('Mountain of Light' in Persian), which opened this season and features two restaurants, one with international cuisine and one a luxury brasserie is great alternative to Hotel Altapura.
A not-to-be-missed, gift-buying outing in Val Thorens is to Le Belle en Cuisse, an intimate gourmet store, owned by friendly Pierre Bosseboeuf. Herein is an abundance of regional specialties including cured meats, cheeses, wines and various brands of the local genepy liquor. For the more daring, a whizzing, adrenal-fuelled drive on a narrow figure-eight ice track with the Ice Driving Academy in a souped-up rally car on studded tires may be more suitable.
Photo Courtesy of Les Menuires/Saint Martin de Belle
Les Menuires and Saint Martin de Belleville
Having 34 ski lifts, close to 100 miles of slopes, 16 mountain restaurants, two toboggan runs and a blend of live entertainment, Les Menuires and nearby Saint Martin de Belleville are synonymous with diversity. Aside from skiing, outdoor activities cater to all ages with Roc'n Bob, a two-mile slide with 22 bends; two Children's Clubs accepting infants as young as three months; a castle featuring snow structures that the little ones can slide down on plastic shovel toboggans; Walibi Glis, an area on La Masse with Walibi park characters; and various spas and challenging snow scooter circuits for adults. Musical entertainment ranges from rock concerts to choral singing with local group Les Bellevill' Voix to Boules de Notes, a children's festival.
Dominated by a large foyer festooned with chairs and soft sofas, a stone-framed fireplace, wood walls and ceiling, and a decorative line of silver birch tree trunks, Résidence Les Clarines provides an interesting accommodation option. Self-catering apartments of various sizes offer space aplenty with fine views over the nearby slopes. The nearest gondola is about 330 feet away, while a fitness center, sauna, heated indoor swimming pool and spa offer attractive après-ski options.
Photo Courtesy of Hôtel Edelweiss
A variety of restaurants lie within a ten-minute walk of Les Clarines, with family-owned La Ruade providing a lively, informal ambience. The potent, homemade fruit cocktail is the perfect start to any evening. The menu features traditional dishes such as fondue, tartiflette and raclette, while sumptuous steaks are cooked on an open grill.
Two other restaurants stand out well: L'Etoile on the slopes and L'Etoile des Neiges inside Hôtel Edelweiss, both in nearby St. Martin de Belleville. The former, a rustic wood and stone chalet with a terrace offering wonderful views over the Belleville Valley, serves brasserie-style mountain food including a succulent onion soup, goat's cheese salad, beef fillet and magret of duck. The latter, decorated with copper cauldrons, hanging cow bells and miner's lamps, boasts a six-page menu with the option of a set dinner or à la carte. Starters range from escargot to frog legs, while rack of lamb and veal liver are among the mains. It also serves a dish not often seen, baby pigeon, boneless slices of the bird served pink with a rich sauce, raisins and foie gras. Don't miss the Vacherindessert, a complete snowball-shaped meringue enclosing a delectable combo of biscuit, vanilla and blueberry ice cream.
Photo Courtesy of Hôtel Le Savoy
Méribel
Nestled in the heart of Les Trois Vallées, Méribel—its main street lined with quaint stores—hosts a variety of snow sports on a 202-hectare area with 68 slopes served by 41 ski lifts. Méribel features a profusion of elegant establishments, two of which are the 37-room Hôtel Le Savoy and Le Cèpe restaurant. Inside its wood and granite façade, the four-star Savoy combines classic lodge décor with an air of modernity, thus old framework and oak floors fusing smoothly with contemporary furniture and images from some of the world's top photographers.
A sauna, hammam and a library with fireplace encourage relaxation. Rooms with terraces overlooking the mountains and the village feature sleek interiors and brightly colored furniture, creating a cozy, contemporary atmosphere. Each one has an iPad allowing guests to order room service. Immediately outside is the main shopping street and ski lifts, with the resort's largest sports center, comprised of an ice rink, full-length swimming pool and an extensive spa, just a five-minute walk away.
Photo Courtesy of Shuttersotck
A feast of choice awaits diners at Le Cèpe, a traditional restaurant with local specialties such as raclette and Cep and Savoy cheese fondue and assorted seafood including roasted sea bass, scallop risotto and fillet of arctic char lake fish. For carnivores, there is crusty duck breast, entrecote with pepper sauce, chunky burgers and hearty lamb stew.
Méribel also offers visitors special dawn and dusk activities. They can travel with early morning ski patrols to check the safety of the slopes and enjoy a unique breakfast up there before official opening time and go with the snow groomers in the evening, a particularly exciting outing when they are combing black.
Photo Courtesy of Shutterstock
Courchevel
Encompassing 70 restaurants, including seven Michelin-star rated establishments; two of the 13 deluxe Palace-category hotels in all of France; sixteen five-star hotels and the most ski slopes over one mile long, Courchevel, formerly an alpine pasture and hiker's gateway, has much going for it. Not to mention activities such as hot-air ballooning, paragliding, airplane and helicopter tours, high altitude polo and a fireworks festival. Courchevel Aventure specializes in a wide variety of activities including snowmobile trips, husky dog sledging and snowshoeing.
Such is its popularity, the resort boasts a small international airport amid its slopes, with executive jets arriving from cities such as Paris and London; 47 hotels, most with between 50 and 120 rooms; a total bed capacity of 45,000; and 1,000 ski instructors speaking 12 different languages between them.
Photo Courtesy of Hotel Annapurna
Hotel Annapurna, with 57 rooms and 13 suites, is a choice five-star property located right beside the slopes and a 25-minute walk from the village center (the hotel also has a free shuttle service). With balconies in some rooms, a spacious spa and gym area, including indoor and outdoor pools, a large children's' game room and live piano music every night, this classy wood-and-stone hotel caters to both families and adults.
Photo Courtesy of Azimut Restaurant
Among Courcevel's many restaurants, La Cave Des Creux, Azimut and Black Pyramid at K2 hotel provide exceptional food. Formerly a shepherd's hut, the Cave des Creux at 6,900 feet is Courchevel's newest mountain restaurant and is run by former ski instructors; its dishes range from steak tartare to pastas and veal chops. Having Michelin-star chef François Moureaux at the helm, one expects quality at Azimut restaurant. Tucked away in Le Praz, a picturesque village and after a multi-course dinner of fried foie gras with apple and mango chutney, baked lake fish, slow-cooked rump of veal and flourless chocolate sponge, one is certainly not disappointed. White asparagus in February? That's the extent to which chef Nicholas Sale at the Black Pyramid goes to satisfy his guests. And with white truffle risotto, fried tofu, beetroot & cashew nuts perfumed with Tasmania pepper and delectable desserts to follow, customers leave well satisfied.
Photo Courtesy of Le Mélézin
For après-ski relaxation, there's the spa at Le Mélézin, a member of Aman Resorts. There, amid luxurious parquet flooring and 200-year-old polished oak beam paneling, a rigorous massage eases away muscle stress associated with schussing the nearby Bellecôte slopes.
Awash in entertainment, food, sport and accommodation options, Les Trois Vallées resorts are tempting playgrounds for both young and old; all within a short drive of each other and less than three hours from Lyon and Geneva airports. For further information, see Atout France and France Montagnes.