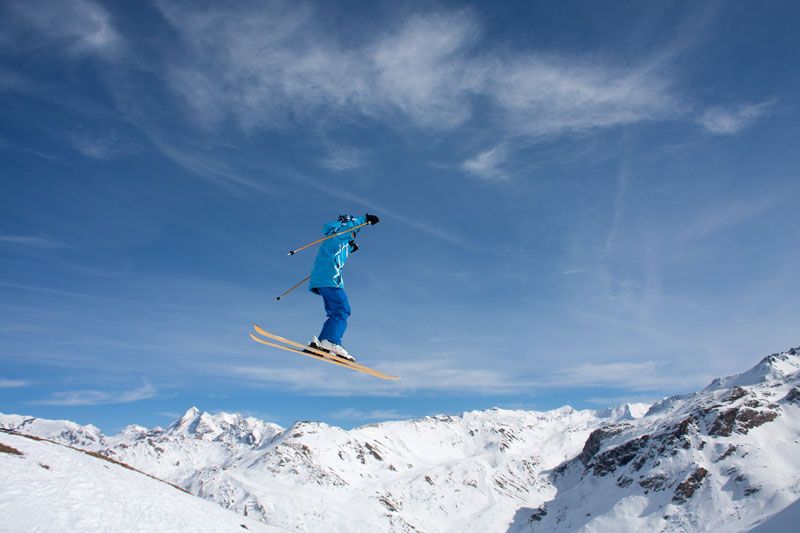 Photo Courtesy of Shutterstock
When you're looking for variety on a European ski trip, consider Espace Killy in French Savoy—named after Olympic champion Jean-Claude Killy—with its almost 200 miles of slopes featuring 150 pistes served by 90 lifts and its twin resorts of Tignes and Val d'Isère. Different in appeal, each of the two destinations has something to offer. The former offers more modern, high-rise, lunar landscaped satellite villages set between the twin peaks of the Grande Motte and La Grande Casse, while Val d'Isère has a more rustic feel.
Photo Courtesy of Tignes Tourism Authority
Tignes
Tignes is more suitable for families and first-time skiers, with the lower pistes running down to the resort being gentler than those in Val d'Isère. Interestingly, a short lift journey to the top of the mountains in Val d'Isère gives access to easier runs, allowing one to soak in the stunning views while skiing slowly down. And instead of tackling the notoriously icy La Face at the end of a challenging day, beginners can simply take the lift back into town. Together, the two resorts offer plenty of steep blue and red runs for intermediate and advanced skiers.
Tigne prides itself on its Gliss' Park on Millonex piste, a playful space for skiers and snowboarders with a mini boarder cross and a parallel slalom. For skating aficionados, there is the free 2,625-square-foot open-air rink on the frozen lake in the heart of the resort, divided into zones featuring a game area, ice hockey and a 'fun' square. Disco on Ice evenings add even more fun to the day's entertainment. The resort is also a music mecca of sorts with a dozen free concerts taking place throughout the season in Tignespace, a 5,250-square-foot sports, conference and cultural arts center.
Photo Courtesy of Chalet Quezac
Want to rub shoulders with celebrities? Then maybe choosing Chalet Quezac in Tignes-les-Brévières, home of World Champion Dakar Rally driver and four-time Free-Skiing World Champion Guerlain Chicherit and wife, Lauren, is the best accommodation choice. Their well-designed, three-story over 1960-square-foot chalet, includes elaborate interior artwork and six spacious en-suite rooms. Plus there's also a four-bunker children's room and it stands in a picturesque location overlooking both Le Lac des Brevieres below and La Sache peak high above. The young couple are informal and amiable, and Guerlain is delighted to explain the various trophies on display that he won for his death-defying exploits on wheels and skis.
Eating on the slopes can be a challenge—due to the wide variety of great choices available—but indulging in the gourmet dishes at Panoramic on Grande Motte glacier (altitude of around 9,947 feet), is due reward for being picky. From juicy oysters to succulent soups, pates and pasta, polenta and lamb, or from beef to pork (not to mention mouth-watering trays of desserts), this restaurant has it all.
Photo Courtesy of Shutterstock
Val d'Isère
With its well-lighted streets lined with quaint stores, cafés and restaurants, lively street performers, complimentary hot chocolate and wine stands, Val d'Isère stretches out a welcoming hand.
Hard to believe this cosmopolitan hive of activity, home to the 1992 Winter Olympics, was once an 11th century lodge for the Ducs de Savoie, then a remote alpine village with a single mule track along which the local Avalins people transported their homemade goods of lace and cheese. Much credit for the transformation goes to Charles Diebold, who opened the first ski school there in 1932, and Jacques Mouflier, who built the original ski lift two years later.
Photo Courtesy of Blizzard Hotel
Located in the Tarentaise Valley, about three miles from the Italian border, this upscale resort offers plenty of accommodation options, from private owner rentals to chalets and hotel rooms. Of the latter, the five-star Blizzard Hotel garners much praise, with several factors accounting for this. It emanates cozy Alpine chic, with lots of wood paneling lending it an unpretentious ski lodge feel. Its discreet spacious spa facilities off the main reception area include a heated outdoor pool and hot tub looking straight up at the famous Bellevarde slope. Its chic bar with its subdued lighting has become the place to unwind after a long day on the slopes, and last but not least, it possesses an enviable location right in the heart of Val d'Isère. The rooms are comfortable and the views from the back terraces are spectacular.
Photo Courtesy of Le Savoie Hotel

In the mood for gastronomic delights? Look no farther than Restaurant Le Grain de Sel at the five-star Le Savoie Hotel. There, Chef Alexandre Fabris conjures up wonders of color and taste with an innate ability to fuse seemingly incompatible elements. Consider appetizers such as sea bream tartar with celery jelly suffused with coconut or Iberic ham with truffle foam. Starters such as pressed foie gras and smoked whitefish with herbs or a black truffle and Jerusalem artichoke ravioli impress. Meanwhile, mains that include slowly cooked fera, a local lake whitefish with ravioli of celery and Granny Smith apple and saddle of venison with a multi-colored carrot sauce, are not to be missed.
With its original interior design inspired by the old mountain dairies, including white metal milk churns and regional Beaufort-styled furniture, visible zinc pipework and rustic staff uniforms, La Fruiterie makes for an excellent choice of restaurant on the slopes. Located beside the lively La Folie Douce music extravaganza, it serves up some pleasant surprises such as a smooth-tasting chestnut soup with mushrooms and a snail version with parsley and garlic; Pike perch stew with quenelle and freshwater crayfish coulis; and shepherd's pie of duck with blackcurrant and polenta. For a bit of fun, order the beehive, a dessert of ice nougat and fine honey jelly. It comes in a delightful miniature wooden….yes, you've guessed it, beehive.
Photo Courtesy of Les Clochetons Restaurant
Nicely located at the bottom of the Solaise and Bellevarde ski areas and with a classic Savoyard atmosphere, sits the two-floored Les Clochetons (The Pinnacles). The family-run restaurant launched by René Frison has become well-known, not only for classics such as raclette and fondue, but also for its succulent steaks and beef ribs sizzled on an open log fire and its succulent cote de boeuf. Seafood lovers will also feel at home with items such as oysters, home smoked salmon and fillet of fera, the local lake fish on the menu. Lemon meringue, bilberry and raspberry tarts as well as almond cake create a rainbow of dessert. Friendly staff, a terrace with terrific views over the peaks, and potent plum eau de vie and yellow Chartreuse, completes the excellent package.
Photo Courtesy of WikiMedia Commons/JMex
Husky sledding, snow kiting, ski jumping competitions and ice climbing are among the myriad of activities taking place at Val d'Isère. For those with more erudite interests, the Musée Val d'Histoire—a dream of enterprising Pim Geldof now brought to reality—is well worth a visit. Displaying documents, old skis dating back generations, black and white photos and classic video footage, the museum's artifacts grant a glimpse into the earliest days of the sport and the everyday life of the village, including dramatic images of massive flooding that overwhelmed it decades ago. There's even an early version of a snow groomer made from simple wood and a detailed model of Espace Killy itself.
For the more romantic, the resort sometimes offers guests the chance to ride the gondolas at night over the illuminated slopes, complete with chocolate, Champagne and canapés onboard and musicians playing soft ballads upon reaching the peak station. So, whether it's a challenging workout on the pistes, a relaxing evening of fine dining or a step back in history, Espace Killy may be the place for you.