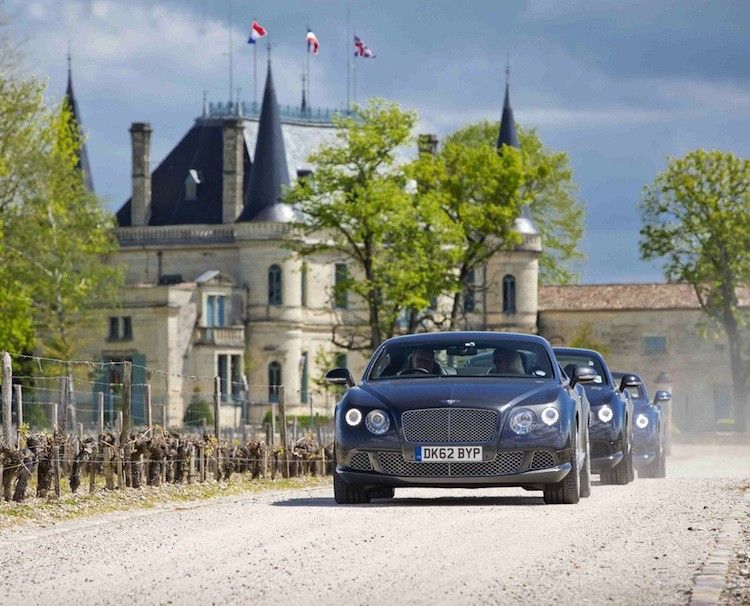 Photos Courtesy of Bentley Motors
This year will be a banner year for Bentley devotees, the famed brand is planning an incredible series of ultra-luxe European driving tours for customers and enthusiasts dubbed "Crossing Continents" in celebration of its iconic grand tourer, the Continental GT. The series will see the legendary British marque partner with some of Europe's finest hotels, private estates and other luxury brands that complement the Bentley driving experience and showcase the acclaimed Continental range.
Key destinations include London, the Cotswolds; Bentley's headquarters in Crewe, UK; Paris, France's wine country; and Rome and the Italian countryside. Several amazing excursions have been planned for spring, summer and fall so far with more on the way, and with very limited availability. Here are some highlights:
The five-day Secret Britain tour, priced at about $10,700 per person, begins with an indulgent day in London, including a private lunch in the Bentley Room at the exclusive Mosimann's restaurant in Belgrave Square, a shopping trip to Harrods, a private tour of Windsor Castle and dinner at the Astors' Cliveden estate, ending with a stay at London's Park Tower hotel. The next day you'll set off on a scenic drive through the Cotswolds arriving at the striking Eastnor Castle in Hertfordshire, where you can indulge in various Downton Abbey-esque activities including falconry, archery and clay pigeon shooting, before retiring to one of the stately rooms for the night. The tour concludes at Bentley's headquarters in Crewe where you can see Continentals being lovingly hand-built by Bentley's craftsmen, followed by a private lunch at the Bentley Mews, the home of Bentley's Chairman & CEO, and finishing with a farewell dinner.
The Guest of CHANEL tour, priced at about $16,600 per person, is the most exclusive offering. It starts in London and takes travelers over to the famed wine regions of St. Emilion and Margaux, stopping at the CHANEL-owned Chateau Canon vineyard, before continuing to Paris with a series of indulgent breaks en route. A stay at the Hotel Le Meurice awaits, along with a memorable day as guests of the House of CHANEL at their flagship boutique location and Karl Lagerfeld's atelier. This is followed by a rare glimpse inside Coco Chanel's private apartment and dinner at the company's headquarters overlooking the legendary Place Vendôme.
The five-day Italian Legend tour, priced at about $7,400 per person, recreates the only Mille Miglia race won by a British driver, the Sir Stirling Moss in 1955. The epic 1,000-mile journey is open to Bentley owners who wish to drive their own cars, be they modern or classic. Along the way the brand has arranged stays at luxury hotels including the Hotel Vittoria, Boscolo Exedra Roma and Villa San Michele, along with outstanding Italian cuisine and experiences including private tours of the Sistine Chapel and the Coliseum.
In addition to the scheduled tours, Bentley is offering a Luxury of Spontaneity series of self-guided driving routes for Bentley owners, beginning with two routes on opposite sides of the world. There is a 130-mile drive through the lush Mediterranean landscape on the island of Mallorca and a classic 745-mile American road trip from San Francisco to Las Vegas along some famous stretches. Upcoming additions include a desert adventure in Oman, an Australian drive from Melbourne to Adelaide and routes in Malaysia, Scotland and Canada.