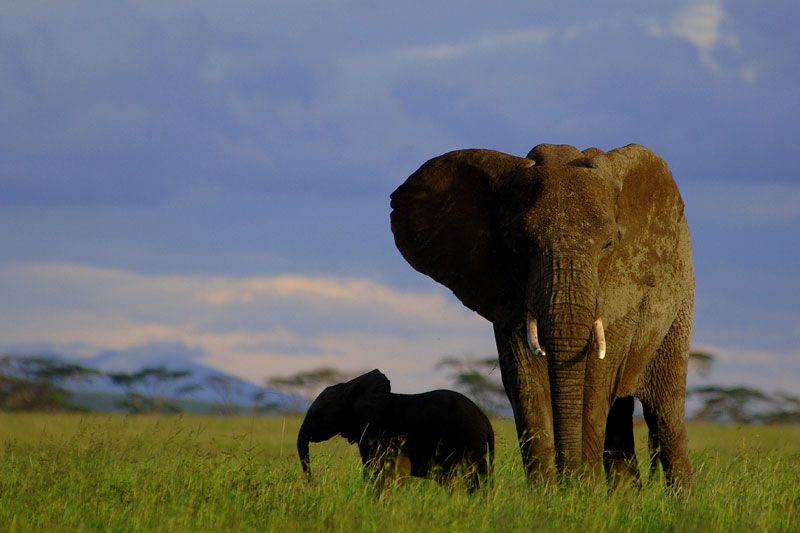 Photos Courtesy of Travcoa
Seems to be that everyone is heading to Africa this year, with so many trips promising to be "The Trip of a Lifetime," it can be hard to navigate through the ones that may actually be THE best. Most getaways will get you to "The Birthplace of Humanity," but when looking at a vacation itinerary, be sure to see what other perks the company is offering on the trip and weigh it against others. For example, one such adventure currently being offered is the all-inclusive Ultimate Africa by Classic DC-3.
Travcoa, a luxury travel company, is currently vying for your attention with their 20-day, 5,600-mile journey through six African countries. Marking their 60th anniversary, the trip is limited to just 18 guests—which is something to be considered when booking. Are you hoping for a larger group to keep the energy up or would you prefer a more intimate five to six person tour?
During the adventure, guests will travel through Kenya, Tanzania, Zambia, Zimbabwe, Botswana and South Africa. Now its time to look at how you'll be getting around; Travcoa will be transporting travelers via a low-level flight-seeing DC-3 airplane. The aircraft should be ideal for exploring the country because it doesn't require long runways, allowing it to land in more remote areas.
With over 30 years of experience, the chartered plane will be piloted by Captain Phillipus "Flippie" Vermeulen who has a deep love for the country. So if multiple flights are not your cup of tea, this may not be the trip for you.
One notable aspect of the getaway is that Travcoa's president Jerre Fuqua will be hosting the trip and joining travelers along with expert local guides. The time spent hanging with Fuqua could be a cool experience, since it's not every day you get to mingle with the person behind the curtain on these kinds of vacations. It will also be led by veteran Travcoa Travel Director, Patricia Awori.

So what will you get to see while there? "Authentic Africa," the company claims, with stops to experience the country's Big Five: lions, African elephants, Cape buffalos, leopards, and rhinoceroses. Further, their off-the-beaten-path tour will lead you through the Great Wildebeest Migration of the Masai Mara and to the Serengeti Plains before heading to the Okavango Delta, where wildlife are at eye-level and guests are gliding through marshy waterways on traditional mokoro canoes.
You'll also explore game-rich wildlife reserves via 4x4 vehicles and jump on hot-air balloons and helicopters to really get a good grasp of the landscape. Sounds like the kind of excursion that adventure junkies will enjoy, so be prepared to get a little dirt on you from all the activities.
With all the traveling, a good night's rest is a must and top-notch accommodations are going to save you from being too tired to experience all that Africa has to offer. Travcoa's package promises to set guests up at a selection of the country's finest boutique hotels, tented safari camps and lodges.
Starting on September 1 in Nairobi, Kenya and ending in Cape Town, South Africa on September 20, the Ultimate Africa Safari by DC-3 is USD $39,990 per person, based on double occupancy. All right, looks like we've covered all the important parts to aid in your decision-making process. Is this going to be your "Ultimate African Adventure" or are you holding out for something a little more pampered and spa-centric?