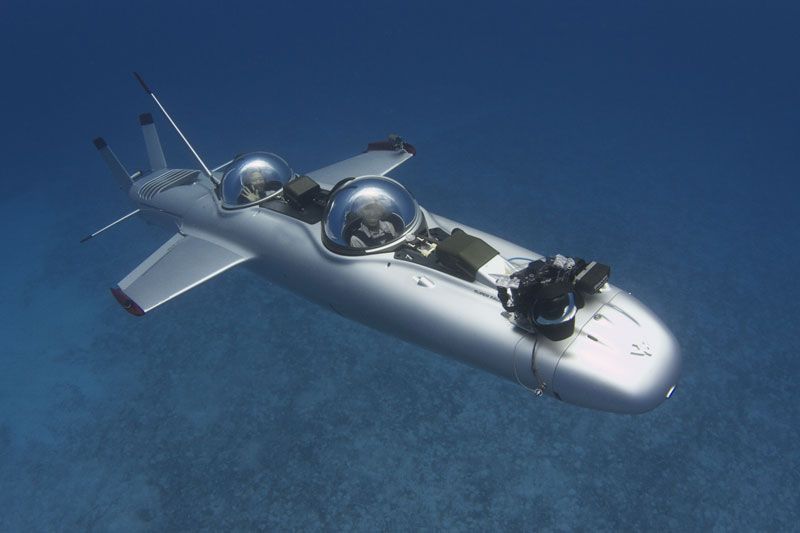 Photo Credit: Tony Wu
Already one of the most exclusive locations on the planet, Laucala Island will be adding yet another special-access item to their list of elite offerings with the new deep flight super falcon submarine experience. With the two-person submersible winged craft, developed by Hawkes Ocean Technologies, guests can experience the ocean like never before with 360-degree underwater views (while staying completely dry).
Photo Courtesy of Laucala Island
With Laucala Island's South Pacific location, adventurous sea goers will be able to soar through vibrant reefs and shallow lagoons while checking out underwater life like tropical fish, octopi and sharks. The Super Falcon ride also offers guests access to the Great White Wall, which is a remarkable diving location lauded for its soft white coral and is an incredible spot for observing marine life.
Photo Courtesy of Laucala Island
The resort island's general manager Andrew Thomson said of the program, "Laucala is all about the ultimate immersion with nature and the island itself—this experience helps bring them even closer to that goal." He added, "The waters off of Laucala Island, Fiji are the most amazing in the world, and we are confident this 'only at Laucala' experience is one that guests will never forget."
Photo Courtesy of Laucala Island
With 3,200 acres of island play among green mountains, turquoise waters, white sandy beaches and coconut plantations, the resort was already a veritable Garden of Eden, and this submersible craft just adds yet another reason to visit and build stories that'll be told for the rest of one's life.
Photo Courtesy of Laucala Island
Available to resort guests beginning July 1, 2014, the Super Falcon Experience at Laucala Island should make for an amazing addition to an already impressive luxury destination.