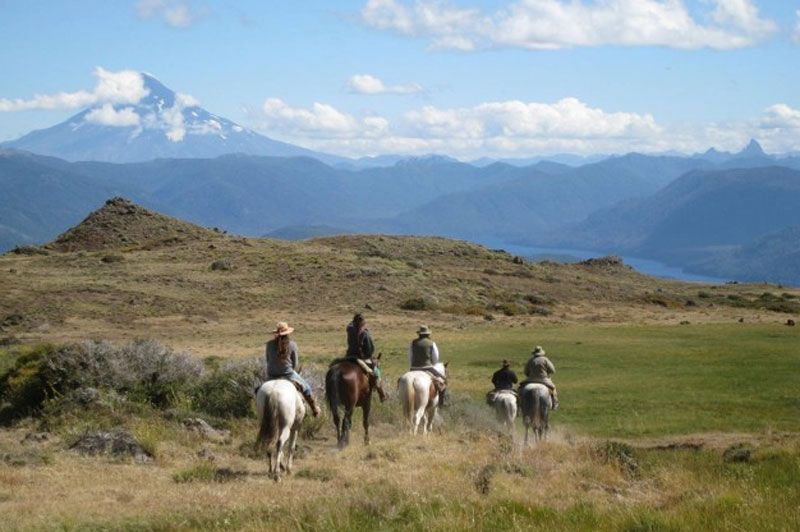 Photos Courtesy of Caballadas/Isaias Miciu
Whoever said, "Getting there is half the fun," clearly hasn't made the trek out to Caballadas, a private estancia located in Northern Patagonia. Over two hours from the airport of San Martin de Los Andes via a mostly dusty unpaved road or five hours from Bariloche Airport, it is only those who know the secret of what is at the end of the journey who make their way there.
It isn't that difficult really, but you have to time your visit to the plane's schedules. Usually from the U.S. and Canada it is easiest to fly into Buenos Aires, stay a couple of nights at a hotel (Hub Porteno, Alvear Palace Hotel or Palacio Duhau Park Hyatt are good options), and then take a flight to San Martin de los Andes. Airport transportation to the ranch can be arranged via the property.
Caballadas isn't a hotel, but rather a unique horseback riding experience. Those taking part in the journey stay at the nearby residence, The Valley Lodge. The gleaming wooden accommodation sits on a level spot on the rise of a hill. A beautiful structure built from logs cut on the property, it is a study in the elegance of natural materials. Stone floors anchor the main level containing a large entry way, open-plan dining and living rooms, and a covered outdoor patio. Inside the kitchen, a flight of stairs lead to a system that uses the natural spring water outside and wood fire to heat the home. Comfortable, tasteful furnishings complement the lodge and are perfect for curling up in.
Tall picture windows in the main living spaces frame stupendous views of the mountains and valley below. Sunrise is a great time to wander out on the deck and watch the mountains and far-away valley lighten as deep violet shadows are chased away by the morning sun. While the guestrooms come in different sizes to accommodate any number of guests, the owners prefer the lodge be rented out by a single entity, be it a family or company. Stays at include lodging, all meals, wines and horseback rides every day. You have the option to include an overnight horse camp in the mountains or hire a fishing guide to fish the river on the ranch.
Around the property, guests can enjoy a ride on the lake, a hike in the park, a swim, of fishing in the river full of Rainbow trout. Also, part of Volcano Lanin National Park—with its nearly 937,00 acres of native Patagonia forest—surrounds the estancia.
For meals, dishes are prepared local chefs. Breakfast can include pastries, fruit, meats and eggs while dinner offers entrées such as stuffed manicotti or a roasted lamb feast. (Dietary preferences will be considered.) And a traditional Argentine steak barbeque for lunch at the gaucho's barn down in the valley becomes a reward in the middle of a ride. One highlight is a picnic of traditional meat pies, cheese and sweets spread out beside a stream up in the Araucaria araucana (Monkey Puzzle tree) forest shading a remote gaucho camp.
Part of the forward-thinking team caring for this magical place are two sisters, Agustina and Isabel Lagos Mármol who do world-wide promotions, bookings and lodge management. To help preserve the 60,000-acre ranch, they operate the estancia program as a means to be able to give it to the next generation. To accomplish this, the property started Caballadas, a multi-night horseback riding program. Isabel's husband, Santiago Uriburu is a polo-playing horseman who runs the incredible riding series. For serious riders desiring this bespoke adventure, you must be experienced, skilled on outdoor terrain, posses a great sense of adventure and be willing to ride steep mountain trails. The reason for being this specific is simply, safety. This is truly one of the last remote places in Argentina, so advanced, intermediate or expert riders are the best fit.
Uriburu has trained many of the horses; they are beautiful, sure-footed and athletic. His best have a polo-pony's stamina, bred with a Criollo's sure-footed gait and brave heart. Most of the horses are beloved companions belonging to a family member. Well-conditioned, they are allowed to graze outside the immaculate barn.
Before riding, an honest assessment of your abilities and temperament is decided upon Uriburu, and he matches you with the perfect mount for the duration. A friendly master horseman, the expert polo player shares his knowledge of horses and the areas surroundings as you explore. You are also likely to be accompanied by a ranch gaucho guide (out there you can't make mistakes).
Those looking to try out the rides, expect to be on your horse for six or more hours a day. However, the vistas are all inspiring with views of snow-topped mountains, pristine lakes, and rivers, worth the long treks. Depending on your trip, you may even get to experience overnight horse camping and adrenaline-shifting gallops through the country's grasses. Caballadas can take a maximum of eight riders at a time and availability is seasonal, running November to mid-December, and from March through April.
Remembering that South American seasons are opposite the northern hemisphere means Caballadas is open during spring and fall to those arriving from North America. The estancia is one of the most magnificent places to ride. No, it is not an easy trip to make, but how many things have you done in your life that were not easy but gave you the greatest reward? This is heaven for skilled horseback-adventure riders.