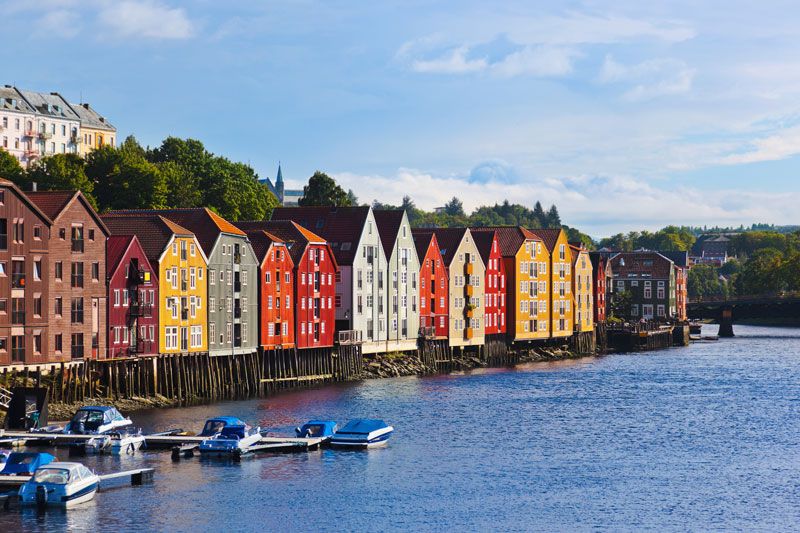 Photo Courtesy of Shutterstock
Renowned for its majestic mountains, fabulous fjords and rugged beauty, Norway has attracted adventure lovers for years. While the country's landscape is truly a treasure, the cities of Norway offer a blend of culture, luxury and extraordinary cuisine.
Trondheim, Norway's third largest city, is a perfect example of this blend. The cultural center of the Trøndelag region, this picturesque city with its timber built fisherman warehouses of red, gold, brown and green flanking the sides of the Nidelva River is a fascinating contrast of old and new. Home to the majestic Nidaros Cathedral, the Norwegian University of Science and Technology and a lively music scene, there is something for everyone in this delightful city.
Photo Courtesy of OLAVSFESTDAGENE
Nidaros Cathedral is center stage for St. Olav's Festival, Norway's largest cultural celebration. Olav Haraldsson died in 1030 in the battle of Stiklestad while attempting to bring Christianity to Norway and unite the country. Nidaros has been an important pilgrimage sight for centuries. Each July many people walk the Pilgrim Path, a network of routes through Denmark, Sweden and Norway which are remnants of historic routes leading to Nidaros Cathedral. The festival celebration includes concerts, a re-enactment of the Stiklestad battle, plays, lectures, exhibitions and Trondheim's annual food festival showcasing foods from the surrounding region.
Photo Courtesy of Nidaros Cathedral
Next to the Nidaros Cathedral is the Archbishop's Palace. From 1152 until 1537, the palace served as the administrative office for archbishops. Today it is the site of the Archbishop's Palace Museum with an amazing exhibition of original sculptures from the cathedral. In the west wing of the Archbishop's Palace you will find the Crown Regalia exhibition, a collection of exquisite Norwegian Crown Jewels. During St. Olav's Festival, the courtyard of the Archbishop's Palace becomes a lively medieval marketplace.
Photo Courtesy of VisitInnHerred.com
Outside Trondheim, Norway's 65-mile Golden Road winds past spectacular fjords, over hills and around hairpin bends, each turn bringing views more breathtaking than the last. Located on the peninsula Inderoy in central Norway, the Golden Road is a cooperative comprised of farmers, galleries, artists, craftsman and butcheries. Much of the food produced in this fertile region has been voted the best of its kind in the world.
Photo Courtesy of VisitInnHerred.com
There is a focus on "short-traveled food" in Norway. Local farmers open up their homes to visitors, and serve farm-fresh fare while sharing stories of centuries-old family traditions of farming. A favorite stop along the trail is the picturesque Gangstad Farm complete with a big red barn where you will find award-winning cheeses and licorice flavored ice cream. In the summer months you can meet the cows responsible for providing the delicious cheese.
Photo Courtesy of Britannia Hotel
Located in the heart of Trondheim within walking distance to the city's favorite attractions, the Britannia Hotel has welcomed royalty, politicians, rock stars and savvy travelers since 1897. With 247 rooms including 31 suites and "artist rooms," fine dining and a luxurious spa, Britannia offers magical moments of luxury in a historic setting.
Photo Courtesy of Britannia Hotel
Art has played a central role in Britannia's history with the hotel's collection of 300 registered works displayed in guest rooms, hallways and common areas. Norwegian artists provide pictorial decoration for the "Artist Street" rooms on the third floor of the hotel, giving each space a unique personality. Take room 724 for example where Jacob Margido Esp (famous in Norway for his innocent comedic drag role as Madam Flettfrid Andresen, an upper class lady from Trondheim's Singsaker neighborhood), curated the artwork. Inside you'll find boas, jewelry and ice spurs, all clearly influenced by his beloved character.
Photo Courtesy of Britannia Hotel

The third largest painting in Norway covers an entire wall of Britannia Hall, one of the hotel's banquet rooms. The work, a collaboration between renowned artists Håkon Bleken and Håkon Gullvåg, has been reproduced on a massive canvas portraying Trondheim's history and its well-known designs.
Britannia's spa is stunning. A Dead Sea mineral pool invites a swim underneath a mural of sparkling stars in a Nordic sky. The spa menu offers an assortment of indulgences to seduce weary travelers like Britannia's Luxurious Gold Treatment, a specially designed facial with optimal firming that's combined with a harmonic massage. Even younger guests in tow can indulge with Britannia's Little Prince or Princess massage, suitable for ages six to 15 years.
Photo Courtesy of Britannia Hotel
The hotel's Palmehaven restaurant has been a favorite Trondheim dining venue since 1918. Savor the culinary delights of Chef Geir Barstad in the spectacular lush Moorish garden setting under a magnificent glass roof. More relaxed dining and delicious steaks can be found at Jonathan's Food and Wine Cellar or at the elegant Lobby Bar which often offers live entertainment and is the perfect place to indulge in Norway's liquid treasure: Akavit (also known as Aquavit).
Photo Courtesy of Shutterstock
In the early 14th century about the time Christianity was introduced in Norway, a number of enterprising monks around the country were mastering the art of distillation. Their efforts produced a spirit that would ultimately become one of Norway's finest cultural treasures. The monks thought they had made an all-curing universal medicine that would be able to combat every disease and even reverse aging. They named it Aqua Vitae which translates as Water of Life. Aquavit, as it is called today, is distilled from potatoes and flavored with spices, typically caraway or dill.
Photo Credit: Terri Marshall
Indulge in Norway's liquid treasure at Norsk Aquavit Bar No. 1, Norway's smallest bar and its first aquavit bar with over 60 varieties of the liquor. Bartenders at Norsk happily offer tastes of rare bottlings and, like a sommelier, stress the importance of matching each version to specific Nordic dishes.
Whether you crave adventure, cultural events, fresh regional cuisine or liquid treasures, Trondheim has you covered. And all of it happens amid a stunning landscape.