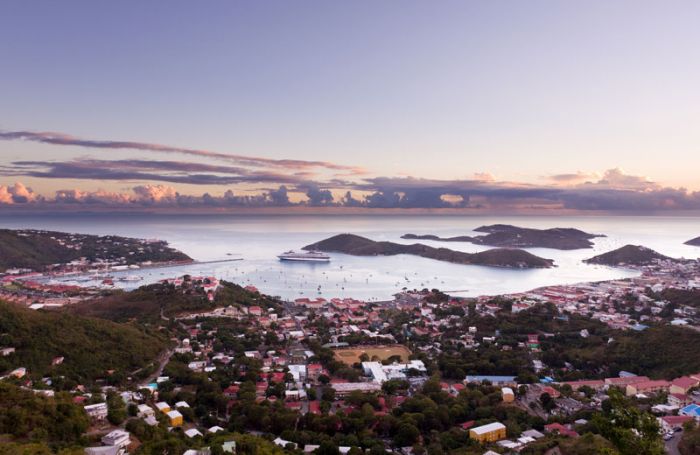 Photo Courtesy of Shutterstock
St. Thomas, a cosmopolitan island located in the Caribbean, is one of three islands that make up the US Virgin Islands. US residents do not need a passport to get there, and it offers something special year-round with warm seas, cool breezes, perfect weather and enough mystery and glamour to be the perfect jet-set vacation spot only a stone's throw away from home. St. Thomas is also a hidden gem for romantic moments; here are six places to steal a kiss on this sexy island:
Photo Courtesy of WikiMedia Commons
At One of the Best Beaches in the World
Some of the world's best beaches and most beautiful sands await you on St. Thomas, making it the perfect place to relax and unwind with someone special. St. Thomas has over 40 picture-perfect beaches to suit whatever your mood. Wanna be a beach bum? Lie out, suntan and daydream in a serene stretch of sand at Limetree Beach. Beach adventurers head to out-of-the way, rocky enclaves and do some exploring. Social butterflies can check out restaurants, chair rentals and island drinks at the hugely popular Magen's Bay.
Photo Courtesy of VisitUSVI.com
On an Island Adventure
For those that want to take advantage of the crystal clear turquoise waters, head to some of the most diverse dive sites in the world. If you prefer to sail the seas, yacht charter is a popular way to explore the islands, while getting a fabulous tan with your beau. If you are daring enough to try feeding the sharks, you are in for an adrenaline rush at Coral World Ocean Park where you can jump in with juvenile native Caribbean sharks.
Photo Courtesy of Caribbean Fish Market
Over a Decadent Meal
From a low-light beachside candlelit dinners complete with live pianist at Caribbean Fish House to a more casual, intimate setting at Twisted Cork Café, explore amorousness at its best. The delicacies of the island are an eclectic mix of cooking styles imported from Africa, Europe and Asia. The result? A marriage of local and imported ingredients combined with seafood, fresh produce, American favorites and Caribbean flair to make up a tasty melting pot of flavors and cuisines. A favorite of locals for West Indian cuisine is Glady's Café, which serves American food alongside traditional goat and curry dishes, among others. To have a quaint, low-key yet and sophisticated American meal, head to The Twisted Cork. Decked out with wine bottles, wood crates and candles, this is the perfect place to try out a glass of wine and to steal a smooch.
Photo Courtesy of Shutterstock
Over a Local Drink
With the Cruzan Rum and Captain Morgan factories right next door on nearby St. Croix, it is no wonder the island specializes in decadent rum drinks. From the popular Painkiller (rum, cream of coconut, pineapple and orange juices) to the famed Bushwhacker (coconut cream, dark rum, crème de cacao, milk and coffee liqueur), you will be sure to find your island specialty, as well as a little romantic peck.
Photo Courtesy of Yacht Haven Grande
At Yacht Haven Grande
For a bit of upscale romance while strolling through shops, restaurants and boutiques, head to Yacht Haven Grande. This centrally-located prestigious outdoor shopping area is dotted with quaint cafes and restaurants, perfect for a quick bite while admiring the towering super yachts lining the docks. Shopping blends a bit of local flavor with sough-after luxury brands, and purchases can be made from Louis Vuitton, Bulgari, Gucci, Ferragamo and over 40 other retailers.
Photo Courtesy of the St. Thomas International Regatta
At the St. Thomas International Regatta
Once a year, romance hits the waters when the St. Thomas International Regatta blows into town, taking over the St. Thomas Yacht Club and crystal clear turquoise waters with illustrious sailboats from all over the world. With a playful sense of nautical adventure, steal a kiss at the Yacht Clubs' sandy shores. Formerly the Rolex International Regatta, this event is also filled with, opening parties, awards and closing ceremonies.