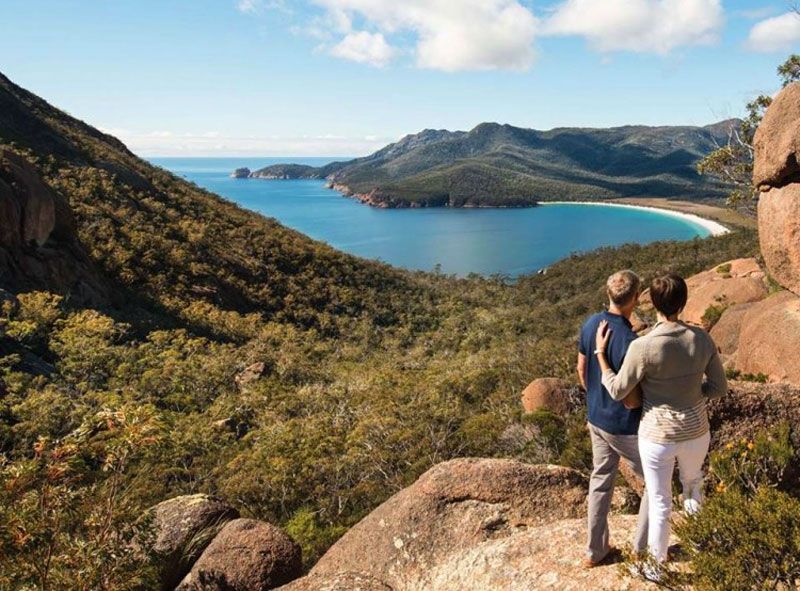 Photo Courtesy of Shutterstock
Though the very name conjures up a faraway place at the very end of the earth, not to mention an irascible but beloved animated character, Tasmania is one of Australia's most beguiling destinations, and one that is attracting more visitors than ever thanks to a thriving arts scene, a cadre of talented young chefs making the most of the island's bounty, spectacular unspoiled scenery and fabulous luxury experiences. Whether it's a traveler's first trip to Australia or a frequent visitor looking for new corners to explore, this intriguing island is a destination worth exploring on your next jaunt Down Under.
Getting to Tasmania is easier and quicker than ever. Qantas, and its affiliate Jetstar, operate eight non-stop hour-long flights daily between Melbourne and Hobart, the capital (and largest) city of Tasmania, and one non-stop flight daily from Sydney, which takes about an hour and forty-five minutes. So there are plenty of options connecting both to international flights or as tag-ons to a larger itinerary.
Photo Courtesy of Shutterstock
Hobart itself is worth exploring for a day or two, and is actually Australia's second-oldest city. Part of what has put the city back on the map is the fact that back in 2011, Tasmanian millionaire David Walsh opened his Museum of Old and New Art (MONA for short) at the former Moorilla Winery (the winery still exists as part of MONA and still produces wines).
The main exhibit is Walsh's own collection, though there is a constantly revolving series of visiting exhibitions to keep visitors interested. Not only that, but the museum has also opened up a small hotel of luxury "pavilions," where guests can stay and each of the four is named after an Australian artist or architect. Visitors should also book a table at the museum's edgy restaurant, The Source, while there.
Photo Courtesy of Henry Jones Art Hotel
For a central home base, the top hotel in town is the Henry Jones Art Hotel. The hotel has over 300 artworks and is housed in an 1825 building that was at one time a jam factory. Rooms here seamlessly blend contemporary touches like minimalist bathrooms, TV/DVD players and pendant lighting with gorgeous historical touches like enormous wooden ceiling beams and rough-hewn masonry.
The other luxury option in town (well, just a little outside it), is the Islington Hotel, a Regency-style gem originally built as a guesthouse in 1847. The 11 rooms here are each individually decorated with hand-picked antique and very Australian touches like AH Beard beds. The art collection is quite impressive, as is the list of Tasmanian wines and whiskeys at the restaurant.
Photo Courtesy of Smolt
Hobart itself has some lovely corners to experience. Sailing is a huge pastime, so get out and explore the harbor with a yacht charter, or stroll the historic quayside quarter of Salamanca Market, whose 19th-century stone buildings have been converted into bustling bars, convivial cafés, and some of the city's best gourmet restaurants including Smolt, a laidback, hipster-chic bistro that serves everything from fresh Tasmanian oysters to braised local lamb.
Some of the city's most sought-after tables are actually in an old garage at Chef Luke Burgess's cheekily named Garagistes. The chef spent time in some of Australia's best-known kitchens, including Tetsuya's, and here he gives his avant-garde sensibilities free rein, using local produce, game and fresh-caught seafood to shape his ever-changing menus. Cozy Lebrina is set out in an old cottage that is divided into several smaller dining rooms and where Chef Scott Minervi whips up a menu of continental classics.
Photo Courtesy of Shutterstock
However, Tasmania's true treasures lie outside the city in its national parks. Many first-time visitors head to the island's interior to explore the rugged hiking trails and crystal-clear glacial lakes around Cradle Mountain and the luxurious and iconic Cradle Mountain Lodge. The Maria Island Walk is another favorite itinerary on which hikers can enjoy a multi-day walking itinerary through Tasmania's legendary wilderness, stopping at rustic inns along the way.
For those looking for the true cream-of-the-crop experience, though, there is but one destination in order: Saffire Freycinet. This ultra-luxe lodge sits within the Freycinet National Park along a peninsula on Tasmania's east coast, about three hours' drive from Hobart.
Photo Courtesy of Saffire Freycinet

Part of the Luxury Lodges of Australia association, Saffire Freycinet opened back in 2010. The three-story main building resembles a manta ray spreading its wings from overhead, though the buildings of the lodge are carefully arranged to blend into the landscape and provide stunning views of Coles Bay and the dramatic hills of the Hazards on the other side. While there, guests are simultaneously waited on hand and foot yet treated like family (chances are you'll be calling the staff by first name by the end of your stay), starting with the welcome glass of sparkling Tasmanian wine you are handed at check-in. All room rates also include breakfast, lunch and dinner, complimentary beverages and any and all treats—most of which are artisanal Tasmania brands from chocolate to whiskey—stocked in your room's mini bar.
There are just 20 suites, which come in three categories: Luxury, Signature and Private Pavilion. All feature Tasmanian timber paneling and flooring, as well as plush king beds, retro-Modern furnishings including built-in sofas and sleek desks, as well as enormous bathrooms with his-and-hers sinks, extra-long deep soaking tubs and separate walk-in showers, all stocked with signature, custom-made Saffire bath products, some of which are infused with lapis lazuli. Higher category rooms also feature extra amenities like kitchenettes, outdoor decks and private plunge pools.
Photo Courtesy of Saffire Freycinet
The two main on-property draws are the Saffire Spa and the restaurant, Palate. At breakfast, guests are treated to local yogurt, fresh fruit and specialties like omelets with spanner crab, while each night's dinner is a multi-course affair that can include anything from house-smoked local ocean trout with fresh dill from the hotel's garden and seaweed pickle to roasted venison with smoked eggplant.
The wine list has a wide selection of Tasmanian and Australian wines as well as options from Europe that the staff is happy to pair for diners. Most guests drop by the lounge adjacent to the restaurant for pre- or post-dinner drinks and to chat over the adventures of the day. The less sociably-inclined can retire to the upstairs lounge by reception to peruse photo and natural history books while relaxing in one of the Eames chairs.
Photo Courtesy of Saffire Freycinet
On the ground floor of the main building, the spa is an intimate experience where guests are treated to opulent therapies including the signature Diamond Facial, which uses Natura Bissé Diamond formula anti-aging exfoliator and cream-infused with marine DNA for cell repair. The Gold Stem facial is another popular choice that uses gold-particle nano-technology along with plant stem cells to create an instantly restoring and lifting effect for those who want to look their best. Many of the men's treatments incorporate Vagheggi products.
Though it's hard to tear yourself away from the property, the resort offers several activities to get guests out exploring the local attractions including a popular outing to a nearby oyster farm where guests can enjoy the briny mollusks plucked fresh from the water along with sparkling Tasmanian wine. Another popular tour takes guests on a hike in Saffire National Park to the lookout point over stunning Wineglass Bay, which is routinely voted one of the world's most beautiful beaches (for good reason).
Photo Courtesy of Shutterstock
There are also excursions to nearby wineries like Freycinet Winery, and an indigenous tour of the coast along Coles Bay with a knowledgeable local artist and guide. Many activities are complimentary, though guests can also opt for additional experiences like "La Pique Nique," which takes guests on a hike to Wineglass Bay for a gourmet picnic prepared by one of Saffire's chefs before ferrying them home on the hotel's private boat.
With so much to explore from great art and restaurants in Hobart to the unspoiled scenery of the interior and the unmatched luxury of Saffire Freycinet, Tasmania has quickly and quietly become one of the next great Australian destinations for first-time visitors and old hands alike.