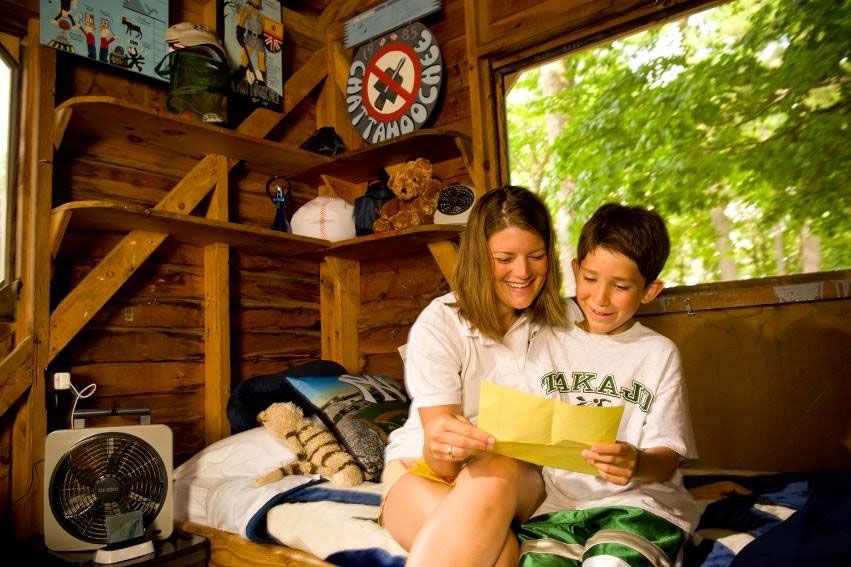 Photo Credit: Camp Takajo
Often sought-after by parents looking for fun ways to keep their children entertained while out of school, sleep-away summer camps have grown more and more creative with their programming to compete with the many others offered each June through August. Especially for families living in cities, they have become a great way for the young ones in the household to spend time outdoors connecting with nature and experiencing all manner of activities.
However, not all camps are made alike and, as such, there are some seriously top-notch and interesting getaways available to help children make cherished memories, lifelong friends and, in some cases, delve deeper into a hobby. Here are five camps that bring awesome activities and fun to the table, in categories ranging from espionage to marine biology.
Photo Credit: Pali Adventures
Secret Agent Camp
For the James Bond or Ethan Hunt aficionados, the Spy & Secret Agent Camp at Pali Adventures gives children and teens the chance to learn some seriously cool skills (that they'll hopefully never have to use in their real life). One-week camp activities include a ton of paintball, rapid-fire challenges, spy games, ropes courses, archery, riflery, laser tag, zipline riding, ATVs and more. However, for the full experience, the longer session brings some awesome additions for advanced espionage to the table. Those who attend this longer camp will learn about code decryption, field commands, orienteering, rapid room entry, clearing rooms, and they will get to go on a top-secret overnight mission.
Location: Running Springs, CA
Open To: Boys and Girls (8-16)
Length: 1-4 Weeks
Price: $2,045
Photo Credit: The International Riding Camp
The International Riding Camp
For the budding equestrian lover, the International Riding Camp instructs girls from seven to 17 a number of horse-riding disciplines and includes personal, attentive instructors for cross-country jumping, hunt seat equitation and polo riding. The camp also features arts and crafts, tennis, water skiing and swimming. Riding lessons are either three or 4.5 hours per day, six days a week. To ensure the highest level of instruction possible, each session caps out at 45 campers. For an additional $595, campers can go on a one-day trip to New York City where they will ride horses in Central Park while receiving a tour and history of the area. This is followed up by lunch at Ocean Grill Restaurant and a stretch limo ride to FAO Schwarz Toy Store, topped off with a visit to Manhattan Saddlery.
Location: Greenfield Park, NY
Open To: Girls Only (7-17)
Length: 10 Weeks
Price: $19,125
Photo Credit: Camp Takajo
Camp Takajo
Focused on building a fraternal feeling amongst its campers, Camp Takajo has a heavy emphasis on team-based athletics and confidence-building activities. The camp believes in letting boys just be boys and has based their program around meeting them where they are in their learning stages. Bunk assignments are established by information gleaned from the participants weeks in advance and are rooted in their compatibility, experience and interests. Along with sports like baseball, soccer and roller hockey, campers will experience archery, rock climbing, thrilling water rides, arts and crafts and much more. Additionally, pioneering courses are offered in abundance at Camp Takajo. Campers will learn about survival and team building through backpacking, outdoor camping, hiking, ropes courses and whitewater canoeing. Thanks to the rugged, natural beauty of Maine, there's sure to be plenty of activities to keep them active over the seven weeks.
Location: Naples, ME
Open To: Boys Only (7-15)
Length: 7 Weeks
Price: $12,100
Photo Credit: ActionQuest

Dolphin Adventure
Available through ActionQuest, the Dolphin Adventure is available to teens in two age groups, 15-16 and 17+. Including advanced scuba diving instruction, this three-week summer camp actually offers teens the chance to earn real-world qualifications and certifications such as diving and sailing. Unlike most camps, attendees sleep, learn and experiment aboard 46-foot catamarans and 50-foot sloops. Along with learning fundamentals and advanced scuba techniques, camp goers will learn about sailing, underwater photography and marine life in an up-close and personal experience. Additional activities include beach barbequing, island exploration, mountain hiking, water skiing and wake-boarding.
Location: British Virgin Islands
Open To: Boys and Girls (17+)
Length: 3 Weeks
Price: $4,970-$5,670
Photo Credit: ​Stagedoor Manor
Stagedoor Manor
With a ton of classes focused on the performance arts, Stagedoor Manor is a wonderful summer camp for budding performers, proficient players and experienced actors alike. The various areas of study include acting, voice projection, musical theater, dance, television, choreography, set decoration, playwriting, directing, stage management and lighting design. This is all in addition to outdoor activities such as horseback riding, swimming, and volleyball. Every class offered comes in basic, intermediate and advanced levels, allowing young teens to be paired with equally-talented performers. For those who have near-professional abilities, master classes are available as well. Notable Stagedoor alumni include Robert Downey Jr., Natalie Portman, Zach Braff, Mandy Moore, Lea Michele and Jon Cryer. This camp is so popular, it's already sold out for 2014, but interested parties should definitely get on their mailing list to be among the first to sign up for 2015.
Location: Loch Shelldrake, NY (near Catskills)
Open To: Boys and Girls (10-18)
Length: 3 Weeks
Price: $5,895