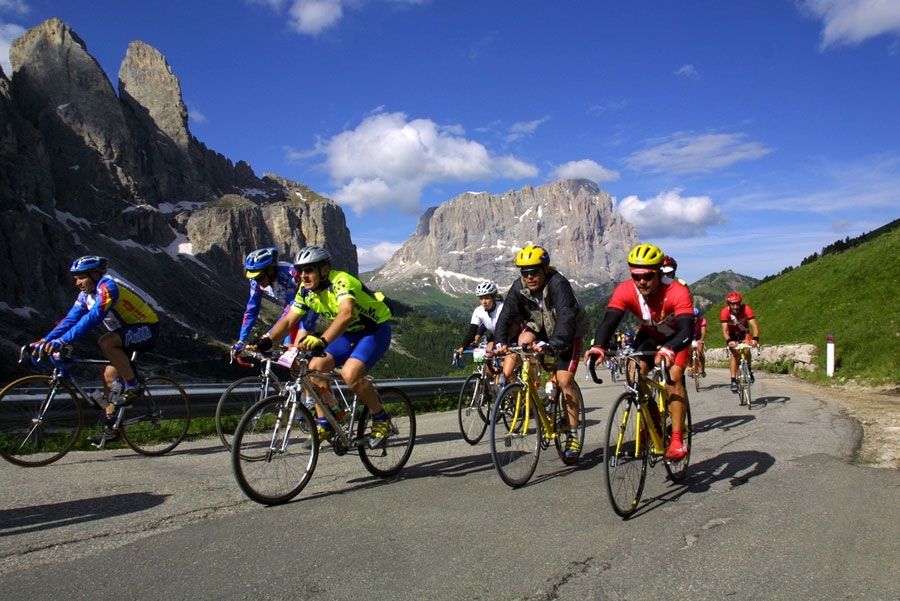 Photos Courtesy of Dolomite Mountains Ltd.
For the past couple of years, Bicycle Tourism has seen a rise in popularity since its 1970s heydays. It is quickly becoming one of the preferred methods of seeing the world for active travelers. From organized trips to self-explored routes and trips for people of all ages, tourists are finding more reasons to use this environmentally-friendly approach to their vacations.
For almost 20 years, Dolomite Mountains Ltd. has been providing unique, outdoor experience in Northern Italy's Dolomites, and recently announced a new seven-day adventure by bicycle into the world of gastronomy. The Dolomites: Gourmet, Wine, & Bike in the Südtirol excursion takes place from September 28-October 4 and is the first of its kind in the UNESCO World Heritage Site.
Starting in Brunico and ending in Bolzano, the guided tour is open to those in good and active physical shape. On your first day of travel, you'll head east towards the town of San Candido, all the while enjoying meadows, fields, forests and the Drava River. The area is known for its charming small villages, its past Romanesque church, the Museum of the Collegiate church, and its Middle Ages thermal baths. Bikers will ride 19 miles which will end with a stay at a hotel in Brunico.
Along the way, travelers will get to experience German-, Italian- and Ladin-speaking (closely related to the Swiss Romansh) people groups. Because of this, Dolomite Mountains Ltd. has carefully chosen an array of dining venues and stops along the way to really highlight the variety of cultures in the area. Day three comes with lunch and a guided visit to Novacella Abbey's vineyard and wine cellar located in the northern-most winegrowing region on the southern side of the Alps.
Day five kicks off after a night in a four-star hotel in Bressanone with a journey south to Bolzano on the Val d'Isarco bike lane, alongside the Eisack River. Sights will include the medieval Chiusa/Klausen, bridges and tunnels, the towns of Villandro and Barbiano, and sprawling vineyards which are home to the region's apple orchards. Bolzano is the capital city of the province of South Tyrol and is home to the Italian Army's Alpini High Command (COMALP).
The trip costs €2290 (USD $3,064) per person and private parties can be arranged from €2890 (USD $3,867) per person with a four-person minimum required. Included in the rate are all meals and accommodations, a BikeMobil Card, select activities, luggage transfer and a professional bike guide.