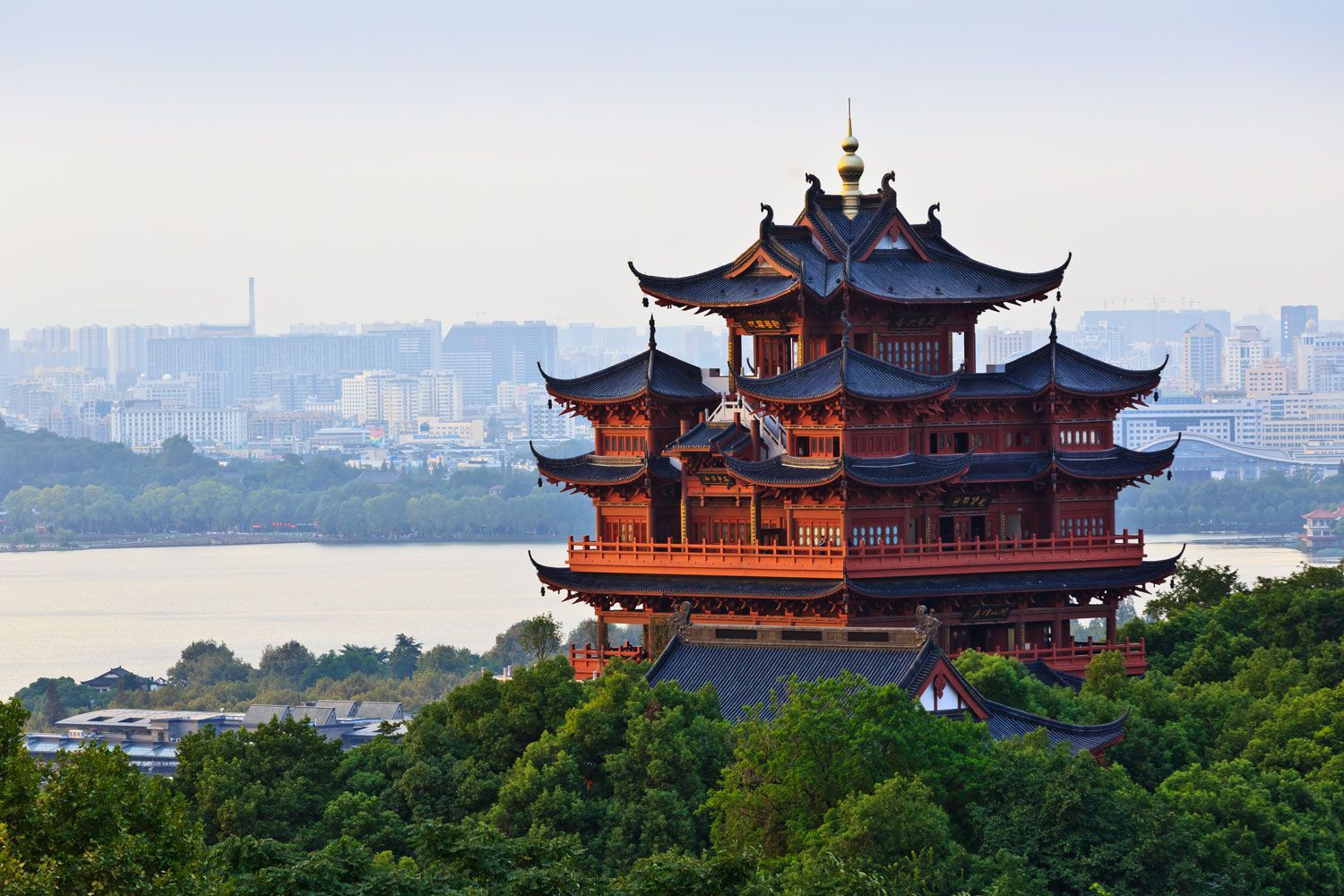 Photo Courtesy of Zhao Jian Kang/Shutterstock
The very thought of navigating through China and having to choose which cities to visit and which to avoid, can seem daunting. Yet, with its complicated past, iconic monuments, fascinating architecture and intriguing cuisine, the world's most populous country has so much to offer travelers.
China is the world's second largest country by land area covering approximately 9.6 million square kilometers and has 1.3 billion residents. From The Great Wall of China to The Forbidden City and Chengdu's pandas, there's so much to discover in this great nation. To help you work your way through the different sights, we've put together a list of our top eight cities to visit while there.
Photo Courtesy of Shutterstock
Beijing
Probably one of the most recognized cities on our list, Beijing is the heart and soul of the country and is one of China's six ancient cities. Seeing about 4.4 million international tourists a year and 140 million Chinese visitors, it is also one of the most popular tourist destinations in the world. Home to The Great Wall, the Forbidden City, Tiananmen Square, the National Grand Theatre, the Beijing Zoo and Ming Tombs, the region is filled with plenty of sights to keep you busy during your travels. One fun way to see everything is to do as the locals do and ride a bike through the city streets.
Where to Stay: Raffles Beijing
Where to Dine: Quanjude Restaurant for Peking Roast Duck
Don't Miss: Touring the Hutong neighborhoods
Photo Courtesy of Shutterstock
Chengdu
Hometown of giant pandas, need we go on? The city is a gateway to Emei Shan and Le Shan, the Buddhist mountains, and one of the most important panda breeding centers. But aside from their cuddly, black-and-white bears that make us swoon, the city is also known as a culinary capital. It may not have all the brilliant architecture and attractions of Beijing, but locals love the city for its storied tea culture. Dating back over 1,300 years ago, tea drinking is an age-old custom here and central to their daily lives. It's so much a part of their culture, that instead of alcohol in their flasks, locals pre-fill them with tea leaves so that when hot water is around they are fully prepared. Streets are also occupied with many tea houses on the same block. Aside from the warm beverage, Chengdu is a very relaxed and laid-back city, perfect for a break in between destinations.
Where to Stay: Shangri-La Hotel Chengdu
Where to Dine: Yunmen Emerald Restaurant
Don't Miss: Mount Qingcheng
Photo Courtesy of Shutterstock
Hangzhou
One of the most beautiful cities in China and celebrated by poets and artists, Hangzhou is a dreamy destination that is home to West Lake, a large lake designed for spirituality and relaxation. Tourists have long been drawn to the vistas and rolling hills of Hangzhou that seem to come straight out of Chinese watercolor paintings. Lined with ancient buildings, gardens and separated by causeways, travelers can discover temples, pagodas and tea farms surrounding its waters. While strolling the lake, you can also test out your vocal skills by doing a little karaoke with professional musicians who can play just about anything you request.
Where to Stay: Banyan Tree Hangzhou
Where to Dine: Lou Wai Lou Restaurant
Don't Miss: The Hangzhou Botanical Garden and Hangzhou Zoo
Photo Courtesy of Shutterstock
Hong Kong
A glittering, modern-day metropolis, Hong Kong is a vibrant city filled with mouth-wateringly tasty cuisine, ancient traditions and is home to one of the world's largest shopping malls. Boasting the world's highest concentration of skyscrapers, it is also a city filled with green spaces, mountain views and sandy beaches. Reminiscent of the hustle and bustle of New York City, locals seem to all be rushing off to their next location, which is easy to do since Hong Kong has some of the best public transportation around. Amidst 21st century buildings, travelers can still spot signs of ancient China through Taoist temples, Tai Chi practitioners practicing in the park and wooden boats floating in the harbor.
Where to Stay: The Peninsula Hong Kong
Where to Dine: Lung King Heen
Don't Miss: Horse races at the Happy Valley Racecourse
Photo Courtesy of Shutterstock
Jiuzhaigou
Nature lovers, take note of Jiuzhaigou. Nestled in the valley of the mountains in the northwestern Sichuan Province, Jiuzhaigou stretches about 31 miles long and is listed as a UNESCO World Heritage Nature Site. Described as fairytale land and named after the nine Tibetan villages in the valley, the area is a picturesque destination that seems too beautiful to be real. Images of this valley can seem retouched, or filtered, because of their deep turquoise and jewel-like tones and bright orange colors in the fall. But once there, it's clear that pictures hardly do it justice. Jiuzhaigou has dense forests, green meadows, rivers and lakes, and waterfalls flowing through its land. Of the nine original villages, the town still has six remaining Tibetan villages and 1,000 Tibetans residents. The best time to go is from September to November, and a mid-week trip is preferable to the crowds during the weekend days.
Where to Stay: Sheraton Jiuzhaigou Resort
Where to Dine: Pearl Court
Don't Miss: Wucai Hai (Five-Color Pool)
Photo Courtesy of Shutterstock
Lhasa
When you think of Tibet, the Dalai Lama, beautiful temples and Buddhist monks probably come to mind almost immediately (or, if we're being honest, it's Brad Pitt first and then all those other things). Of course, all of those things are true, but what else do we know about the spiritual destination? Lhasa (Place of the Gods) is considered one of the most important cities in Tibet, and at 11,500-feet high, is one of the highest elevated cities in the world. On its grounds sits the glittering Potala Palace (former home of the Dalai Lama), a trio of monasteries known as the "three pillars of Tibetan Buddhism," and a gorgeous array of old monasteries and palaces. Wafting aromas of incense and sparkling butter lamps create a sense of tranquility while the charming whitewashed old Tibetan quarter serves as a reminder of traditional Tibetan life. The quarter is full of casual restaurants, small guesthouses and local street markets. Everything is completely walkable, so no need to worry about transportation while there.
Where to Stay: The St. Regis Lhasa Resort
Where to Dine: Lhasa Namaste Restaurant
Don't Miss: Ganden Monastery
Photo Courtesy of Shutterstock
Shanghai
As China's especially prosperous and largest city, Shanghai is dripping with prestige, mystique, extravagance and promises of fortune. Located on the East China Sea, the country's most developed city is filled with modern skyscrapers sitting next to colonial boulevards and the historic Art Deco Bund district. Just as you've pictured it, Shanghai's flashy, neon-lit and bustling streets are packed with business, shopping avenues and plenty of restaurants to satisfy any craving you may have. In the evenings, the parties begin and travelers can venture into sleek lounges, buzzing clubs with big-name DJs or settle into a night of live jazz on the Bund. Be sure to dress to impress, as residents are always in style in this "Paris of the East."
Where to Stay: The Peninsula Shanghai
Where to Dine: M on the Bund
Don't Miss: Shanghai Opera House
Photo Courtesy of Shutterstock
Xi'an
If you know anything about Xi'an, you're probably headed there to see the massive terra-cotta army standing guard over the tomb of China's first emperor. Discovered in 1974, the collection of sculptures is a form of funerary art depicting the armies of Qin Shi Huang protecting the emperor in his afterlife. But before these figures, Xi'an was known as being the start of the Silk Road that allowed commerce in Eurasia between many countries possible. The city peaked during the Tang dynasty (618-907) and during the Xuanzong reign of the Tang (712-55), it was the largest, most cultured cosmopolitan settlement on earth. But today, it is only a glimmer of its former self. However, according to a July 2012 report by the Economist Intelligence Unit, it was named as one of 13 megalopolises (cities or clusters of cities with a population of over 10 million) to emerge in China by 2020. Xi'an is home to merchants, monks, emperors, poets and warriors, making it a melting pot of cultures and religions. A playground for history buffs, the city holds enough ancient stories and remarkable monuments and temples within its walls to keep visitors busy during a week's visit.
Where to Stay: Kempinski Hotel Xi'an
Where to Dine: Tang Dynasty Dinner & Show
Don't Miss: Mogao Caves