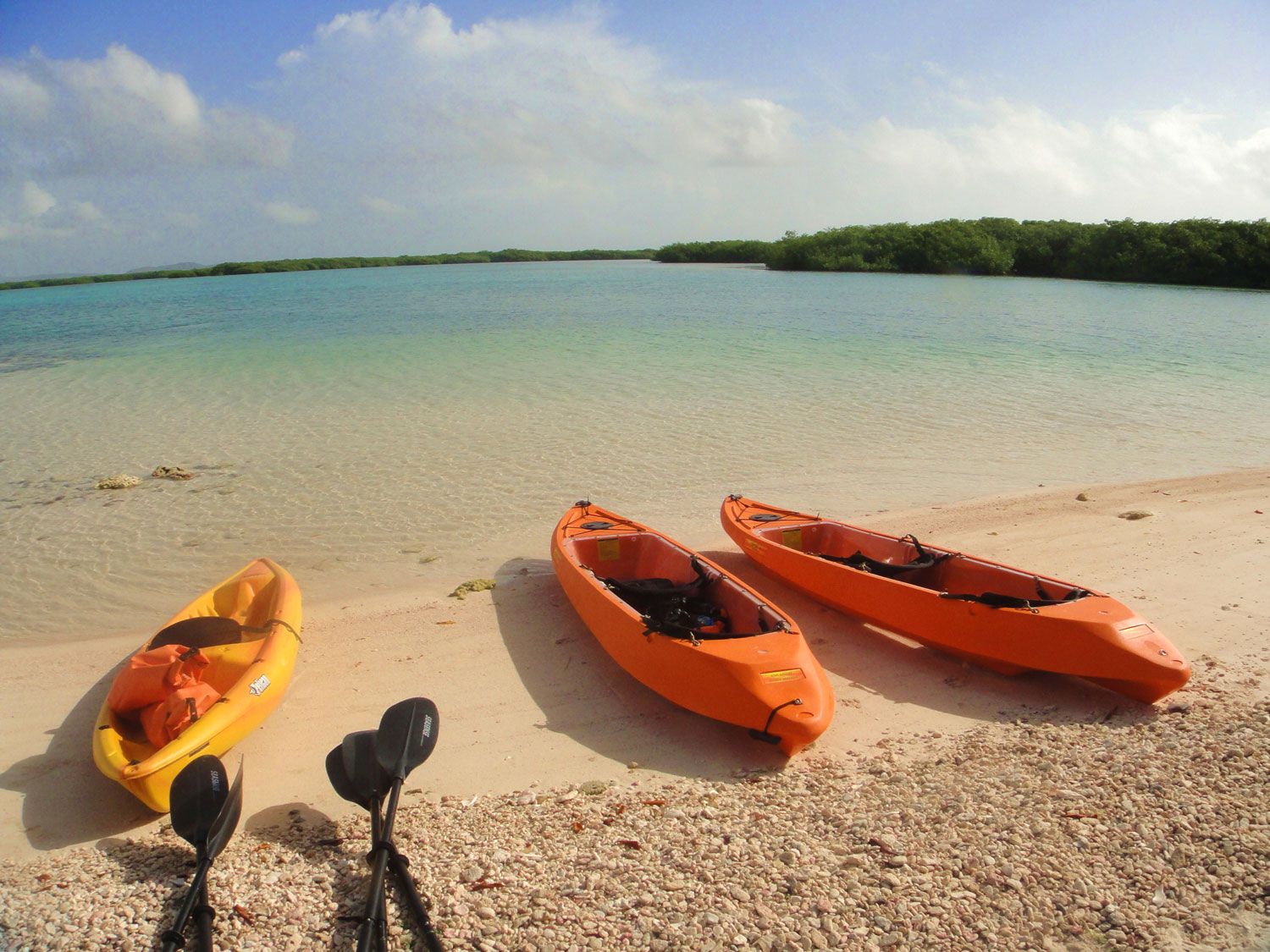 Photo Courtesy of Shutterstock
Located in the heart of the Caribbean, nestled cozily between Aruba and Curaçao, is the small, serene Dutch island of Bonaire. With beautiful year-round temperatures, Bonaire is the perfect beach getaway. Bonaire is versatile enough to fit any travel plans whether it be a family vacation, romantic escape or a boy's adventure weekend. Those in the know come from all over the world to experience the island's culture, gorgeous miles of coastline and its untouched paradise.
Photo Courtesy of Shutterstock
With a native population of around 17,000, Bonaire has retained a true island feel with its natural charms and warm island breezes. Since there aren't any stoplights on the isle, you feel like you have entered into another time and place—one filled with pure happiness and no stress. The island has only two small towns, its capital Kralendijk and Rincon. Other than that, it's made up of pure nature including The Washington Slagbaai National Park eco- preserve, a Flamingo Reserve, a Donkey Reserve and an ocean Marine Preserve. Everywhere you look is wildlife, from the donkey wandering by on the side of the street to the 200 species of birds that inhibit the island.
Photo Courtesy of Shutterstock
Bonaire is home to eco-adventures both in the sea and on land. Activities such as bird watching, biking, hiking, caving, golfing, rock climbing and horseback riding are easily accessible. Water experiences include kayaking, snorkeling, scuba diving and boating. Consistently rated as one of the best diving and snorkeling spots in the world, this underwater paradise is filled with several types of coral, 350 species of fish, crab, turtles and seahorses, and the entire coastline has been deemed a marine sanctuary in order to protect and preserve the coral's delicate nature and sea life.
Photo Courtesy of Shutterstock
You can view this secret land by snorkeling or scuba diving along clearly visible paths marked by yellow stones. Snorkelers can also choose from 86 designated dive sites like the picturesque 1000 Steps, the fish-friendly Bari Reef and the internationally-known wreck dive area of Hilma Hooker.
Photo Courtesy of Shutterstock
Continuing your adventures, Bonaire has some of the best wind and kite surfing around. Wind surfing is done mostly at Lac Bay, a shallow, enclosed body of water with just the perfect amount of wind for beginners as well as pros. The area has on-site rentals that include paddleboards. There's also a shop, sun loungers, tables and a restaurant with a clear view of all the fun directly on the beach. For the true adventurers, head to the east side of the island to Atlantis Beach for kite boarding directly on the ocean with massive bursts of wind. This adrenaline-based sport caters to beginners and pros alike.
Photo Credit: Harbour Village Beach Club
After exploring the island, head to the Harbour Village Beach Club. As the only hotel four-star hotel on the island and a member of the Small Luxury Hotels of the World, the property is one of the Caribbean's hidden gems. Located on a pristine four-acre peninsula, guestrooms are outfitted with an upscale, modern island motif that is both welcoming and sophisticated.
Photo Credit: Harbour Village Beach Club
The Harbour Village Beach Resort also encompasses a gorgeous beachside dining experience, room service, five-star PADI diving facility, spa, fitness center, tennis center, pools, 64-slip marina, tennis courts, guest lounge, children's program, complimentary Wi-Fi and computer stations. Harbour Village also has the only private beach on the island. The service at Harbour Village is personable, yet friendly.
Photo Courtesy of Shutterstock
With so much to do and see on the island, it's an easy choice for nature lovers and adventurers. High season for Bonaire runs from mid-December through mid-April so there's still plenty of time to make a trip. Also, if you're visiting during low season, hurricanes and tropical storms that are common in other Caribbean islands are rare here. So it's really a win-win either way.