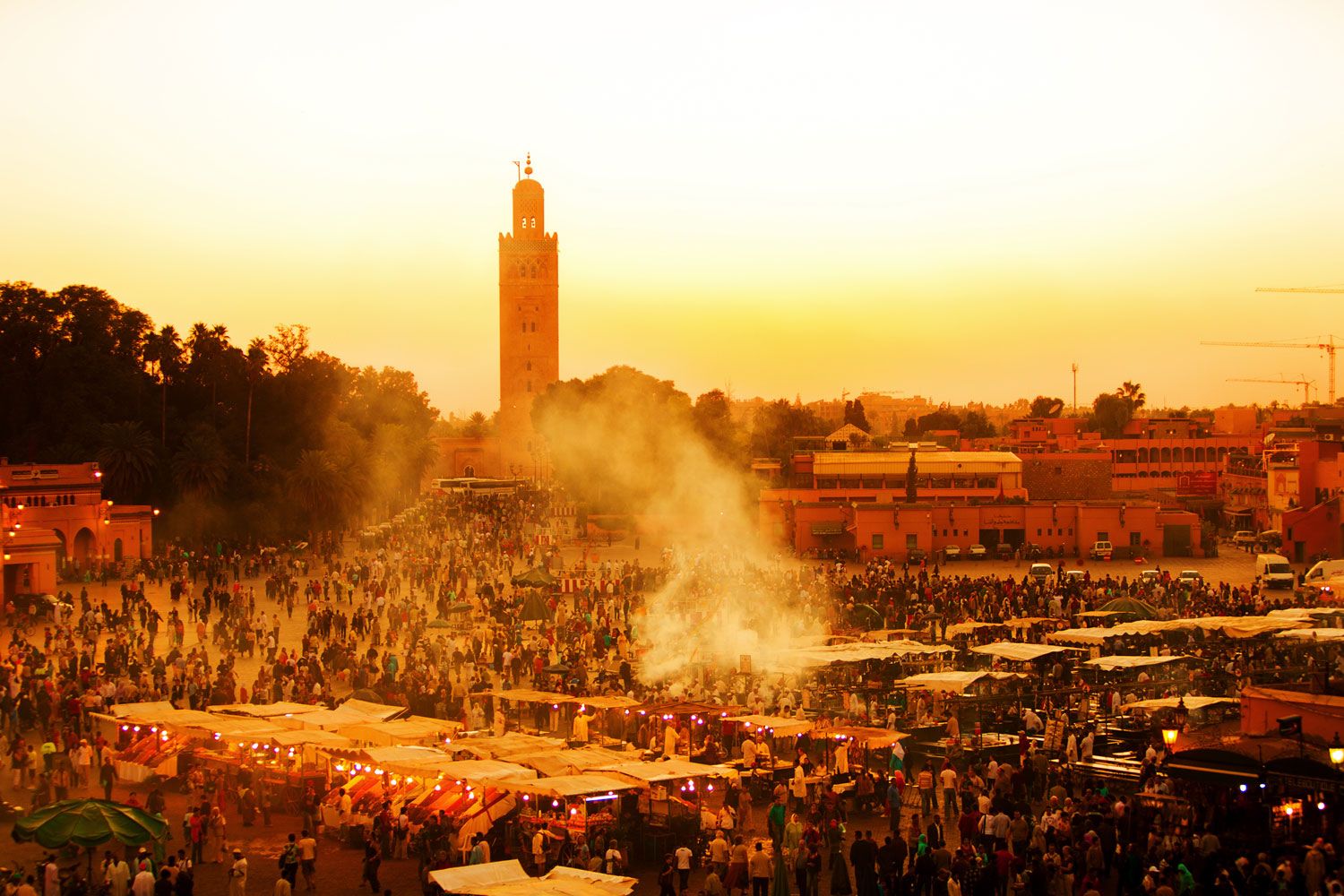 Photo Courtesy of Shutterstock
Long sought after by rock 'n' roll legends such as The Rolling Stones and the Beatles, Morocco has been known as an international playground for the well-heeled jet-set crowd. These days it has become a top destination for honeymooners, lovers and anyone looking for a romantic getaway full of plenty of activities to keep that spark alive.
One of its busiest cities, Marrakech has plenty for lovebirds to do. While the city is relatively safe, navigating it and taking full advantage of all it has to offer can be confusing, overwhelming and virtually impossible as a foreigner. If you don't speak Arabic or French, the country's two main languages, it is that much more difficult.
Photo Courtesy of Shutterstock
This is where a trustworthy and knowledgeable guide or tour company comes in handy, like Dream My Destiny, which was founded on a love story by actress Linda Kozlowski (Crocodile Dundee). Kozlowski teamed up with Native Marrakshi Moulay Hafid Baba, who has worked on some of the most famous Hollywood movies filmed in Morocco, including Sex and the City 2. Offering luxury bespoke custom tours to travelers from all around the world, Kozlowski and Baba founded their company after he, by chance, became her guide during her first visit to Marrakech three years ago.
Recently they planned a romantic, custom-designed four-night, five-day itinerary for my husband and I in Marrakech, resulting in one of the sexiest trips we've been on yet. While there is so much to see in this beautiful country from the Sahara desert to the Atlas Mountains, here are some the city's highlights for the full romantic experience:
Photo Courtesy of Shutterstock
Go For A Ride
The Palmeraie is the Marrakech equivalent of Beverly Hills and the perfect place to go for a relaxing camel ride at dusk. Dressing up together in the traditional garb of the desert Berbers (the indigenous people of the region), this activity makes for a special bonding experience. Not to mention plenty of colorful photos worth displaying at home. The secluded path the camels follow is quiet, peaceful and offers breathtaking views of the snow-capped Atlas Mountains in the distance.
Photo Credit: La Sultana Marrakech
Go For A Dip
For an activity to awaken the senses and leave you both with super silky skin, visit a Moroccan Hammam together. In the Moroccan culture brides-to-be visit the Hammam, otherwise known as bathhouses with many locations around the city, two days before the wedding. This is done as a way to purify themselves and get ready for the big day. Many upscale spas offer a luxe version of this time-honored tradition where you and your honey can strip down to paper undergarments and get the full treatment together to spice things up or individually if that's what you prefer.
The general experience is the same from place to place with only slight variations. For example, at Sanitas Per Aqua spa at La Sultana hotel, the Hammam includes a full-body rub down with skin purifying eucalyptus by two spa specialists. Next, guests are treated to a five-minute steam before being transferred into a second room with a big fountain and two benches. The spa specialists grab water from the fountain out of big beautiful copper bowls, pour it over your body and follow it with a foot scrub using a clay pumice stone. After a full body scrub with the area's famous black soap and loofah mitt, more water is poured over the body as your hair gets washed. Finally, you will retreat to a quiet area to rest in lounge chairs around a beautiful emerald green Jacuzzi pool. Lastly, a cold towel is placed on your face and Argan oil cream is rubbed over the entire body for its fabulous moisturizing properties. Hot green mint tea serves as the perfect ending to this delicious tradition that locals have been doing their entire lives.
Photo Courtesy of Shutterstock
Go For A Stroll
The souks in the Jemaa el Fna, the most famous and active square in Marrakech, are filled with snake charmers, monkeys and every kind of treasure imaginable. Wandering down the souk's many paths makes for some fabulous and very romantic treasure hunting. You can purchase just about anything from multi-colored patterned Berber rugs (they can ship them internationally) to luxurious hand-crafted lanterns, locally-made leather bags, bath salts and even herbs and teas that can increase your sex drive. The souks are very easy to get lost in, so make sure you go with a guide. Also be sure to have plenty of local currency (the dirham), on you and have your guide help you negotiate costs (bartering is acceptable here). Take a break for lunch and a view at Terasse des épices where you can dine on traditional Moroccan food amidst the beautiful African background.
Photo Courtesy of Shutterstock/The Visual Explorer
Go For A History Lesson
The Jardin Majorelle, a two-and-a-half acre respite in the middle of the city, took French painter Jacques Majorelle, 40 years to create. In 1980, fashion icon Yves Saint Laurent and his lover Pierre Berge, purchased it and moved into the villa on the property, saving it from demolition. After Saint Laurent died in Paris in 2008, his ashes were scattered in the Rose Garden on the property and a monument was built in his memory. Berge still keeps the home on the property, named Villa Oasis, as an homage to his late lover.
With pools filled with turtles, dozens of varieties of trees and plants, and bold hues of blue and orange around the property, this is the perfect place to relax in the shade and whisper sweet nothings into each other's ears. Check out the small-scale Berber museum where traditional jewels, garb and unearthed artifacts from the country's indigenous population are on display. And don't miss the Yves Saint Laurent "Love" gallery displaying the hand-designed cards he sent friends, family and clients through the years as New Year's greetings.