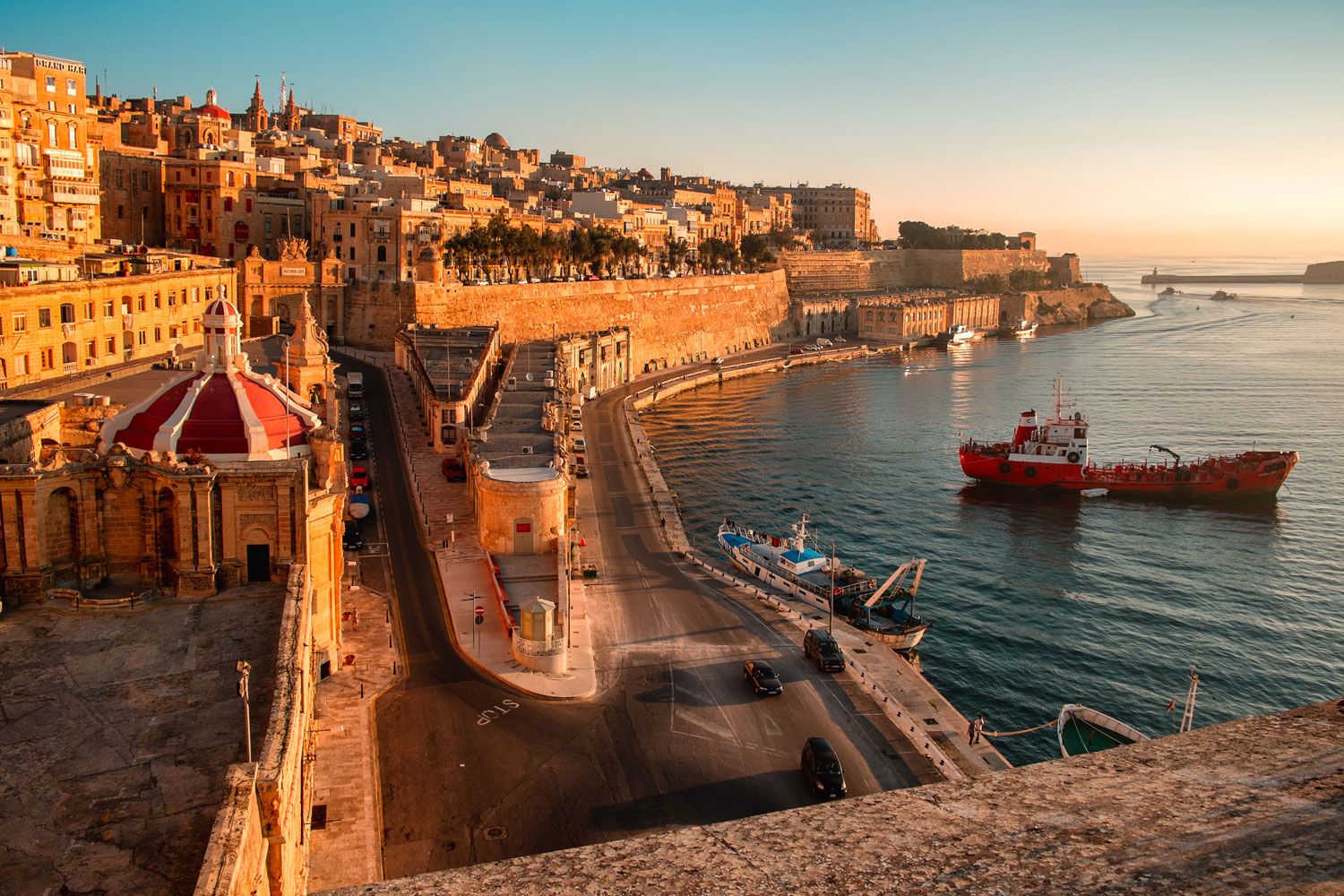 Photo Courtesy of Shutterstock
For centuries Malta has stood as a key stepping stone for European and Middle Eastern invaders. The island has inherited a rich historical legacy, one it has combined with a modern lifestyle to create diverse tourism attractions. Here are some of the best ways to enjoy what the Mediterranean nation has to offer:
Photo Credit: Columbia Hillen
No better starting place than the walled capital of Valletta, within whose old cobbled streets lies a rich vein of culture, both new and old. Visit the Archaeological Museum on Republic Street to learn about the islands' first inhabitants and admire varied artifacts including pottery, stone implements and sculptures dating from the Neolithic (5,000 B.C.) to the Phoenician (400 B.C.) periods.
Of particular interest are the Venus figurines including the Sleeping Lady, a rotund reclining woman believed to represent eternal sleep. The statue is found in the ancient burial site of Ħal Saflieni Hypogeum near the town of Paola, an enormous subterranean structure excavated around 2,500 B.C. Originally a sanctuary, the site became a necropolis in prehistoric times. Book ahead as only 10 visitors an hour are allowed in, due to environmental controls.
Photo Courtesy of Michal Szymanski/Shutterstock
If you're into decorative churches, then St. John's Co-Cathedral is the place to spend an hour or two. After surviving the Great Siege by Muslims in 1565, and thus saving Christian Europe, the Crusader defenders received loads of money from the Pope and members of Royalty whose riches were at risk. Many of these generous contributions went into building the cathedral and stocking it with art of all kinds including Flemish tapestries, sacred vestments, marble furnishings and Baroque wall paintings making it seem almost technicolor. Be sure to ask about the highly-entertaining stories concerning the wayward Caravaggio and his completion of The Beheading of St. John the Baptist, which hangs in the oratory. It is believed to be the only work the artist signed.
For a sense of nobility, take a leisurely walk inside the nearby Casa Rocca Piccola, a 16th century palazzo still privately owned. Its 50 rooms, filled with furnishings ranging from chandeliers from Bohemia (now the Czech Republic) to 17th century Maltese furniture, reflect the life of the elite down through the generations. Malta was carpet-bombed by the Axis during World War Two, so it is interesting to find not one, but three underground shelters built beneath the villa's garden.
Photo Courtesy of Esinel/Shutterstock
The Grand Master's Palace symbolizes more formalized nobility. The former headquarters of the Order of St. John, nerve center for state matters and court of the Grand Master, its Doric portals, wooden balconies, paintings and gold and silver furnishings reflect the opulence of the rich and powerful. Today, it houses the office of the President and parliament. An interior corridor leads to the armory where almost 6,000 items including rapiers, pikes, lances, daggers and pistols grant insights as to why military matters were so important for Malta's survival. Particularly intriguing are the finely-crafted swords used by sworn enemies the Christian Crusaders and the Arabic Muslims. It is also home to an impressive armored gold-embossed suit weighing 110 pounds.
For more dramatic entertainment, head for the Malta Experience, a vivid 45-minute video re-enactment of Maltese history. Educational and informative, it helps bring the museum collections into vivid context. While there, visit the Sacra Infermeria (The Holy Infirmary) located beside it and established by Crusaders (the Knights Hospitallers) and one of the first hospitals of Europe. In the long, dimly-lighted chambers of this impressive two-story building, it almost seems as if the phantom cries of thousands of its patients, many the cruel victims of war treated here over hundreds of years ago, are still heard through its halls. A short ten-minute boat trip across the Grand Harbour allows for exploration of the narrow streets of Vittoriosa, Senglea and Cospicua. These three fortified districts, also known as the Three Cities, were given the honorific title by the French who ruled then.
Photo Courtesy of Berthold Werner/WikiMedia Commons
For a better understanding of the Maltese love of the sea, wander around the Maritime Museum. Once the 19th century Royal Naval Bakery for the entire Mediterranean fleet, this spacious two-floored building encompasses both a ship engineering section and around 60 models of boats. In contrast to the beauty of ships is the Inquisitor's Palace. Established in 1561 by Papal authority to root out what it termed as Catholic heresy, this is where cases were heard and punishments meted out.
A temporary exhibition until May 1 entitled The Roman Inquisition in Malta is comprised of an engaging display of 90 artifacts and cases. One such trial is the 1600 trial of Didacus Mifsud charged with using a magical paper hat with Arabic script on it to cure his headache as well as the 40 Maltese witches tried 20 years later for using love spells. Today, they'd probably be lauded for their entrepreneurial spirit. Depending on your length of stay and interest, it may be worth buying the Heritage Malta Multisite Pass, which gives you free admission to 21 heritage sites and museums plus the National Aquarium.
Photo Courtesy of Shutterstock
No visit to Malta is complete without making the half-hour road trip from Valletta to Mdina, the old capital, also known as the Silent City due to its labyrinth of narrow streets and vertical walls. Here, from a high cliffs, a blend of architectural styles meets the eye, from medieval moats to Baroque façades, palazzos and chapels, and a host of museums. Gozo, Malta's second largest island, is reached after a 25-minute ferry ride from Ċirkewwa on the northern tip of Malta and is renowned for its artisan crafts (especially food and drinks), inspiring landscapes and ancient sites.
We enjoyed a trip to the 61-acre Ta'Mena Estate, owned by the Spiteri family, where we were guided around extensive vineyards and olive groves, followed by lunch and wine tastings. Among the cultural highlights of Gozo are the Ġgantija Temples, a UNESCO Heritage site consisting of two temples dating back to 3600 and 3200 B.C. The name Ġgantija, derived from the Maltese word for giant, was given to the site because it was commonly associated with a race of giants. In terms of landscape, no place makes one more respectful of nature than the Azure Window near Dwejra Bay. It is an iconic, flat-topped natural rock arch over the sea formed when two limestone caves were eroded and collapsed. It's a popular place for scuba divers.
Photo Courtesy of Shutterstock
Aside from its rich historical and cultural legacy, Malta is also a fun place for beach lovers and those looking for lively nightlife. Paceville near St. Julian's is a hub for clubbing scenesters, where internationally-renowned DJs appear for guest weekends throughout the year. Less rollicking events include the Malta Arts Festival, the Valletta Baroque Festival, the Opera Festival, the Choir Festival and the International Jazz Festival in July. As for shopping, Tas-Sliema is the place to head to, mostly along Tower Road, Bisazza Street and the Strand, where global brand names sit alongside local boutiques.
Due to its favorable climate and diverse activities and entertainment, Malta has become an extremely popular vacation destination, attracting 1.5 million visitors every year. It is so popular that George Cassar, a senior lecturer at the University's Institute for Tourism Travel and Culture, warned recently that the island was reaching "saturation point in the mass market," and that more "quality, upmarket cultural tourism" should be nourished. This sentiment was echoed by chairman of the Corinthia Hotel Group, Alfred Pisani, who is building a six-star hotel there next year. A final word of advice for jetsetters, avoid the peak season between April and September when crowds are at their highest.